The Syrian government of Damascus has fired several anti-aircraft missiles At Israeli jets.
Tel Aviv – According to local media, shots were heard ringing out Thursday night in the Jordan Valley region. A spokesman for the IDF (Israeli Defense Forces) claims they were targeted from the ground by anti-aircraft missiles in response to their attack on several ground targets.
"I can say that the sirens were the result of the incident," an Israel Defense Forces spokesperson told Sputnik, referring to the launch of missiles at Israeli planes that carried out attacks on targets in Syria.
The IDF reports that no damages occurred on the Israeli side.
The Israeli Missile Defense System (Arrow) intercepted one of the missiles near Jerusalem. Despite being introduced in the late 90s, this was the first use of Israel's Arrow defense apparatus.
Haaretz is describing the event as the most serious military incident between Israel and Syria since the outbreak of the Syrian War.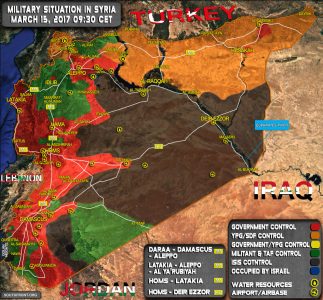 As tensions rise between Israel and Syria, this is surely not a welcoming development to the optimists in the Middle East, hopeful for a truce which appears to be furthering from likelihood by the day.
Israel has been taking part in several airstrikes on government targets within Syria over the past couple of months. Syrian officials claim the airstrikes are an attempt to strengthen terrorist forces in the country as the civil war continues to rage. Following the airstrikes, Damascus vowed repercussions.
Israeli officials claim they are taking out terrorist targets including ISIS, and an Al-Nusra front. Many questions have been raised as to why Syrian government-controlled areas are being hit despite the December 2016 ceasefire which solely leaves out terrorist organizations.
This latest incident between Damascus and Israel comes hours after Al-Masdar News reported more than 100 Syrian casualties due to U.S. airstrikes obliterating a mosque in northwestern Syria.
The tensions have been rising between the two countries in January earlier this year, Israel Bombed the Mezzeh Syrian military airport west of Damascus less than five miles away from Syrian President Bashar Assad's palace. The Syrian Arab Army promised there would be retaliation for the acts of aggression and said that there would be repercussions for Israel for the "flagrant attack" on the military base.
Is this the retaliation by the Syrian military for the Israeli's attack in January on their airport or is this self-defense by the Syrian government protecting its airspace?
[RELATED: Israel Bombs Syrian Airport; Syrian Army Warns of Retaliation]
SW #Aleppo: multpile airstrikes killed over 57 civilians in Al-Jinah's Mosque. Rescue teams working to extract people from rubble. pic.twitter.com/6G7wp1IVyv

— Qalaat Al Mudiq (@QalaatAlMudiq) March 16, 2017
(This is a developing story check back for updates stay tuned to We Are Change.)