Oklahoma Republican state senator Ralph Shortey, who campaigned as a "champion of family values," was arrested after police found him in a motel room with a teenage boy and drugs.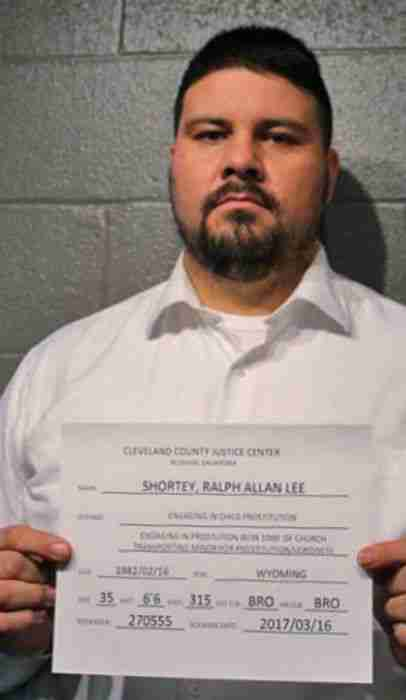 Ralph Shortey, 35, was charged with three felonies, including engaging in child prostitution, transporting a minor for prostitution and engaging in prostitution within 1,000 feet of a church.
Police found Shortey inside a motel room with a 17-year-old teenager who is identified in charging records as "JM."
While Oklahoma's laws set the age of consent at 16 in the state, Oklahoma's child prostitution statute applies to any person under the age of 18 years old.
When officers arrived they "observed a strong odor of marijuana coming from the room and inside the room at the time of their contact with the defendant," the affidavit said, adding that officers also "found an opened box of condoms in the defendant's backpack."
Police also discovered that JM and Shortey exchanged sexually explicit messages.
"Would you be interested in sexual stuff?" Shortey allegedly wrote.

"Yes," JM allegedly replied.
Both Shortey and JM admitted to police that they met a year ago through a Craigslist "personal encounter ad."
"The Oklahoma Republican Party takes all accusations against elected officials seriously, especially when the welfare of a minor is involved. We have reached out to Senator Shortey for comment and have not heard back from him at this time. We await the report from law enforcement on whether charges will be filed," Pam Pollard, the Chairman of the Oklahoma Republican Party, told NewsChannel 4.
Shortey was punished by the state Senate on Wednesday in a 43-0 vote for "disorderly behavior."
The senator still holds his seat but was stripped of his perks as a senator, his office, and his parking space.
"The charges against him do not reflect the character and decorum that we expect of an elected official," Oklahoma Governor Mary Fallin said.
Oklahoma Senate President Mike Schulz said that the investigation was still ongoing and Shortey was innocent until proven guilty.
"This is not a presumption of guilt or innocence. The Oklahoma Senate has full faith that the judicial system will play out appropriately and bring this matter to a lawful conclusion. This resolution reserves the right of the Oklahoma Senate to pursue further action if more facts come to light. It would be inappropriate to comment any further due to the pending investigation," said Senate President Pro Tempore Mike Schulz.
Shortey could be impeached with a two-thirds vote or 32 members of the Senate's vote.
Shortey faces a separate internal investigation into his years of work with the YMCA's Youth and Government program which he volunteered with for 17 years for various field trips.
Shortey's bond was set at $100,000, and he has since been released according to court records.
Shortey's arrest is just the latest in a series high-profile of child sex crime arrests made in the last two months.