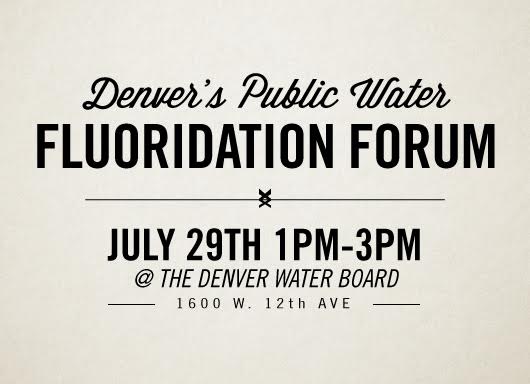 "Denver Water Hosting Historic Fluoridation Forum – July 29th"Last week, Snowmass, CO stopped fluoridating their public water, following the Department of Health and Human Services announcement that they would reduce the recommended level of fluoride by 40%. This landmark move by the Federal Government, along with persistence by grassroots community activist group We Are Change Colorado inspired the Denver Water Board to host a first of its kind public water fluoridation forum on Wednesday July 29, 2015.
We Are Change Colorado members began attending Denver Water Board meetings in 2008, making headlines in 2011. Members have attended every monthly Water Board meeting since February of this year, and after a few months of hearing the facts, Denver Water announced they would host a forum with expert debate.
The forum will feature a panel of three experts representing each side of the issue.
Professor Dr. Paul Connett, PhD, Director of Fluoride Action Network and author of The Case Against Fluoride, will be leading the opposition of current fluoridation practices. He will be joined by Dr. Jeremy Widmann, PhD, an expert in molecular, cellular, and developmental biology, and Cathy Justus, a popular fluoride activist and horse breeder who led the successful campaign to stop fluoridation practices in Pagosa Springs, CO. Justus was featured in the short documentary "Poised Horses" which draws the connection between water fluoridation practices and her dying horses.
The panel of experts supporting current water fluoridation practices will be led by William Bailey, PhD, former Director of the Center for Disease Control's Division of Oral Health. He will be joined by Katya Mauritson, DMD, current Colorado State Dental Director, and Brett Kessler, DDS and past President of the Colorado Dental Association.
Denver Water encourages the public to send their opinions on water fluoridation via email to Matt.Wittern@DenverWater.org, send letters to the "Denver Board of Water Commissioners Attn: Matt Wittern, APR 1600 West 12th Ave Denver, CO 80204" or call 303-628-6663.
For those who can't make it to the 1pm-3pm meeting on July 29th, Denver Water will be live-streaming the forum online. Although the official live-stream link hasn't been released yet, Denver Water has provided links to the forum's agenda, speaker bios, FAQs, the pre-event board packet, and a web form for public comment.