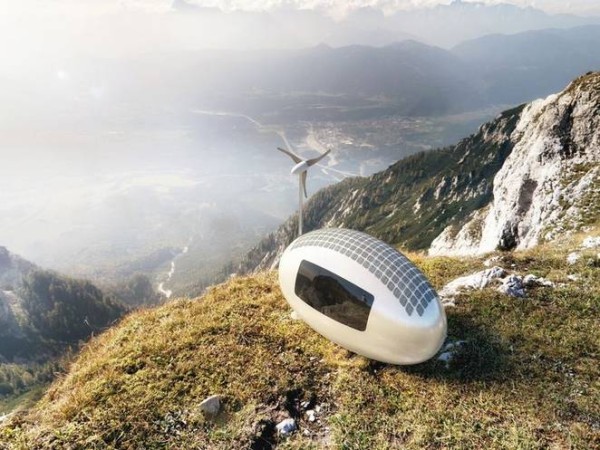 Source: Tree Hugger
Often when we show tiny homes, readers point out that designers should learn from boats, where people have been organizing small spaces forever. Now Bratislava based Nice Architects introduce the very nice and very boat-like Ecocapsule, " a low-energy house packed into a compact form. It merges an energy efficient shape, compact volume and off-grid capabilities with the luxuries of a warm bed, running water and a hot meal."
© Ecocapsule
The designers claim that it "is fitted with all essentials necessary for a comfortable prolonged stay without a need to recharge or re-supply." It has all the comforts of home: a tiny kitchen, a bathroom with toilet and shower (Gizmag says it's a composting toilet, but the Ecocapsule site says flushing toilet. A composter makes more sense) There is a pullout bed and lots of storage, all in a 4.468m (14′-7″) by 2.407m (8′) egg with an area of 8m2 (86 SF).
© Ecocapsule
It's powered by 2.6m2 (28 SF) of solar integrated into the roof and a 750 Watt (42.65 BTUs/minute) wind turbine feeding a 4200 Wh battery bank. The shape is somehow optimized for rainwater collection, which is then filtered for use.
© Ecocapsule
The designers see it serving a number of different functions:
Ecocapsule is a portable house offering an unmatched dwelling experience. With its immense off-grid life span, worldwide portability and flexibility it is suitable for a wide range of applications: from an independent research station or a tourist lodge to an emergency housing or a humanitarian-action unit.
© Ecocapsule
With that lovely aerodynamic shape, it is a shame that it is not on wheels; it would make a great trailer and it would be a lot easier to move around.
© Ecocapsule
I often complain about the designs of tiny homes and as we say on our about page, am partial to a modern aesthetic. But I do wonder about how this unit actually could live up to some of the designers' claims:
If offers a long off-grid stay
It brings civilization's standards into the wilderness
It has an energy sustainable shape
It has low energy consumption
It is easily transportable around the globe
It does not require any supporting infrastructure
© Ecocapsule
Everything needs supporting infrastructure; waste tanks have to be emptied, gas bottles for cooking have to be filled. Truly going off grid is hard work, a lot more than just airdropping an egg. But hey, it is lovely to look at. More at Ecocapsule.
© Ecocapsule