Recently, I spoke with author and economic analyst John Sneisen extensively about the fall of the Canadian housing market, most notably in Vancouver and Toronto, Canada.

Important facts regarding the coming bubble burst in Vancouver:
*In Vancouver there are 66,719 empty mansions and counting.
*Vancouver home sales have crashed more than 40% while Toronto home prices have soared more than 22%.
*"Sales of detached houses, condos and townhomes fell to 2,425 transactions, so the home sales are down 41.9 per cent when compared with 4,172 deals a last year – a record high for the month of February" according to The Globe & Mail. This is 7.7% under the 10-year February average.
*Last August, the B.C. government implemented a 15-per-cent tax on foreign home buyers in the Vancouver region, contributing to the real estate market's slowdown.
TORONTO:
*Single-family detached houses are reaching prices of at least 1 million dollars, almost doubling this year in the Greater Toronto Area.
*The Greater Toronto Area saw 2,876 sales of detached properties of $1 million or more in January and February compared with 1,548 in the first two months of 2016.
Recently, a reporter attended the Canadian Real Estate Wealth Expo in Toronto as a joke, but came out of the event with a shocking revelation. The Canadian housing market is about to blow "sky high." At the event, realtors from the United States were telling people to pool their money and borrow from friends and families. They claimed the markets are going to perpetually go up in value.
Beyond this, they were endorsing leveraging and negative equity. An incredibly irresponsible thing to tell around 15,000 people ready to take these scammers' word for it.
John Sneisen echoed the sentiments of Robert Kiyosaki, "Your house is NOT an asset!" which often riles up realtors, but remains true unless your house is for sale. However, too often, people forget the past and blindly walk into massive bubbles like the housing market expecting to make an enormous amount of money, only to lose everything.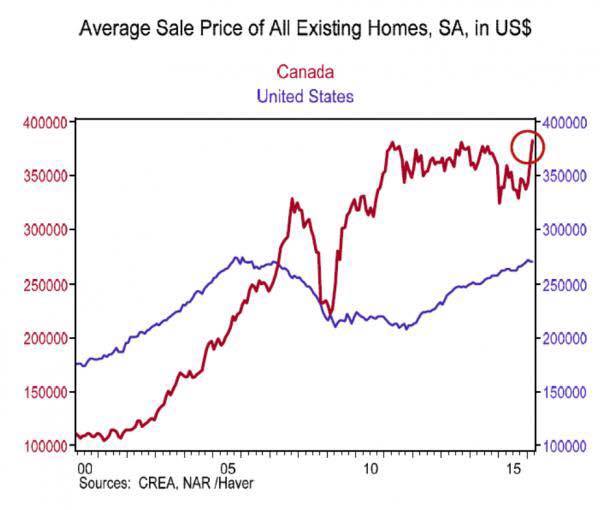 As the housing market in Vancouver and Toronto get ready to blow sky-high, Chinese firms and even government officials buy up countless properties. One with a conspiracy oriented mind may question why this is. With the level of debt Canada and the United States have with China who themselves are building ghost cities due to their own real estate bubble, it's interesting that China is purchasing so much Canadian land. To some degree, it's more about corrupt officials hiding their money from the communist order in China, and in other cases innocent citizens doing the same, however there seems to be a trend of government connected organizations doing the same.
In the above video, John Sneisen and I break down a half hour of information alongside charts and sources you won't see anywhere else. Be weary of the bubbles good people, the precipice is near and history does repeat.