(FTP)Albuquerque, NM — According to multiple sources, the two Albuquerque police officers who shot and killed "illegal camper" James Boyd, last year, will be charged Monday with murder.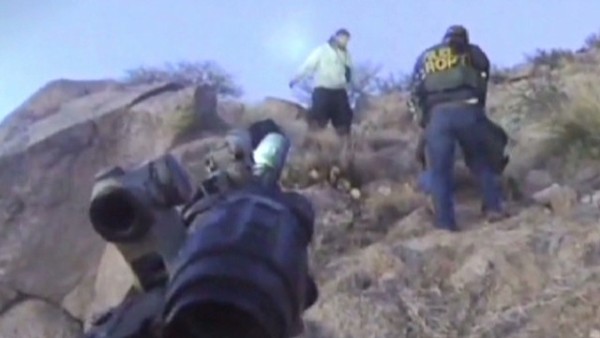 The APD has one of the highest rates of officer involved shootings in the country and the body cam footage of James Boyd's execution helped to raise national awareness to this problem.
James Boyd, 38, had been camping in a spot deemed "illegal" by the state in March of last year. APD officers were dispatched, in full paramilitary force, to remove the man from his camp site.
As Boyd was surrendering and telling officers that he would walk down with them, a flashbang is deployed and a dog sicced on him. In fear for his life, Boyd, pulls two knives to protect himself from the dog and is then gunned down by officer Dominique Perez, of the APD SWAT team, and detective Keith Sandy.
According to KRQE, prosecutors will charge officer Perez and now former detective Sandy, who was allowed to retire from the department eight months after the shooting, by "criminal information."
Filing charges by "criminal information" is common in New Mexico but not for police. Charges by information allows prosecutors to use a process, authorized under New Mexico law, to charge a suspect without obtaining an indictment from a secret grand jury; a strategical move, seeing as it's nearly impossible to obtain an indictment of a police officer using a grand jury.
District Attorney Kari Brandenburg's filing will charge Sandy and Perez with open counts of murder. That means a trial jury could consider a range of charges from voluntary manslaughter, which carries a maximum sentence of six years in prison, to first-degree murder, which carries a potential life sentence, according to KRQE.
This move will likely trigger a preliminary hearing at which Sandy and Perez will be able to contest the charges. The prosecutors will present evidence at the hearing and unlike grand juries, will be available to the public.
At the conclusion of the hearing, a District Court judge would decide whether there is probable cause to bind one or both of the officers over for trial.
In September, dashcam footage was released which captured detective Sandy plotting to "shoot (James Boyd) in the penis," prior to killing Boyd.
In October, APD Detective Geoffrey Stone, blew the whistle on the department in the Boyd Case, citing his "concerns of possible mishandling of evidence in this case and the lack of chain of custody to show who may now be in possession of this evidence may have gone."
This news is encouraging considering the lack of indictments in recent police killings, especially in the case of Eric Garner, whose murder was also caught on video.
Whether or not these two officers will ever see the inside of a jail cell is an entire other question however.
This decision to charge the two officers with murder also comes on the heels of a suspicious shooting which occurred over the weekend.
Albuquerque Police Department's five months without a shooting came to an end as an APD officer remains in critical condition after being shot by a fellow officer on Friday.
The unnamed officer was shot while undercover during a drug operation to bust two men for $60 worth of meth. Another officer sustained minor injuries, but information on how has not been released.
UPDATE:
In a press conference Monday afternoon the DA announced that they have probable cause in the case for prosecutors to make a case for a full trial.
"In this case we do believe that we have probable cause," Brandenburg said.
The DA is seeking murder charges. A date for the preliminary hearing has not been set.
"The decision by the DA to charge Keith Sandy is unjustified and a bad decision by the DA's Office. Keith, as a police officer, has not only the right, but the duty to defend a fellow officer from a mentally unstable, violent man wielding two knives," Sandy's attorney, Sam Bregman, said.
The Albuquerque Police Department released a statement that said, "This case is a matter of great concern to the community, the City of Albuquerque, the Albuquerque Police Department and the involved officers. Having the case presented to a District Court Judge at a preliminary hearing will permit the evidence to be presented in a transparent and public forum."
Read more at http://thefreethoughtproject.com/time-apd-cops-charged-murder-killing/#lWbihYM6BCqSKl0v.99