Twelve people have been confirmed killed in a devastating fire that ripped through a west London tower block and police expect the death toll to rise. Forty fire engines attended the fire and at least two hundred firefighters tackled the blaze. The cause of the fire is not yet known. The fire is believed to have started on the fourth floor.
40 fire engines & 200 firefighters have been called to the Lancaster West Estate tower block fire #NorthKensington https://t.co/SmtWbgGpSg pic.twitter.com/H4qgGmh52Y

— London Fire Brigade (@LondonFire) June 14, 2017
Up to 600 people are believed to have been inside Grenfell Tower's 120 flats when the blaze tore through the 24-storey building in the early hours. The fire was first reported at 00:54 BST in West London.
At least 75 people have been taken to five hospitals and the London Ambulance say 20 are in critical condition. Many people are still missing after residents were left trapped on the upper floors as flames rapidly spread up the block after initially being told to stay in their homes.
Latimer Road blocks on fire ???? I hope they got out alive and are safe pic.twitter.com/OJvympXLdJ

— ???? (@srmadlst) June 14, 2017
People watching helplessly from the outside spoke of residents trapped and screaming for help with some forced to throw their children from windows and others jumping from the upper floors. Some were reported to have attempted to use bin bags as makeshift parachutes.
Pictures and videos were shared across social media, showing flames engulfing the block and a plume of smoke visible across the capital. Parts of the 24-storey building were still on fire at 12:46 on Wednesday.
The fire could be clearly seen from some distance away.
@BBCNews massive fire. Tower set ablaze near Latimer Road station. pic.twitter.com/djWL2JvZK3

— Reda Shetty (@reda_shetty) June 14, 2017
The Fire Brigade said that a structural engineer has checked the block and it is not in danger of collapsing.
These are Heroes, firefighters spending hours trying to help people and not giving up. #GlenfellTower pic.twitter.com/868pLhtRIN

— Mohammed Shafiq (@mshafiquk) June 14, 2017
Here is how the tower looked before: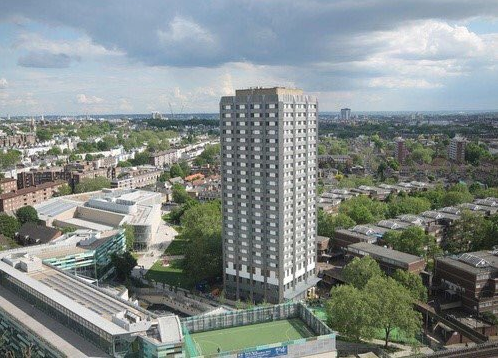 One resident, interviewed by the BBC, said that he was just falling asleep as he smelt smoke. His family were all asleep. If he'd have gone to bed early, they may never have got out. He said there was no fire alarm to wake them. He said some of the other residents had fire alarms but he could barely hear them.
This woman says that the fire brigade had visited the block the Saturday before the fire and told residents to stay in their flats and close their doors as the doors should keep the fire out for a certain amount of time. She said what they didn't seem to realise is that the fire went all around the building, not just in the corridors.
The tower block was built in the 1970s as part of the Lancaster West Estate project. This witness brings into question – why are people still living in these types of blocks? In the cases of fires like this, there is no way out.
A #GrenfellTower resident says a fire team visited on Saturday:"If I listened to advice by the fire brigade and management we could be dead" pic.twitter.com/esYkD8GBU5

— Victoria Derbyshire (@VictoriaLIVE) June 14, 2017
The Mayor of London released a full statement:
I'm truly devastated to see the horrific scenes of major fire at #GrenfellTower in #Kensington. Read my statement https://t.co/DTcxZS33kp pic.twitter.com/SZJuEvyrgL

— Mayor of London (@MayorofLondon) June 14, 2017
Rydon, a construction, development, maintenance and management group, operating throughout southern England, made this statement:
"Rydon completed a refurbishment of the building in the summer of 2016 which met all required building control, fire regulation and health and safety standards."
This tweet shows that externally, rain screen cladding was fitted to the building to help modernise it.
Terrible pictures of #GlenfellTower. Thoughts with all affected. The contractors have already deleted from their web site, but it's cached. pic.twitter.com/go4SWfSyDo

— Paul Alexander Boyd (@paulalexboyd) June 14, 2017
This tweet warns of the devastating effects when external cladding catches on fire.
Cladding was placed on the exterior of the building last year. This article outlines the dangers of external… https://t.co/PKq7LCYJIy

— LightOnConspiracies (@LightOnConspira) June 14, 2017
Residents were shocked at how the fire spread so quickly.
It didn't take long for this researcher @Evrynameisgone  to pass me a link to a blog that appeared to predict the whole event.
The owners of the website, Grenfell Action Group, was formed in 2010 to oppose the Kensington Academy and Leisure Centre. The About page of the site says:
"We were, and still are, committed to defending the rights of the residents of Lancaster West Estate, a sprawling, inner-city, social housing complex of nearly a thousand dwellings, mostly working class, multi-cultural and multi-ethnic. Our community is located in North Kensington in the Royal Borough of Kensington and Chelsea. Our blog has recorded, and continues to record, our struggle and we hope will remain as evidence for future generations of how our community has been mis-treated by RBKC and its social housing management agents the Kensington & Chelsea TMO (KCTMO)."
KCTMO stands for Kensington and Chelsea Tenant Management Organisation Limited and is responsible for the management of nearly 10,000 properties on behalf of the Royal Borough of Kensington and Chelsea. RBKC is the local council for the Royal Borough of Kensington and Chelsea.  The Kensington and Chelsea Tenant Management Organisation manage all social housing in RBKC, on the Council's behalf.
In November 2016, residents wrote an already terrifying peace on this Grenfell Action Group website:

Here is the conclusion to the piece; they are telling the viewer they are predicting the fire.

The group describe the people responsible as follows:
"We believe that the KCTMO are an evil, unprincipled, mini-mafia who have no business to be charged with the responsibility of  looking after the every day management of large scale social housing estates and that their sordid collusion with the RBKC Council is a recipe for a future major disaster."
Following the fire, the group posted:
Then they include ten links which show that they began complaining to the estate manager in October 2012:
"Indeed, there is barely adequate room to manoeuvre for fire engines responding to emergency calls, and any obstruction of this emergency access zone could have lethal consequences in the event of a serious fire or similar emergency in Grenfell Tower or the adjacent blocks."
Some feel that criminal negligence is beyond established in this case, the question still remaining is how far does it extend?
New from @lukewbarratt: Refurb of #GrenfellTower involved temporary removal of fire protections between floors https://t.co/nxmHOxymBt pic.twitter.com/P5Qv886RUY

— Peter Apps (@PeteApps) June 14, 2017
This caused a reaction of disbelief and disgust in some.
Today in the UK, the public want people in authority held accountable.
Since 2010, austerity – primarily in the form of deep spending cuts with comparatively small increases in tax – has been the UK government's dominant fiscal policy, with far fewer measures to stimulate the economy. The stated aim of austerity was to reduce the deficit in the UK.
a desperate mother throwing her baby from the building. This is life in the U.K. This is austerity. #GlenfellTower #workingclasslivesmatter

— Emmanuelle Mimieux (@shedgal83) June 14, 2017
While the event was breaking this woman tweeted that she was stuck inside, saying she didn't know what to do.
https://twitter.com/polNewsForever/status/874820689286615041
She later tweeted that she had escaped.
I'm safe guys, please don't worry. pic.twitter.com/BnyQUILXAm

— – (@rsrzy_) June 14, 2017
Many initial responses on social media were questioning if it was a terror-related event.
It has been a difficult time for the people of the UK, who had three terrorist attacks in quick succession in the run up to the election.
— Anon (@Anon_Emy) June 8, 2017
This lady explains how local Muslims raised the alarm and saved lives.
"If it wasn't for Muslim Boys coming from prayers at the Mosque & waking people up, a lot more people would've been dead!" #GrenfellTower pic.twitter.com/4UA8zHIwAX

— JammyDodger ? (@mrjammyjamjar3) June 14, 2017
Local people have rallied round, donating food, clothes, toys and other supplies.
Sikhs from @SwatLondon are at the location of #LondonFire providing aid. To help with donations pls get in touch with them #glenfelltower pic.twitter.com/uBYv2Rv5Sm

— Harjinder Singh Kukreja (@SinghLions) June 14, 2017
Let us know what you think in the comments. How do you feel about what happened?