A group of Republican and Democrat senators teamed up on Tuesday to block the United States from completing part of a major arms deal with Saudi Arabia. The Senate failed to advance the resolution in a 47-53 vote.
Heading to the floor to speak on my Resolution of Disapproval on selling arms to Saudi Arabia.

— Senator Rand Paul (@RandPaul) June 13, 2017
By invoking the Arms Export Control Act of 1976, U.S. Senators Rand Paul (Republican-KY) and Chris Murphy (Democrat-Conn), introduced a resolution disapproving of President Trump's plan to sell Saudi Arabia $510 million of precision-guided munitions which make up a portion of the $110 billion deal Trump announced during his visit there.
They can't avoid the vote today. I forced it through a privileged motion. So let's talk about whether or not to arm Saudi Arabia

— Senator Rand Paul (@RandPaul) June 13, 2017
Paul called out Trump on the legitimacy of the US's actions in Yemen:
"Today we will discuss an arms sale to Saudi Arabia that threatens the lives of millions of Yemenis but we will discuss something even more important than an arms sale. We will discuss whether we should be actively involved. Should the United States be actively involved with refueling the Saudi planes, with picking targets, with having advisers on the ground? Should we be at war in Yemen? If you remember your constitution it says no president has that authority, only to repel imminent attack but no president alone has the unilateral authority to take us to war."
[RELATED: Media Silent As Saudi Arabia Devastates Yemen Into Famine]
Today we will discuss an arms sale to Saudi Arabia that threatens the lives of millions of Yemenis… pic.twitter.com/aX56BIvg6Q

— Senator Rand Paul (@RandPaul) June 13, 2017
Paul made an impassioned and well informed speech detailing every reason why a war with Yemen is a bad idea and the dreadful human cost. He mentioned Ali al-Nimr who is being held prisoner in Saudi.
Ali was just 17 years old when he was sentenced to death by crucifixion in the wake of the Arab Spring pro-democracy uprising. He was accused of participation in an illegal demonstration.
Five Birthdays in Prison for #Ali_AlNimr #FreeThe3 #OpNimr https://t.co/iMgwfTRLQX

— Raymond Johansen (@RayJoha2) June 13, 2017
Paul displayed a large poster depicting a starving (now deceased) Yemeni child while he called on fellow lawmakers to back his resolution.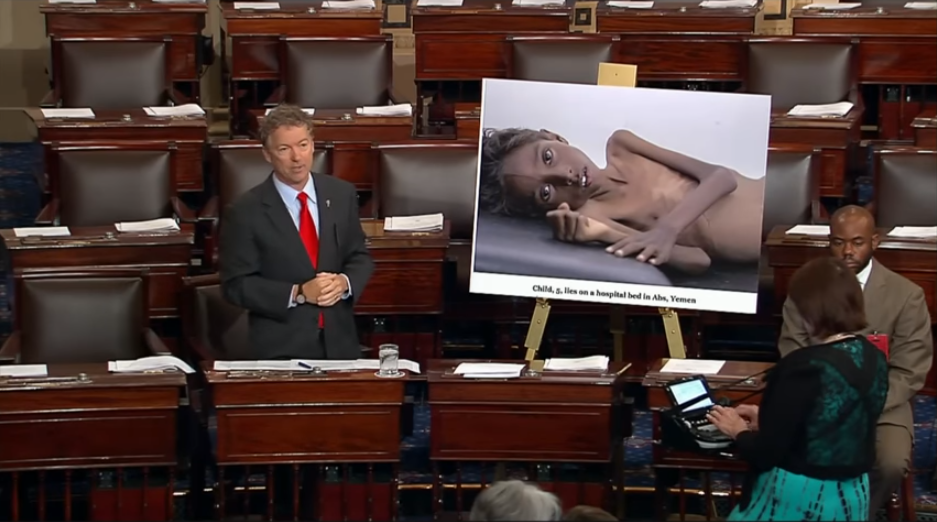 Paul pointed out how most are wasting time on the Trump Russia non-sense instead of taking notice of this humanitarian disaster:
"Nobody in America is listening to this. Everybody is paying attention to some silly show trial, silly stuff going on in committees. Nobody is talking about this at all. They say it is worse than Syria. Millions of people have fled Syria, hundreds of thousands have died and people are now predicting Yemen may be worse."
Sen @RandPaul is sharing the injustices happening in Yemen; 17 million people are starving. Blockades are stopping food from coming in. pic.twitter.com/7tTAJLIIAW

— TFAS (@TFASorg) June 13, 2017
The vote to advance the resolution of disapproval failed in the Senate with the result being 47-53. Here are all the senators who appear to care about Yemen.
Humanitarian groups have warned that the new Trump-backed sales are likely to be used against rebel factions in Yemen that the Saudi government sees as aligned with Iran.
According to UN estimates, the war in Yemen has so far cost at least 10,000 lives and horror stories of civilian casualties continue to emerge from the conflict, including a Saudi-led bombing of a funeral in October that wounded hundreds and killed over 100.
We must stand up and tell Saudi Arabia ENOUGH. They are the biggest exporter of extremism and hatred in the world.

— Senator Rand Paul (@RandPaul) June 13, 2017
Is your senator on the list below? Feel free to contact them and tell them you are not impressed!
Paul said after the vote that he and Murphy would discuss possible future attempts to block Trump's arms deals to Riyadh, warning that senators are growing more concerned about the civilian toll in a Yemen conflict that is pitting Saudi-backed government forces against rebel factions reportedly supported by Iran.
Before that happens, Paul told reporters, "there needs to be a period of time to see if there's a change in Saudi warfare tactics."
On  May 25, 2017, US Senators Rand Paul, Chris Murphy and Al Franken introduced a joint resolution of disapproval to force the US Senate to vote on a resolution blocking a portion of new weapons sales to Saudi Arabia in support of their military campaign in Yemen. The senators' resolution came after the US Senate Foreign Relations Committee received formal notice of the pending sale on May 19 2017.
[RELATED: Yemenis Protest 2 Years Of Saudi Aggression As Famine Looms]
Is The UK Involved In This?
Yes! The UK has licensed more than £3.3bn ($4.2 billion) worth of arms to Saudi Arabia since it began bombing Yemen in March 2015. This includes licensed fighter jets, bombs and missiles which have been used in Saudi's ongoing bombardment of the country.
An Opinium poll of 2,000 UK adults found 62 per cent of them disagreed with the arms sales from the UK to the Middle Eastern nation, with only 11 per cent supporting them.
Nearly one in four respondents – 71 per cent – opposed arms exports to countries that have been accused of violating international humanitarian law, with the same proportion opposing arms exports to countries with poor human rights records. Less than six per cent of people supported these acts.
Andrew Smith, a spokesman for Campaign Against Arms Trade, described the UK's provision of arms to Saudi Arabia as a "slap in the face" for the victims of the Saudi-led attacks on Yemen.
"The UK public is rightly appalled by arms exports to abusive dictatorships like the one in Saudi Arabia. The Saudi regime has a dire human rights record at home and has used UK arms to create a humanitarian catastrophe in Yemen," said Mr Smith.
[RELATED: U.S. Launched More Airstrikes In Yemen Last Month Than In All Of 2016]
Its encouraging to see a bipartisan group of senators coming together to do what is obviously the right thing.
U.S. Senate Votes on Blocking Portion of Arms Sale to Saudi Arabia | read more here: https://t.co/5Ew8RdKTpj pic.twitter.com/cR21QgfcpT

— Senator Rand Paul (@RandPaul) June 13, 2017
Here is Paul's speech.
The resolution received far more support than a similar resolution last year targeting a $1 billion tank deal with Saudi Arabia which was blocked by the Obama administration.
The vote indicates support is growing to question the foreign policy establishment status quo.
---
Patreon https://www.patreon.com/WeAreChange?a…
SnapChat: LukeWeAreChange
Facebook: https://facebook.com/LukeWeAreChange
Twitter: https://twitter.com/Lukewearechange
Instagram: http://instagram.com/lukewearechange
Rep WeAreChange merch proudly: https://wearechange.org/store
OH YEAH since we are not corporate or government WHORES, help us out: https://wearechange.org/donate
We gratefully accept BITCOIN too:
12HdLgeeuA87t2JU8m4tbRo247Yj5u2TVP