Hillary Clinton, just like Stalin, Castro and other political figures in history has a body double. Hillary's known body double is named Teresa Barnwell.
That's not a secret, but is Hillary hiding the use of a body double to go to campaign events?
They look exactly alike, almost like a clone of Hillary, but there are slight differences that can be analyzed to tell the difference between the two – for instance, their voices are different.
For background, here are 10 celebrities that have used body doubles and Wikipedia's entry on political decoys.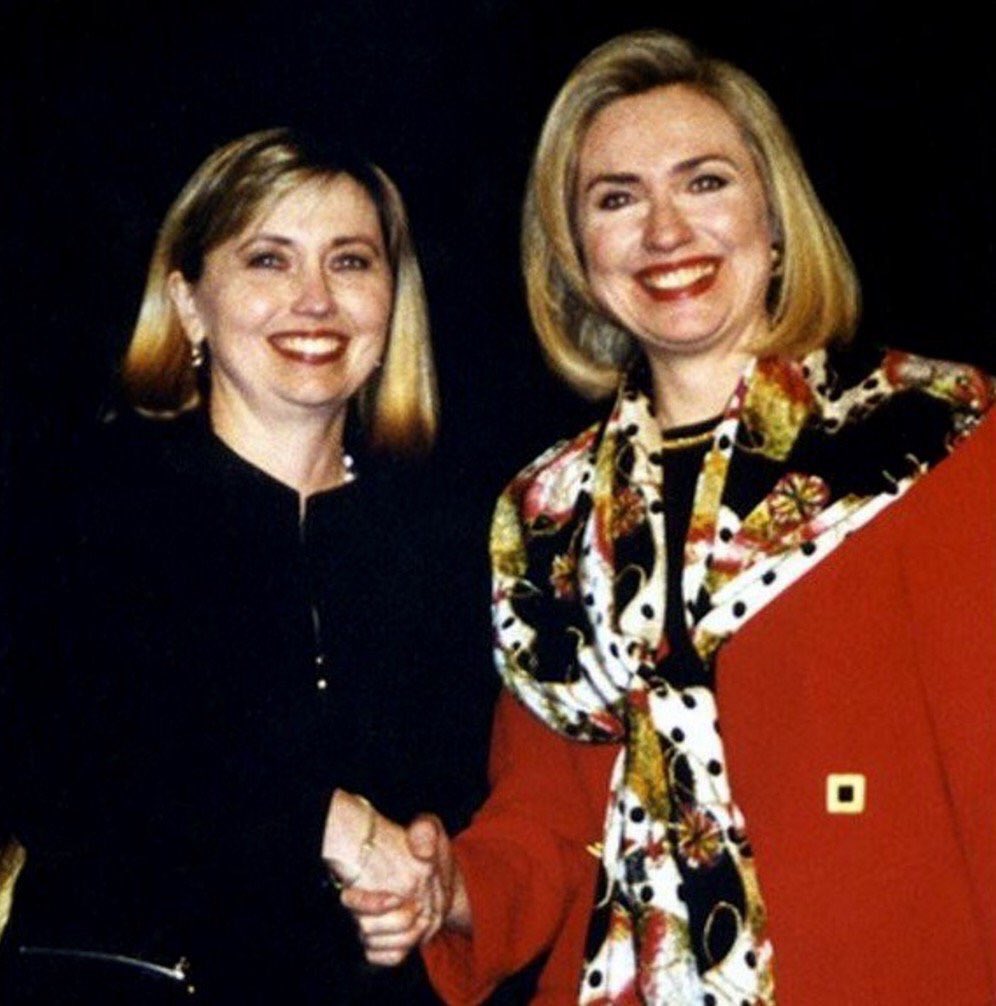 Rumors started circulating after Hillary collapse on 9/11 at a memorial, was rushed to her daughter's apartment which is likely a private medical suite, and then made a staged public appearance hours later, hugging a girl while she claimed to be suffering pneumonia.
Several pictures and tweets on the internet started emerging, suggesting Hillary Clinton's appearance after her collapse yesterday may have not been Hillary at all. In a Dailymail article Barnwell said,  "She was really lovely and that Hillary even joked I could go to all the functions she didn't want to attend."
Barnwell looks identical to Hillary Clinton, is it possible that Barnswell was used to show the media and public that Hillary Clinton is okay? It's highly possible, and very strange that Hillary Clinton met with a little girl after the media announced that her doctor said she had pneumonia.
Pneumonia is highly contagious — so why would Hillary Clinton be out hugging a little girl if she knew she had pneumonia, potentially infecting a little girl with her disease?
Additionally, Barnwell herself fueled the fire and tweeted and deleted a tweet out front Chelsea Clinton's apartment. Saying "Or Maybe, I was in NYC today you never know.."  She then retracted her tweet and said she was just joking and was in LA.
Another tweet said she was filming for Spike Tv's "Lip Sync Battle." Twitter users bashed Teressa saying that "Lip Sync Battle" was filmed in NYC citing an article from 2015. The problem is that either they are selectively blind or don't have a scroll wheel because if you scroll down the page you will see "Lip Sync Battle" filmed in NYC/CA.
The remaining problem is that this was a year ago, so they could have moved locations but it's doubtful. Is it possible that another woman was used as Hillary Clinton's body double? Yes it's possible but after viewing the video of Hillary leaving the apartment, hugging a little girl you can clearly hear it's her voice and not an impersonator. So while body doubles are real, it's unlikely that Hillary Clinton used her body double after being dragged into the van. But who knows? Maybe Hillary has more doppelgangers walking around?
Had a blast today! We were LIVE on Lip Sync Battle! Fight the power! pic.twitter.com/FcYGGeyL54

— Teresa Barnwell (@teresa_barnwell) September 12, 2016
Here is Hillary Clinton leaving Chelsea's apartment. (A little girl came up to give her a hug) pic.twitter.com/VreSXmT1Yh

— Liz Kreutz (@ABCLiz) September 11, 2016