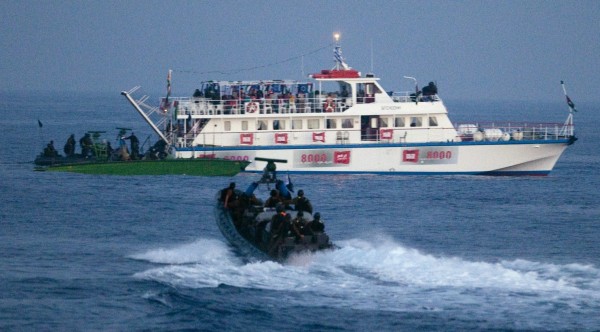 Israeli forces approach one of six ships bound for Gaza in the Mediterranean Sea on May 31, 2010. Israeli marines stormed a Turkish aid ship and 10 pro-Palestinian activists were killed, triggering a diplomatic crisis.
Three Americans and a Belgian national are suing the government of Israel in U.S. federal court, seeking compensation for injuries suffered in a deadly 2010 confrontation between Israeli commandos and activists attempting to breach Israel's naval blockade of the Gaza Strip.
The suit, filed late Monday, is the latest repercussion of the May 2010 raid, in which Israel Defense Forces commandos boarded a six-ship aid flotilla and, after meeting resistance, killed nine Turks and an American of Turkish descent. The incident triggered international condemnation and a lasting diplomatic crisis between Turkey and Israel.
Those killed were civilians aboard the passenger vessel Mavi Marmara and included Furkan Dogan, a 19-year-old U.S. citizen whose relatives filed a civil lawsuit in October for damages against former Israeli defense minister Ehud Barak in U.S. District Court in Los Angeles.
The plaintiffs in the new suit, filed in Washington, were aboard the U.S.-flagged Challenger 1, which was carrying media equipment and 17 passengers and crew members.
[Israeli troops raid aid flotilla headed for Gaza, killing nine]
According to their attorneys, American plaintiffs David Schermerhorn, Mary Ann Wright and Huwaida Arraf, a dual U.S.-
Israeli citizen, and Belgian national Margriet Deknopper suffered injuries that included partial loss of sight when a stun grenade exploded inches from one of them and a broken nose when another was hit by a rubber bullet.
"I observed [Israel Defense Forces commandos] taking women and shoving them down onto passageways, pushing their faces into shards of glass and binding them up," hooded and kneeling, said Wright, 69, in a phone interview Monday. She is a retired U.S. diplomat and Army colonel who resigned her State Department position in opposition to the 2003 Iraq war. The four plaintiffs said they were restrained for 12 hours and detained three days on land before being deported.
"The attack on the high seas was unjustified and illegal under international law," lawyer Steven M. Schneebaum of Washington wrote in a 21-page complaint, which alleged that the military operations injured more than 150 protesters and included torture, cruel or degrading treatment, arbitrary arrest and assault.
"No statute of limitation does or should protect persons guilty of war crimes, or those who command and control such perpetrators," he wrote.
A spokesman for the Israeli Embassy in Washington could not immediately be reached for comment.
Israel has said it maintains the maritime blockade of Gaza and its 1.8?million residents as a necessary security measure to counter militant attacks and smuggling, including activities it traces to Hamas, the Islamist militant movement that controls the Palestinian territory. Since 2010, Israel has eased some limits on humanitarian aid and essential goods, but economic conditions remain difficult.
[Half a year after devastating war, life in Gaza seems worse]
Under U.S. law, the Foreign Sovereign Immunities Act generally bars lawsuits against foreign governments, except for certain circumstances, including terrorist acts against Americans by U.S.-designated state sponsors of terrorism.
Ralph G. Steinhardt, a professor of international law at George Washington University Law School and a member of the plaintiffs' legal team, said the suit may turn on whether a court finds that the action against a U.S.-flagged ship in international waters should be treated as an assault in the United States or that Israel's conduct was so egregious that it is not entitled to immunity, even in the absence of a U.S. terrorism designation.
At a news conference set for Tuesday in Washington, Steinhardt said plaintiffs expect to voice frustration that efforts to win compensation from Israel "have largely been stonewalled."
The chief prosecutor of the International Criminal Court in The Hague in late 2014 reported that Israeli forces may have committed war crimes in the attack on the flotilla, but casualties were insufficiently large to warrant a criminal investigation.
Last month, Israeli authorities announced a preliminary agreement with Turkish counterparts to restore diplomatic relations frozen since the incident. Israel has proposed creating a humanitarian fund on behalf of families of those killed, without admitting fault, in return for Turkey dropping legal claims against Israel, including criminal charges against Israeli officers.
https://www.washingtonpost.com/world/in-us-court-israel-faces-civil-suit-by-american-victims-in-gaza-flotilla-raid/2016/01/11/1893fa96-b643-11e5-a76a-0b5145e8679a_story.html