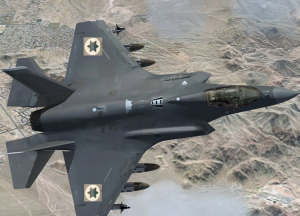 As in all IAF aircraft, the stealth fighter named Adir, will have Israeli weapons and aviation systems integrated into the aircraft, advancing its technological capabilities, while also injecting millions of Shekels into the local economy.
By Lilach Shoval & Israel Hayom Staff
The body of Israel's first F-35A joint strike fighter plane was unveiled at a festive ceremony in Fort Worth, Texas, over the weekend. The plane, named Adir, will now enter the advanced production stage, which is set to last until June.
Israeli delegation head Aharon Marmarosh signs the frame of the first Israeli F-35 – Photo: Defense Ministry and Lockheed Martin
The ceremony was attended by officials from U.S. aerospace company Lockheed Martin, which produces the F-35, and Israel's Defense Ministry.
Israel has ordered 33 F-35s at the average cost of $110 million per plane. The first two F-35s are scheduled to arrive in Israel in December. The rest of the planes will be delivered to Israel by 2021.
RELATED:
Israel's Plant for Producing F-35 Stealth Aircraft Wings Opens
Pentagon will manufacture Israel developed F-35 helmet
Israel 1st to receive F-35 stealth jet fighter…but, a Jewish One. (Video)
At the ceremony, the head of the Israeli delegation, Aharon Marmarosh, signed the frame of the first Israeli F-35, writing, "Onward and upward. May you succeed in your mission."
Marmarosh said, "This is a historic day. … The F-35 will improve Israel's ability to defend itself from a variety of threats."
View original Israel Hayom publication at:
http://www.israelhayom.com/site/newsletter_article.php?id=31023