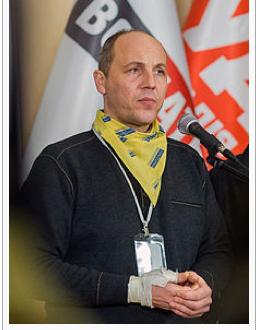 SOURCE: RINF
Andrey Parubiy, a co-founder of the Social Nationalist Party of Ukraine, which the CIA renamed the "Freedom" Party ("Svoboda") in order to hide its origin as Ukraine's nazi party, announced on Sunday February 15th, that he'll be seeking weapons from the U.S. He had started (but the CIA named) Ukraine's 'Anti Terrorist Operation,' which has been trying to exterminate the residents in Ukraine's Donbass region, Ukraine's separatist region. Parubiy's announcement said, "Next week I'm off to the United States to speak about this very subject," of getting Washington to supply the weapons necessary to finish that job.
The reason for his visit is: Ukraine is running out of bullets, guns, and other necessary equipment to achieve his goal. It's a goal he had only begun as the organizer of Ukraine's 'Anti Terrorist Operation.' The 'ATO' had commenced soon after the February 2014 coup in Ukraine, and has not been proceeding nearly as quickly as had been planned; it's way behind schedule.
According to German intelligence sources, no more than 50,000 people have been killed so far in the operation, though more than a million have fled, which also counts as success because the goal is to clear the land there. As a retired Ukrainian general who supports the operation said, "The shelling there is done as intimidation, … not just object destruction, but [also as] intimidation [to get the population to flee to nearby Russia]. The civilian population is intimidated by a chaotic bombardment." That constant bombardment requires lots of bombs and bullets, which is why Parubiy now needs a big resupply.