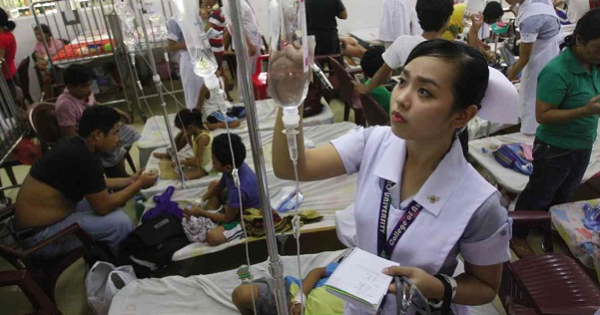 At least three newborns have passed away after receiving Hepatitis B vaccinations at Bago General Hospital. Over 20 others are experiencing severe side-effects. Myanmar Health Officials are investigating the circumstances, according to an article in the Myanmar Times.
Between March 4 and 7, 28 infants were inoculated against hepatitis B at the Bago General Hospital, according to the Ministry of Health. The newborns quickly showed signs of adverse reactions.
By March 7, two of the infants died, 14 were brought back to the hospital suffering from fits and respiratory distress, two were put into critical care, and another 10 were monitored from the infant care ward.
"The infants were suffering from blood poisoning symptoms," a ministry statement said. "An investigation is continuing to determine whether the reactions are associated with the hepatitis B vaccine."

The vaccines used were recognized by the WHO.While Myanmar has taken steps to ban the vaccine temporarily, they've been unwilling to place blame on the vaccine itself pending the results of investigations. I'd imagine these investigations are being carefully monitored by the vaccine maker as well as Government officials. The liability here is huge; this is nothing more than mass killing. Unfortunately, pharmaceutical companies operate under complete immunity, so they have no fear of potential litigation.
The vaccines which were given to the infants are said to have been purchased from a private pharmacy instead of being given as part of the national inoculation campaign. My assumption is that the pharmacy takes a blame so as not to create any negative public perceptions over vaccination programs. The Hepatitis B vaccines official side effects are listed below:
Recombivax [hepatitis b vaccine (recombinant)] is a viral vaccine used to help prevent the disease Hepatitis B. Common side effects of Recombivax include irritability (especially in children), pain/soreness/redness/swelling at the injection site, fever, headache,tiredness, sore throat, runny or stuffy nose, nausea
According to NIVC, the Hepatitis B vaccine has become more and more concerning and is an unreasonably administered vaccine. Also, the pharmaceutical industry funds forced hep B vaccinations.
Pharmaceutical Industry Also Funds Forced Hep B Vaccination – In addition to federal grants, many states get money from the Robert Wood Johnson Foundation (Johnson & Johnson), which operates All Kids Count, to set up vaccine tracking systems to enforce state vaccination mandates. (In 1989, Merck & Co., the U.S. manufacturer of the measles, mumps, rubella (MMR), chicken pox and hepatitis B vaccines, joined with Johnson & Johnson to form Worldwide Consumer Pharmaceuticals Co. with the goal of becoming "one of the premier worldwide consumer products companies." Merck's 1997 vaccine sales reached 1 billion dollars.)
Read More
https://truthkings.com/least-3-newborns-dead-vaccinations/