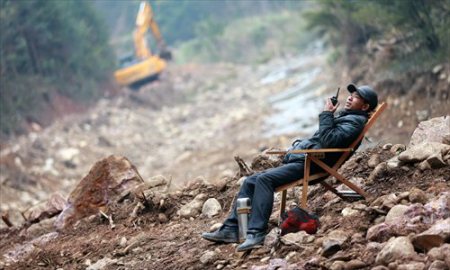 Source: Daily Hype Online
A man battling liver cancer used his life savings to build a road to connect a remote village to the outside world instead of treating his illness.
Huang Yuanfeng, 45, was one of the few people to make his way out of the home village he grew up in to make a living for his family.
20 years later, he returned to his hometown and is now spending his money helping residents instead of "wasting it" on trying to rid his body of cancer.
And after his daughter learned of her father's determination she dropped out of university for a year in order to look after him.
Yuanfeng said: "I had the choice of either wasting my money on attempting a cure pretty much everybody agreed wouldn't work, or spending the money on something really useful.
"And what could be more useful than a road that would give my fellow villagers the opportunities that I had."
Huang Yuanfeng, who grew up in the remote village of Xiaojiangtun in southern China, spent two decades living and working in the nearby city of Guilin, which is one of the most visited tourist destinations in the country.
But the towering rock formations that made the region famous were also the reason why the village of, where Huang was born was so isolated and cut off from the world.
He made trips back to his wife and daughter as often as possible, before finally moving back permanently after making enough money to live comfortably and to send his daughter to college.
But shortly after she won a scholarship to Guangxi University, one of the country's most prestigious universities, he was diagnosed with liver cancer.
After discussing his current conditions with doctors, he realized the chances of survival were slim and decided to spend his money helping others.
He said: "Life was very difficult here because of the mountains and fast flowing rivers, but when my road is finished it will be possible to drive here and because of the spectacular scenery we will get many tourists."
When the project is finished Huang will have spent all his savings, but as it nears completion, he told local media: "It was worth every penny."
His daughter, who decided to give up her studies to look after him, walks with him every day carrying a chair to the latest stage of the road building work, and cooks for him and as he organizes the road building project.
He initially hired an excavator and a crew to supervise the work himself, but had struggled to stand on his feet every day.
His daughter Huang Tonghui, 21, said: "Somebody has to take care of him as he cares for everybody else. I know that if I wasn't here he wouldn't take his medicine on time for example."
Local villager Hui Lei, 38, stated: "I know that he is ill but I hope he lives to be 100 years."
Yuanfeng has become a hero among residents.