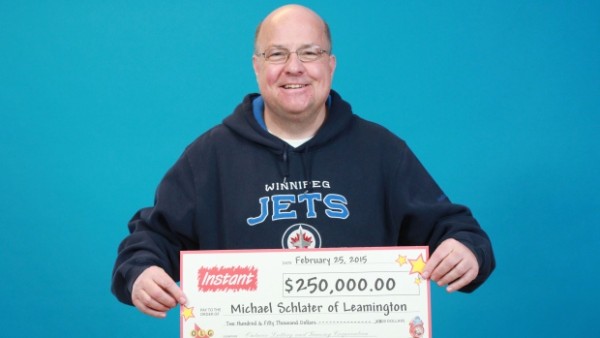 SOURCE: CTV News
A Leamington, Ont. lottery winner says he'd decided how to spend his jackpot before he'd even collected the giant cheque: hand the money over to local students.
Michael Schlater, 54, won $250,000 on a $10 Instant Cadillac Riches lottery card.
Schlater, who says he's been playing lotteries for nearly 30 years, called his top prize win a huge thrill.
"It's the most I've ever won. My wife couldn't believe it and started crying," he said, according to a release from Ontario Lottery and Gaming Corporation.
Schlater told OLG representatives he plans to donate the entire prize to the high school his son attends.
"The school is in need of a computer system upgrade and this donation will help them get it," the father of three said.
"We are very blessed with where we are in life. Now we have the ability to help and that's what we plan to do."
The winning ticket was purchased at Jack's Mini Mart and Coffee Shop on Talbot Street in Leamington.