A  shocking number of 9/11 witnesses have mysteriously died since 9/11.
The thing these witnesses have in common is that their statements give support to the 9/11 truth movement.
---
Barry Jennings
Barry Jennings was the former New York Housing Authority Emergency Coordinator.
On 9/11, Barry Jennings reported that he and Michael Hess had been blown back by a big explosion inside Building 7.
He later said in an interview that he had heard explosions in Building 7 before either Tower had collapsed.
He also reported that he was stepping over bodies, contradicting the official gov't claim that no one died in Building 7.
Barry died mysteriously on August 19, 2008 — two days before the release of the NIST Report's first draft.
---
Beverly Eckert
Beverly Eckert lost her husband on 9/11.
She did not believe the official story of 9/11.
She was among the families organizing for disclosure around the facts of Sept. 11, including a lawsuit against the Saudi and U.S. Gov't.
She was offered money by the U.S. gov't to keep silent. But Beverly did not comply.
Eckert died at age 57 in a mysterious commuter airplane crash on February 12, 2009.
A week before she died she met with President Barack Obama as an advocate for those affected by 9/11.
---
Kenneth Johannemann
Kenneth was a janitor at the wtc. He reported seeing explosions in the basement and upper floors of the tower.
Johannemann reported a massive explosion in the basement of one of the Twin Towers, and rescuing someone who received full body burns from an explosion that took place at the base — not the top — of the building.
In Sept. 2008, Kenneth died from a gunshot to the head from an apparent suicide.
The suicide note makes it appear as if the reason for the suicide was eviction. Although Johannemann had a large and loving family, and one of his cousins had offered him a place to stay.
---
Christopher Landis
Former Operations Manager for Safety Service Patrol for the Virginia Department of Transportation.
He gave the makers of "The Pentacon" a film photo collection and nervously answered their questions.
He had an unobstructed view of the Pentagon crash site and amazing unseen pictures showing of a cover-up. Pictures also showed 9/11 perps in their government vehicles.
About a week after the film makers had obtained the CITGO witnesses testimony on film, Christopher Landis committed suicide. No further info has been released on his death.
---
Bertha Champagne
Bertha was the babysitter for 9/11 perp Marvin Bush's family.
Marvin P. Bush, the little-known younger brother of George W. Bush, was a director of Securacom/Stratesec, a Kuwaiti/Saudi-backed company, until June 2000.
The company that provided electronic security to the World Trade Center in the days before the attacks and provided security to Dulles International Airport where Flight 77 took off from.
On 9/11, Marv Bush was on the Board of HCC Insurance Holdings, Inc., which insured parts of the WTC.
October 10, 2003, 62-year-old Bertha Champagne was found crushed to death by her own vehicle in a driveway in front of the Bush family home.
What did she know?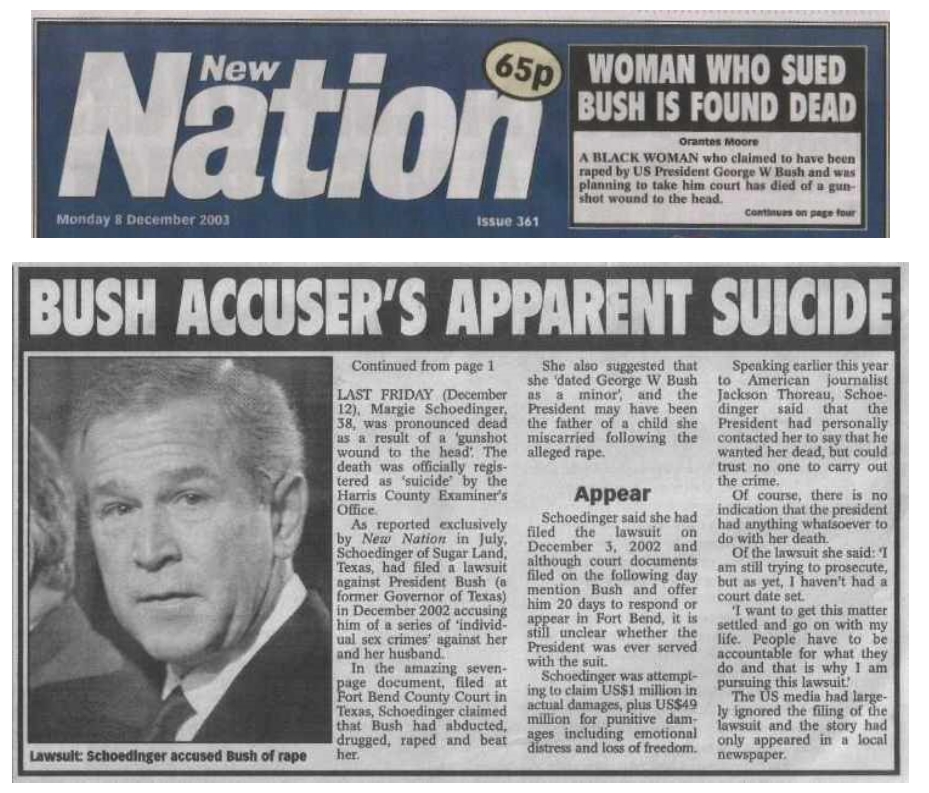 ---
Paul Smith
Chopper 7 Pilot, Pilot of ABC's 9/11 "International Shot" Chopper, who caught the second plane flying into the tower.
On Oct. 7, 2007, Paul Smith was killed when he was run over by a cab driver who was cut off by a "black car." The black car has not been identified.
Cameraman John Del Giorno was on the chopper with Paul Smith on 9/11.
John Del Giorno confirms he was the cameraman in News Chopper 7 on 9/11 who took the first footage aired live "allegedly" of United Airlines Flight 175 hitting the second tower.
John Del Giorno has refused to talk about what he saw on 9/11 and no longer responds to reporters.
Did someone tell him not to talk about what they really witnessed?
---
Deborah Palfrey
(the D.C madam)
Deborah Palfrey ran a prostitution ring that had top 9/11 perps among its clients.
A former NSA official noted that some of Palfrey's call girls were being chauffeured by Sherlington Limousines to poker parties attended by former CIA director and co-chair of the Joint 9/11 Intelligence Inquiry, Porter Goss.
One of the reasons cited for Goss's abrupt resignation in May, 2006 was his alleged involvement in a prostitution scandal.
On the morning of 9/11, Goss was having breakfast with the head of Pakistan's Inter Services Intelligence (ISI) General Mahmud Ahmed, the man who ordered a wire transfer of $100,000 to alleged lead hijacker Mohammed Atta.
According to former NSA official Wayne Madsen, Palfrey may have also have known that Jack Abramoff, who was also connected to the DC Madam scandal, allowed at least two of the 9/11 hijackers to use one of his casino boats in the days before 9/11.
Deborah Palfrey said, "I have information that would have been of great interest to the 9/11 Commmission."
"There's information that they have that would have been very important for the 9/11 Commission to know having to do with intelligence they picked up about 9/11 before it happened."
This is a clip from the Alex Jones Show where he interviewed Deborah Palfrey. She didn't say what she was going to expose because she wanted to do that in court.
[Alex Jones] Well, look. She's already dropped the atomic bomb on them. She's already released the numbers.

[Deborah Palfrey] Yeah, yeah I have. And not to be concerned. I have no intention of letting anyone buy me off, or make any kind of a deal with me.

[Alex Jones] And you're not planning to commit suicide?

[Deborah Palfrey] And I'm not planning to commit suicide, either.

[Alex Jones] The fact that you're so visible really protects you, going on Larry King and other big shows. Do you want to put it on record that you're not planning to commit suicide?

[Deborah Palfrey] No, I'm not planning to commit suicide. I'm planning to go into court on April 7th if indeed we do have the trial, and I plan on defending myself vigorously and I plan on exposing the government in ways that I do not think they want me to expose them on.

April 15, 2008
[Police Spokesman] When she went outside, she noticed the three-wheel bicycle had been moved that was normally kept in the shed. Upon entering the shed located on the west side of the residence, Blanche Palfrey discovered her daughter Deborah had apparently hung herself using a nylon rope from a metal beam on the ceiling of the shed. She then called 911.
At approximately 11:01 a.m., Tarpon Springs Fire Rescue pronounced Deborah Jean Palfrey deceased.
They murdered her.
---
Major General David Wherley
Wherley was the officer who scrambled fighter jets into Washington's skies on the day of 9/11.
On June 22, 2009, Major General David Wherley was killed when two commuter trains crashed into each other.
Both trains were ripped open and smashed together in the worst accident in the Metrorail system's 33-year history.
Investigators determined that the striking train was under automatic, rather than manual, control.
---
Salvatore Princiotta
Salvatore Princiotta was a first responder firefighter from Ladder 9.
These are actual pics of the Ladder 9 fire truck.
You can see the windows have been blown out.
The window gasket is on the outside. What blew out the windows?
It didn't blow out just the middle portion of the windows, it blew out the windows all the way back to the frame where it was mounted.
On May 23, 2007, Salvatore Princiotta was found murdered. What did he really witness?
---
David Graham
David Graham saw three of the alleged hijackers in Shreveport with a Pakistani businessman prior to 9/11. He came to the FBI with this information and received threats from federal agents.
On September 17, 2006, David Graham was found poisoned to death. Graham's death was never investigated.
Just a coincidence?
---
Additional Source material and an extended list of post 911 mysterious murders, train, airplane, and car crashes, Suicides, and "armed robberies gone wrong" can be found at this link –> (SOURCE) 
Thank you to those of you who have made it this far. We will not forget, we will not stop fighting for 9/11 truth and justice. We are actively calling for a new investigation into the events that caused all of this loss of life. Stay tuned to our news networks there will be more info to come in the 911 truth series. Like – Comment – Share, because together We Are Change.
Follow WE ARE CHANGE on SOCIAL MEDIA
---
Sign up become a patron and Show your support for alternative news

We use Bitcoin Too !  
12HdLgeeuA87t2JU8m4tbRo247Yj5u2TVP