UPDATE: 10 p.m. EST, Jan. 25: The AP reported Wednesday night that Mexican President Peña Nieto is now "considering" cancelling his trip to Washington to meet with Trump….
BREAKING: Mexican president says he regrets and rejects the US decision to build a border wall.

— The Associated Press (@AP) January 26, 2017
President Donald Trump issued an executive order to push for the construction of a wall on the U.S.-Mexico border on Wednesday, which raises new questions leading up to his scheduled meeting with Mexico's president next week.
Mexican President Enrique Peña Nieto, in his first speech since Trump's Inauguration, claimed he sought dialogue with Trump on the foundations of shared interests and mutual respect.
Nieto insists that Mexico's sovereignty, and the protection of the Mexican people would be firsthand for his government.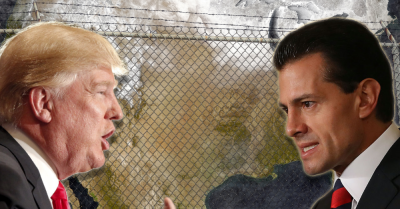 Set to meet next week, Peña Nieto's speech listed a plethora of pursuits that Mexico hopes to accomplish, despite the new American president's stance being viewed as hostile.
Discussion over the bilateral relationship, as well as renegotiation of the North American Free Trade Agreement, would only be allowed if part of a bigger package. Nieto stressed that negotiations would include more than talks over trade – they would also focus on migration and security, two issues that Mexico has a key strategic role in for the United States.
President Nieto addded, "We will bring to the table all themes."
"Trade, yes, but also migration and the themes of security, including border security, terrorist threats and the traffic of illegal drugs, arms, and money."
However, despite concerns of hostility between the two leaders, Nieto insisted that, "The solution is neither confrontation nor submission."
He added, "The solution is dialogue and negotiation."
Despite this claim, his speech bore nationalist tones and aspects – one element of the address that did fall in line with Trump's own vision for America. Nieto seemed to adopt the "America First" motto for his own intentions.
"The exercise of sovereignty implies that, in the process of negotiation, our only interest is that of Mexico and those of Mexicans."
Mexico Under Nieto
Rising gas prices and growing levels of violence have plagued Mexico under Nieto's government. He holds the lowest favorability of any Mexican President in the last few decades, certainly not helped by numerous accounts of government scandal.
Trump's Executive Orders
Could Nieto's meeting with President Trump boast opportunities for benefits on both sides? Also importantly, will Trump's coveted wall become a major talking point? Regardless, it is certain that NAFTA will be a central subject for debate at the meeting between Trump, Nieto, and Canadian President Trudeau.
Trump signed an executive order to begin construction of the wall across the 1'989 mile border on Wednesday. He also signed an order to boost border patrol forces and to increase the number of deportations of illegal immigrants, as well as eliminate "Catch-and-Release".
Trump will also prioritize the prosecution of criminal offences and enhance ICE ability to arrest, detain, and remove illegals. Additionally, he will also give State Department more tools to repatriate criminal illegals, and restore the "Secure Communities'"program to target illegals for removal.
Trump's policies against illegal immigration from Mexico in particular have sparked massive controversy throughout his campaign, and could prove problematic for the coming meeting with President Nieto – will Nieto maintain his professionalism and wish to "build bridges" like he claims?