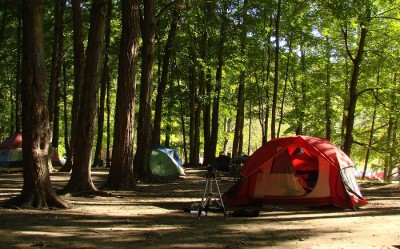 Source: Off-Grid News
A Michigan family which had dreams of camping during the summer in the great outdoors was horrified when state officials seized their six children simply because they were temporarily living in tents, Off The Grid News has learned.
The nightmare experience for Christopher and Antonia Hernandez began May 19 when Otsego County sheriff deputies and a CPS official took their children, and ended June 10 when their children were returned after the parents won a court ruling based on the fact the mother and children are eligible for enrollment in the Tlingit Native American tribe. The federal Indian Child Welfare Act makes it more difficult for state officials to separate Native American families. Michigan has a similar state law.
If the family had not had the Tlingit link, the case still would be ongoing, with the children still in foster care.
But the removal never should have taken place, Christopher and Antonia told Off The Grid News, which has read the court documents – one of which criticizes the family for not having electricity or a water source. The family was near a state park and had purchased a pass to shower and bathe there. The parents also had a generator.
They had been living in the tents for nine days when police arrived.
"The government has tried to standardize what a home is and what a home must have, without consideration for if the children's needs are being met or not," Christopher and Antonia said in a joint statement. "This was not a case of neglect, but a case of the government telling us how we have to raise our children — that we must have running water, we must have electricity and we can't stay in a tent for the summer. To the government it makes no difference if the children are happy and healthy. We need to conform to their idea of normal or they can take your children away.
They added, "Taking children from families needs to be limited to clear cases of neglect and abuse. It should be every parent's right to raise their children as they see fit, unless the government can prove that what the parent is doing is actually harming the child."
The children, ages seven months, 2, 4, 6, 15 and 17, had been living in the three tents – two of which were large nine-person tents – when the controversy began.
"Our family decided to go camping for the summer to a 10-acre property we are buying," Antonia said, noting they do own a house. "We had intended to stay the summer while we finalized plans on what we were going to do with our lives. We cannot say we would have stayed the whole summer due to the fact Christopher is donating a kidney to his mother and we may have been called home to do the surgery at any point. If this were to happen we planned to return home for the duration of the surgery and the recovery period however long that was."