Article Via: The Daily Sheeple
This criminalization of everyday life is not just insanely costly and insanely counter-productive–it's insanely punitive.
The average person has little exposure to the criminalization of everyday enterprise in America via over-regulation and outsized penalties for even accidental violations of rules and regulations. One field that continues to be burdened with excessive/counter-productive regulations and outsized penalties is the practice of medicine.
I received the following email from a physician correspondent:
"As you will see, physicians have to deal with the federal government's increasingly crazy and copious rules (like which patients they can screen for disease and how often).

The following is an email ad I received for an expensive service that provides no benefit to the ill and injured of America. It's bureaucratic nonsense."
Here is the email ad:
Can you afford a $1.1 million penalty and a 50-year exclusion from Medicare? That's what one New Jersey provider is facing. And he's not alone. In the last couple of months a facility in Utah is now under a 30-year exclusion, and a New York physician is now excluded from Medicare for five years.

These penalties and exclusions not only affect those providers that are intentionally fraudulent. Even an innocent mistake can land you in serious legal and financial hot water. Being tagged as "excluded" by the Office of the Inspector General (OIG) can crush your practice — especially considering the new guidelines that went into effect just a couple of days ago (on Feb. 13th).

Tomorrow, a leading healthcare attorney will walk you through the new exclusionary rules that just took effect so that you can really understand what will keep you off of the OIG's hit list.

Here are just a few of the practical, easy-to-implement tactics you'll receive by attending this 60-minute online training:

–Determine specifically who you should screen (individuals and entities) and how often

–Avoid being placed on the list for lack of compliance if there is a match on your team

–Find out what other legal actions can have collateral damage resulting in exclusion

–Learn how to get reinstated onto Medicare after an exclusion period expires

–Head off the top "flags" that lead to exclusions

–Master documentation requirements making your files audit-proof

–And so much more…

To make matters worse, if you employ an excluded employee (even accidentally), any funds paid to them must be paid back to Medicare/Medicaid promptly, and if you don't take action quickly enough your entire practice could be at risk. Are you really ready to lose serious revenue by getting thrown out of Medicare and your other private insurers?

Don't take the chance. Invest just 60 minutes of your time and attend this step-by-step, plain-English online training session that will provide you with the tools you need to protect yourself, your staff and your practice. Don't wait, sign up today.
This is just the tip of the iceberg of healthcare compliance costs and penalties that are far more punishing than the "crimes." If you wonder why America pays the highest cost per person for uneven healthcare coverage and care, take a look at this chart of the administrative system that has mushroomed into an incredibly costly bureaucratic monster that provides zero care.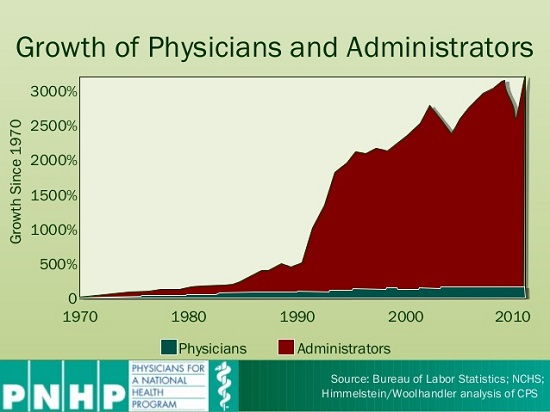 Add layer after layer after layer of new complex regulations to the practice of medicine, and soon enough you need millions of paper-pushing employees to monitor compliance, enforce compliance, pursue administrative and criminal charges of non-compliance, file claims and counter-claims, defend the innocent from false accusations, write hundreds of pages of new regulations, and so on.
Yes, there is a place for common-sense regulations, and procedures to vet caregivers and track standards of care, etc.
But the system is now so onerous and out of control that the practice of medicine now requires far more attorneys and compliance-regulatory-paper-pushers than it does doctors and nurses.
This is but one example of America's obsessive penchant for criminalizing and over-regulating everyday life. No wonder America has over 20 million people with felony convictions, many for drug-related offenses that should have been treated as medical conditions (such as addiction).
In America, every "crime" deserves a heavy and often-life-destroying penalty–even non-compliance "crimes" committed by overworked innocents.
This criminalization of everyday life is not just insanely costly and insanely counter-productive–it's insanely punitive. It is the output of a sick society, a sick culture and a sickness-unto-death system of governance.
This article first appeared on TheDailySheeple.com and was authored by Hugh Smith