For the first time in India, the rich beg the poor to help them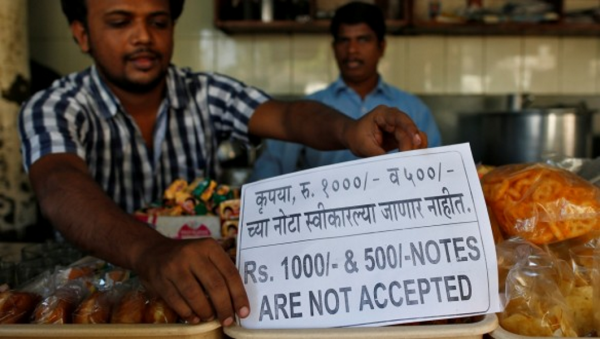 Written by Amrit Dhillon
*This article is Translated from The Sydney Morning Harrold and combined with We Are Change source material since Luke Rudkowsi is on location. 
Delhi: Driver Rahul Sharma, 25, remembers the exact day when his employer turned from a wolf into a lamb. It was November 9 when his employer called him  beta  – Hindi for "dear" – for the first time. The maid was asked to give him a cup of tea, for the first time.
"I was shocked at his sudden niceness. It went on for two days," said Sharma. For the past three years, his New Delhi-based employer has been abusive, bad-tempered, and imperious, often demanding that he turn up for work at 6am after finishing work at midnight.

"He didn't even bother to remember my name. When he wanted to summon me, he'd call out 'driver!'," Sharma said.

"On the third day, the penny dropped. He asked me to deposit 250,000 rupees ($4900) in my bank account on his behalf so that he could get rid of his black money."
Maids, drivers, nannies, and cooks in India are experiencing unusual politeness from their employers. Beyond the work they do every day, they suddenly have another use – to launder the undeclared cash which the rich have been hoarding in steel wardrobes, under the mattress and in under-bed storage.
This sudden outbreak of niceness is the outcome of India's current crackdown on "black money" – income in the form of cash that has not been declared to the tax authorities. On November 8, the day before Sharma's employer became a lamb, Indian Prime Minister Narendra Modi scrapped 500 and 1000-rupee notes to root out corruption and force more Indians into the tax net.
In one fell swoop, the tens of millions of rupees that the rich kept at home in these denominations became worthless. If they deposit the money in the bank tax officials will pounce, imposing staggering penalties and taxes.
However until December 30, each Indian is allowed to deposit a smallish sum of 250,000 rupees in such defunct notes in their bank accounts without questions being asked. That is why the rich need the service of the poor.
Sharma and others like him have been implored by suddenly humble employers to deposit the amount in their accounts by the deadline – to be returned to their employers later.
"I refused him. I don't want to get into trouble later if someone asks me how I got this money when I'm only a driver," Sharma said.
Domestic staff and factory employees are going around with big grins, delighting in the panic and anxiety etched on the faces of the fat cats who never showed them any consideration, not to mention the delicious irony of being beseeched by their now squirming masters.
Modi's message in a recent speech – "see how I make the powerful suffer with you" – has resonated powerfully. "For once the rich are as troubled as we poor Indians are every day," said Akash Atwal, a driver with a New Delhi car rental firm.
In return for depositing the scrapped notes, domestic staff and others are being offered 10 to 25 per cent as commission. Some have accepted, happy to pocket an unexpected windfall; others, fearing trouble, have refused; and others have refused out of the principle that, if some big fish have been caught, leave them wriggling at the end of the line.
In their desperation to get rid of their ill-gotten money, rich Indians are dumping sacks of notes into the River Jamuna in New Delhi. Some have made a bonfire of their cash at some deserted place before running away to avoid identification. Police have stopped cars filled with suitcases stuffed with 1000-rupee notes, their drivers rushing to distant relatives they haven't seen for years to ask them to deposit their cash.
"Some families who buy fruit from me regularly wanted to get rid of 100,000 ($1900) worth of notes by paying me in advance for the fruit they will buy over the next year" said Bittu Bharati, who runs a fruit stall with his uncle in Lajpat Nagar.
Others who are usually paid in cash – florists, beauticians, personal trainers and "presswallahs' who iron clothes in neighbourhoods – have also been told they can have their services paid for two years in advance, just so that affluent families can dispose of their expired cash. Then it's up to them to exchange the money at the bank.
Some Indians are being too clever by half. A divorced man who had defied the courts by refusing alimony to his wife was seized with a new respect for the law and offered to pay her the arrears – in the banned currency notes. The judge threw him in jail until he paid in the new notes.
Domestic staff have been chuckling while exchanging stories of what's been happening in the homes of their employers: sudden palpitations, wailing wives, altercations over how to get rid of the banned notes, profuse sweating and pure despair.
Chemists have reported a spike in the sale of sleeping tablets. Mumbai hospitals have reported a surge in panic attacks. But some doctors are feeling queasy themselves – it's estimated that about 40 per cent of doctors are paid in cash.
"I'm an ordinary man and I'm suffering hardship too. I was in a long queue on Saturday. But it's worth it. The rich need to be punished for being greedy. I am savoring the moment," said a smiling Mohan Kishore, who sells fresh coconut water on a South Delhi street.
In this video Luke Rudkowski takes you along on his travels as he is broke like a joke in Goa India after the latest currency reset. We show you the current situation on the ground and cover the latest economic, social and political changes that occurred in India.
This work is licensed under a Creative Commons Attribution-Share Alike 3.0 License
---
Sign up become a patron and Show your support for alternative news

We use Bitcoin Too !  
12HdLgeeuA87t2JU8m4tbRo247Yj5u2TVP