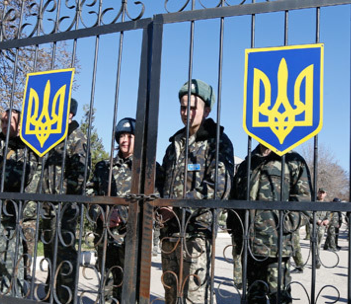 Media reports about an alleged Russian ultimatum made to the Ukrainian armed forces in Crimea are "total nonsense," a spokesman for the Russian Defense Ministry said.
He said that no ultimatum had been made to the Ukrainian forces.
Also, a source in the Russian Defense Ministry told RT that they are unaware of any Russian ultimatum toward the Ukrainian forces in Crimea.
The source revealed that they had only heard about the alleged ultimatum from a report by Interfax-Ukraine news agency.
"We're interested in keeping friendly relations with the people of Ukraine and in preserving stability," the source told RT.
Interfax-Ukraine reported earlier Monday that the Russian Black Sea Fleet had delivered an ultimatum to the Ukrainian forces remaining on the Crimean peninsula.
"If they won't give up by 05:00 local time (03:00 GMT) a full-scale assault on the units of Ukrainian military in Crimea will begin," the agency quoted an unnamed source in the self-de?lared Ukrainian Defense Ministry as saying.