Australian Prime Minister Malcolm Turnbull defied ­U.S. President Donald Trump by holding open the door for China to enter into the Trans-Pacific Partnership, and raising hopes of creating a new regional trading bloc.
"Certainly there is the potential for China to join the TPP," Turnbull said at a media conference on Tuesday. "There is also the opportunity for the TPP to proceed without the United States."
This came in response to reports on Monday that Trump signed an executive order to withdraw the US from the Trans-Pacific Partnership trade agreement.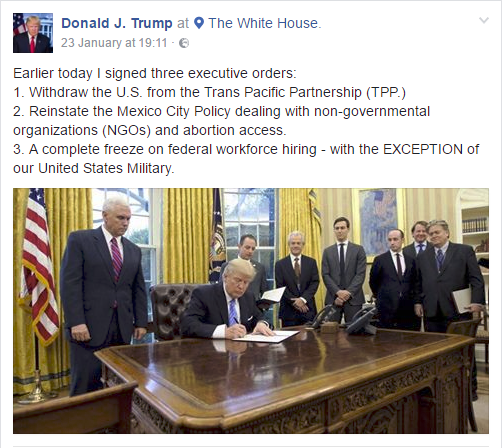 The TPP is a trade agreement between Australia, Brunei, Canada, Chile, Japan, Malaysia, Mexico, New Zealand, Peru, Singapore, Vietnam and, until Monday, the United States. The former Obama administration claimed that the agreement aimed to promote economic growth, support the creation and retention of jobs, and enhance innovation, productivity and competitiveness, among other things.
Trump strenuously disagrees with this, saying, "The Trans-Pacific Partnership is another disaster done and pushed by special interests who want to rape our country, just a continuing rape of our country… That's what it is, too. It's a harsh word: It's a rape of our country."
"This is done by wealthy people that want to take advantage of us and that want to assign another partnership…" Trump said.
Zhang Jun, director general of the Chinese Foreign Ministry's international economics department, said, "If anyone were to say China is playing a leadership role in the world I would say it's not China rushing to the front but rather the front runners have stepped back leaving the place to China."
"If China is required to play that leadership role then China will assume its responsibilities," Zhang said.
Last week, Australian Minister for Trade, Tourism and Investment, Steven Ciobo told ABC radio that he has already had discussions with Canada, Mexico, Japan, New Zealand, Singapore and Malaysia about working towards an alternative without the United States at the World Trade Organization ministerial meeting in Davos, Switzerland.
Australian Defense Industry Minister Christopher Pyne says the trade agreement remained a "live option" for Australia and that Trump was wrong to withdraw.
President and CEO of the National Association of Manufacturers, Jay Timmons also indicated retroactively that Trump made a mistake when he tweeted that the US should be leading the world in the TPP agreement and letting China take center stage would be a mistake.
.@realDonaldTrump says we're losing to China. But to win, WE need to write rules on trade – not China. #MakeAmericaTradeAgain with #TPP.

— Jay Timmons (@JayTimmonsNAM) June 28, 2016
Sean O'Grady of The Independent thinks that by scrapping TPP, Trump has "boosted American jobs in the short term—and destroyed them in the long term." In reference to the direction in which Trump has decided to go, O'Grady gives a stark warning: "These kinds of policies contributed to mass unemployment, the rise of fascism and the Second World War – the whole world will be the poorer for what President Trump has done."
It is not yet certain as to whether China will join the TPP. They aren't expected to join any time soon, but are thought to be interested in taking part in the long term. Interestingly, it is also thought that the US may possibly change its policy over time and decide to join again in the future.