Article via Zero Hedge
Just days after reports emerged that student loan defaults are soaring, which is undoubtedly due to some combination of, among other things, poor job prospects for the millions of snowflakes who graduate each year with their $200,000 educations in anthropology and the moral hazard created by liberal politicians constantly calling for student debts to be 'forgiven' (a.k.a. forcefully jammed down the throats of taxpayers), the Trump administration has revoked rules put in place by Obama that barred student debt collectors from charging penalty fees on past-due loans.
Originating from the Department of Justice, the "Dear Colleague" letter (full letter included at end of post) says that Obama's unilateral rules implemented in 2015 could have "benefited from public input"…but what good is being King if you can't unilaterally force new laws on the masses?
Per the Washington Post:
The Education Department is ordering guarantee agencies that collect on defaulted debt to disregard a memo former President Barack Obama's administration issued on the old bank-based federal lending program, known as the Federal Family Education Loan (FFEL) Program. That memo forbid the agencies from charging fees for up to 16 percent of the principal and accrued interest owed on the loans, if the borrower entered the government's loan rehabilitation program within 60 days of default.

The Obama administration issued the memo after a circuit court of appeals asked for guidance in a case against United Student Aid Funds (USA Funds) challenging the assessment of collection costs. Bryana Bible took the company to court after being charged $4,547 in collection costs on a loan she defaulted on in 2012. Though she had signed a "rehabilitation agreement" with USA Funds to set a reduced payment schedule to resolve her debt, the company assessed the fees.

Education officials sided with Bible, prompting USA Funds to sue the department in 2015. Earlier this year, the company agreed to pay $23 million to settle a class-action lawsuit born out of the Bible case, though it did not admit any wrongdoing.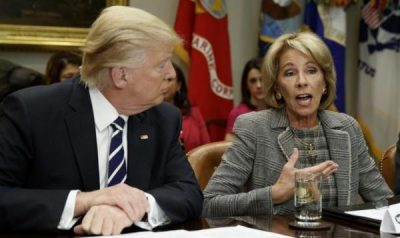 Of course, it didn't take long for Elizabeth Warren to draft a letter to the Education Department urging them to not take away 'freebies' from America's entitled snowflakes.
On Monday, Sen. Elizabeth Warren (D-Mass.) and Rep. Suzanne Bonamici (D-Ore.) sent a letter urging the Education Department to uphold the Obama administration's guidance on the collection fees, which they said "results in an unnecessary financial burden on vulnerable borrowers."

"Congress gave borrowers in default on their federal student loans the one-time opportunity to rehabilitate their loans out of default and re-enter repayment," the letter said. "It is inconsistent with the goal of rehabilitation to return borrowers to repayment with such large fees added."
Of course, these new rules came just days after new data published by the U.S. Department of Education revealed that $137 billion of federal student loans were in default as of December 2016, a 14% year-over-year increase.
Key findings from the Consumer Federation of America:
Average amount owed is $30,650 per federal student loan borrower. Average amount owed per borrower continues to tick up, rising 17% since the end of 2013, when borrowers owed on average of $26,300.

$137 billion in default. For federal loans originated by financial institutions (FFEL) and the US Department of Education (Direct), a total of $137.4 billion in balances were in default, a 14% increase from 2015. This cumulative level of defaulted balances includes loans which defaulted in previous years. Defaulting on a federal student loan comes with severe consequences. Borrowers can face seizure of their tax refund, garnishment of their wages, and an inability to pass employment verification checks.

1 million Direct Loan defaults in 2016. In 2016, 1.1 million Federal Direct Loan borrowers defaulted. Federal law typically defines a federal student loan default as being 270 days past due. Borrowers defaulting for the first time slightly decreased compared to 2015, though borrowers re-defaulting slightly increased compared to 2015.
Seems the cost of financing those spring break trips to Cancun just got a little costlier…sorry, snowflakes.
https://www.scribd.com/document/342324653/2017-03-18-DOE-Letter#
---
This article first appeared on ZeroHedge.com and was authored by Tyler Durden.