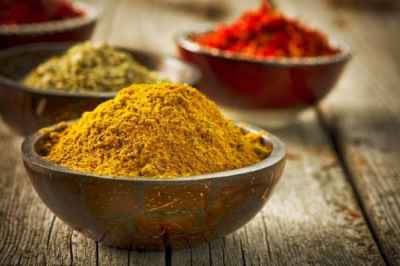 Historically, spices are treasured for the unique flavors they bring to food and for their healing properties.
Most spices provide some health benefits.
But one spice that shines for its medicinal benefits is turmeric.
You may have seen turmeric in the news as a potential treatment for diseases as diverse as arthritis, cancer, diabetes, heart disease, psoriasis, and Alzheimer's.
But does this spice live up to its press?
And can you get the benefits of turmeric from food alone or should you take a turmeric supplement?
Turmeric and curcumin are often used interchangeably. What's the difference between them?
Here's everything you need to know about the health benefits of turmeric.
Turmeric is a spice that comes from the root of Curcuma longa, a beautiful flowering tropical plant native to India.
Turmeric has been used for healing for thousands of years going back to Ayurveda, India's 5,000-year-old natural healing system. (1)
Cooking residue found on pottery shards shows that people in parts of Asia cooked with turmeric 4,500 years ago. (2)
It is one of several spices used to make curry powder, an essential ingredient in south Asian cuisine.
It's usually used dry, but the root can also be grated fresh like ginger.
This versatile spice was used traditionally to improve digestion, dissolve gallstones, relieve arthritis, and alleviate symptoms of allergies and colds. (3, 4)
It was applied externally for wounds and skin conditions.
It was also used as a beauty treatment. (5)
Soaps and creams containing turmeric are experiencing a surge in popularity today.
Turmeric paste is still applied to the skin of both the bride and groom in a ceremony before marriage in some parts of India, Bangladesh, and Pakistan to beautify skin and as a form of good luck.
The Relationship Between Turmeric and Curcumin
Many websites, even authoritative medical sites, incorrectly use the terms turmeric, curcumin, and even curry powder interchangeably.
This makes it hard to understand the information on turmeric.
Let's clear up any confusion.
Curry powder is a mix of many spices including the spice turmeric.
Turmeric contains hundreds of compounds, each with its own unique properties.
But of all the compounds in turmeric, curcumin is by far the most promising and is the most widely studied.
Curcumin is not unique to turmeric, it is also found in ginger, another spice with a long history of medicinal use.
You can find many websites that make unrealistic claims about turmeric.
A few natural health websites boldly state that turmeric has been proven beneficial for over 600 ailments.
But the vast majority of studies were done on the isolated compound curcumin, not turmeric.
The National Center for Complementary and Integrative Health says this about turmeric studies: "… there is little reliable evidence to support the use of turmeric for any health condition because few clinical trials have been conducted." (6)
Why would this be?
It's easier to study a compound like curcumin which can be isolated and standardized and acts more drug-like than spice-like.
But the overriding reason may be that there is little monetary incentive to research a spice that's already found in millions of kitchens worldwide unless it can be transformed into a substance that can be patented.
As we've seen, the majority of studies have been done on curcumin — not turmeric — and it looks like there aren't many health conditions this compound won't help.
Proven health benefits of curcumin include alleviating allergies, breaking up the brain plaques of Alzheimer's, easing the pain of arthritis, treating depression, controlling diabetes, and decreasing risk of heart attack. (7, 8, 9, 10, 11, 12, 13)
But what about turmeric — what is it good for?turmeric-heart-320×209
So far, turmeric has been found to contain at least 20 compounds that are antibiotic, 14 known cancer preventatives, 12 that are anti-tumor, 12 anti-inflammatory, and at least 10 antioxidants. (14)
Turmeric is considered a potent antioxidant, anti-inflammatory, antibacterial, antiviral, and anticancer agent. (15, 16)
And studies point to a few specific conditions that turmeric can help.
Turmeric for Alzheimer's
One of the most exciting benefits of turmeric is that it may prevent Alzheimer's.
Elderly villagers in India who eat turmeric as a regular part of their diet have the lowest rate of Alzheimer's in the world. (17)
Over 200 compounds have been identified in turmeric and curcumin is not the only one being studied for Alzheimer's. (18)
Another compound in turmeric, turmerone, stimulates the production of new neurons and seems to encourage the brain to repair itself. (19)
This property could make it a useful treatment for a variety of degenerative brain diseases besides Alzheimer's, including Parkinson's, traumatic brain injury, and stroke. (20)
Turmeric for Arthritis
Arthritis and other inflammatory diseases are extremely common.
Over $650 million is spent in the United States every year on natural remedies for treating chronic inflammation.
Turmeric is anti-inflammatory and has been found to be beneficial for arthritis when taken internally and when applied topically. (21)
The Arthritis Foundation reports that turmeric can provide long-term improvement in pain and function for those with osteoarthritis.
Their suggested dosage for osteoarthritis is to take one capsule (400-600 mg) three times per day or 0.5-1.0 gram of powdered turmeric root up to 3 grams per day.
Turmeric for Cancer
Curcumin is a promising candidate as a cancer treatment. (22)
It selectively kill tumor cells while leaving normal cells unharmed and works synergistically to increase the effectiveness of both chemotherapy and radiation. (23)
Dr. Saraswati Sukumar is a medical oncologist at the Johns Hopkins University School of Medicine and has been involved in hundreds of studies on the effects of turmeric on cancer. (24)
She has found that eating turmeric prepared in food provides more benefits than taking either curcumin or turmeric supplements. (25)
Turmeric Is Better than Prozac for Depression
Turmeric has impressive antidepressant properties.
In fact it's been found to be more a more potent antidepressant than fluoxetine, the generic name for Prozac. (26)
It is believed to work by reducing the stress hormone cortisol while increasing serotonin, the neurotransmitter associated with happiness.
This is great news for the millions who have tried antidepressants without success or for those who experience unacceptable side effects (27)
Unlike antidepressant drugs, turmeric either in food or as a supplement can used indefinitely.
It can also be safely combined with other natural remedies for depression such as St. John's wort and SAM-e. (28)