Luke brings us on an unedited trek through an anti-Macron protest just outside of Place de la République in France. He is with Lauren Southern and Brittany Pettibone. Tim Pool joins them too.
Its safety in numbers with Luke explaining how the reporters all stay together. Luke picks up from the French press how to video the action without getting his camera slapped out of his hands as has happened in the past.
Luke takes note that some of the protesters have the vagina hats on as were seen in the US during the anti-Trump protests. He also saw antifa, pro-Russia, Turks, Kurds and people who are anti-Macron.
As the group inspects the broken windows of a bank, the first loud explosion can be heard at 31:37. Tim and Luke comment on how its much, much louder than a flash bang. Luke comments that he wished he'd brought ear plugs.
37:18 – At this point he realises Lauren is no longer with the group! He reiterates the need for safety in numbers and always staying together as a group. The flag of the state of Palestine can be seen.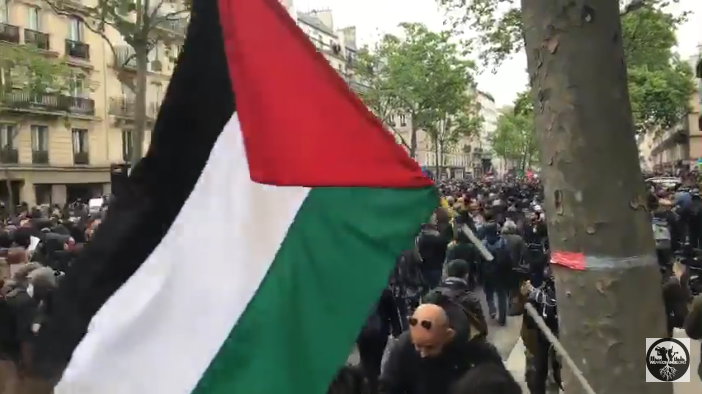 44:58 – The police start to charge at the protesters! Now click on the video to see what happens to Luke and the group!
If you liked today's content, please consider donating to us. We have a team working behind the scenes, not just Luke.  YouTube and Google Adsense are both severely hindering our ability to keep this operation going. We won't be able to continue to bring you broadcasts like this without your support. You can donate here on the website or on our patreon. Thank you and remember We Are Change.
---
Visit our MAIN SITE for more breaking news https://wearechange.org/
PATREON https://www.patreon.com/WeAreChange
SNAPCHAT: LukeWeAreChange
FACEBOOK: https://facebook.com/LukeWeAreChange
TWITTER: https://twitter.com/Lukewearechange
INSTAGRAM: http://instagram.com/lukewearechange
STEEMIT: https://steemit.com/@lukewearechange
OH YEAH since we are not corporate or government WHORES help us out https://wearechange.org/donate
We take BITCOIN too 12HdLgeeuA87t2JU8m4tbRo247Yj5u2TVP