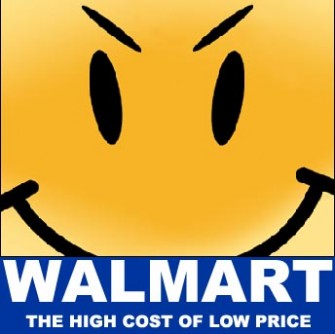 Although a notorious recipient of "corporate welfare," Walmart has now admitted that their massive profits also depend on the funding of food stamps and other public assistance programs.
In their annual report, filed with the Security and Exchange Commission last week, the retail giant lists factors that could potentially harm future profitability. Listed among items such as "economic conditions" and "consumer confidence," the company writes that changes in taxpayer-funded public assistance programs are also a major threat to their bottom line.The company writes:
"Our business operations are subject to numerous risks, factors and uncertainties, domestically and internationally, which are outside our control … These factors include … changes in the amount of payments made under the Supplement[al] Nutrition Assistance Plan and other public assistance plans, changes in the eligibility requirements of public assistance plans …"
Walmart, the nation's largest private employer, is notorious for paying poverty wages and coaching employees to take advantage of social programs. In many states, Walmart employees are the largest group of Medicaid recipients.
However, this report is the first public acknowledgement of the chain's reliance on the funding of these programs to sustain a profit.
According to Stacy Mitchell, senior researcher with the Institute for Local Self-Reliance, the irony of their admission is that Walmart "is the company that has done, perhaps, more than any other corporation to push people into poverty."
Citing a Penn State study, Mitchell told Common Dreams that research has proven that "when Walmart opens a store, poverty rates are negatively impacted" and that the more stores that have opened in a particular county, the worse it is. "This is a company that everywhere it goes it creates poverty."
In addition to their own worker's low wages, Mitchell explains that Walmart, because of their enormous size and market power, have "held down wages for the whole sector."
As a retailer that specifically targets a low-income demographic, Mitchell adds that the "insidious genius" of their business model is that "they have so squeezed American workers […] many feel that their only choice is to shop at Walmart."
The International Business Times reports:
"Prior to the earnings report, Walmart Chief Financial Officer Charles Holley said the company didn't anticipate how much the end to such programs as the unemployment benefits extension would affect it. Specifically, reductions to the Supplemental Nutrition Assistance Program that went into effect on Nov. 1, the first day of the company's fourth quarter, pose a potential concern. The cuts led to a between $1 and $36 reduction in SNAP benefits per household, or up to $460 a year. Congress is debating reinstating the extension to the program and making the benefits retroactive to Nov. 1, something Walmart would clearly consider beneficial to its growth."
Previously, Walmart has joined forces with Big Food labels such as Coca Cola and Kelloggs to lobby the United States Department of Agriculture and Congress against any measures that would restrict SNAP use to healthy food choices. According to an earlier study by Michele Simon at Eat Drink Politics, in just one year, nine Walmart Supercenters in Massachusetts received more than $33 million in SNAP revenues.