Eagle Valley Elementary School was evacuated after a man in green garb and a black face mask walked inside and claimed to have a bomb on Monday afternoon, he was taken into custody after 5PM local time.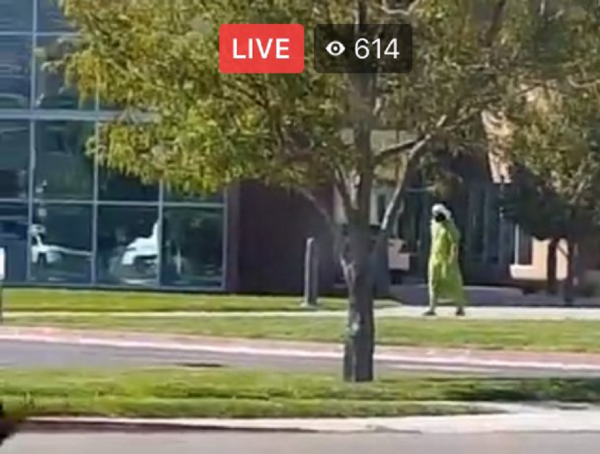 Kimberly Bird, the Assistant to the Superintendent of the Alpine School District, said that the masked man walked into the school and said, "evacuate the kids and no one will get hurt," around 2 PM.
Shortly before the incident, the El Paso Times and other media outlets reportedly received an email from the man, claiming to be 32-year-old Christopher Craig, stating that he "will call 911 with a threat of an explosive and drive onto my 9yr olds elementary school, Eagle Valley Elementary, with a True Explosive."
SCHOOL EVACUATION: Man identifies himself as Christopher Craig. arrested once in carbon Co, for driving his car onto a school playground

— Chris Jones (@jonesnews) September 19, 2016
In the email, he also stated that he "was born into this world under the slave name of Christopher Craig.  Currently, I am known as The Radical Islamic Jihadist Muhammad Allah Al-Khidr."
"My reason for writing Today is because of my pending arrest and hunger strike which begins when I press send on this Discourse of Truth.  In 2 hours, call Eagle Mountain PD in Eagle Mountain, UT if you think I am bluffing.  Ask them," he added, before rambling and making what the Times called "racist comments."
Kyla Moulton, who lives across the street from the school livestreamed the man walking casually around the outside of the school as tanks approached.
https://www.youtube.com/watch?v=3xnUSck5Q1A
Just before 4 PM local time, the woman was told to get away from the window as a bomb robot was deployed.
Sheriff Rescue vehicle on scene of possible bomb threat at Utah County school. @abc4utah pic.twitter.com/jzyJfdGfCF

— Nick McGurk (@NickMcGurkTV) September 19, 2016
https://twitter.com/juliangwan/status/777984716897124354
The city posted an alert on Facebook stating that "to their knowledge" all children are evacuated and safe, which was later confirmed.
"**Alert – Police Incident Eagle Valley Elementary** The Utah County Sheriff's Office is currently working an incident at Eagle Valley Elementary. To our knowledge, all children have been evacuated and are safe.

Please avoid the area of the school until further notice. We will provide an update when we have new information from the sheriff's office."
The man is likely a former Utah State University Eastern basketball coach who is also known as the "Utah jihadist." Craig was arrested in 2014 for driving his car onto an elementary school playground.
Craig has an alarming history of frightening behavior, the Times reports:
"On July 10, 2013, Craig allegedly entered a classroom at Eastern Arizona College and began yelling obscenities after asking an instructor if he was Mormon. On July 23, 2013, police in Steamboat Springs, Colo., encountered Craig while he was driving around filming himself with a white shirt around his head and a bandanna covering his face. The Fort Collins Coloradoan reported police said Craig claimed to be an 'Islamic jihadist' and that everyone would know who he was in a couple of weeks. He was not arrested.

On July 26, 2013, Fort Collins police sent a memo to local churches to keep an eye out for a man who had threatened that Mormons and Catholics 'would be destroyed.' The man was later identified as Craig, the Coloradoan reported.

Later that year, he was arrested in Price, Utah, on marijuana charges after raising law enforcement concerns because of bizarre behavior, threats and a self-description as an 'Islamist jihadist.'"
While police have not confirmed that he is their suspect, the man does appear to be wearing the same clothing as in the photos of Craig's previous arrest.
"Normally he's a wonderful guy, a really nice man, a husband and father," Price Police Capt. Bill Barnes said of Craig at the time.
Despite Craig repeatedly saying that he is an Islamic jihadist, authorities stated at the time that he just "has mental problems."
Suspect in custody in Eagle Mountain. Media return to LDS stake center for updates. L

— Spencer Cannon (@SGTCannonPIO) September 19, 2016
After several hours of negotiations, he was eventually taken into custody.