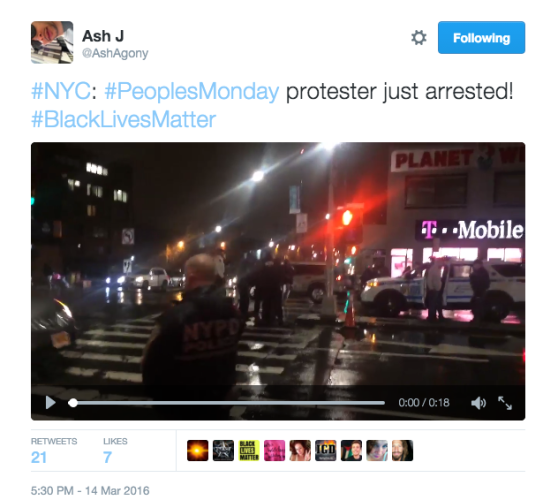 It's only Thursday but police in New York city have been on a rampage this week.
Four well-known activists and copwatchers were arrested in a span of three days for filming the police, which is not illegal. The NYPD had gone so arrest crazy by Wednesday that someone from the mayor's office, perhaps weary over bad publicity, allegedly called 1 Police Plaza to arrange for one person's release.
Monday night, cops with the NYPD's Strategic Response Group, a new unit reportedly created for the dual tasks of policing protests and responding to terrorism, arrested Dennis Flores during a protest in the Bronx. Flores, founder of El Grito de Sunset Park, a long-time police watchdog group based in Brooklyn, was filming SRG officers as they followed a group of activists marching with the weekly "People's Monday" protests that have been going strong for over a year. Led by groups like NYC Shut It Down and Copwatch Patrol Unit, the monday protests highlight a victim of police brutality and publicly read the facts around their case. That night they were protesting the heart-wrenching death of Barbara Dawson, a black Florida woman who died in police custody in December after cops arrested her for not leaving a hospital where she had been seeking care.
The night of the protest here in the city, NYPD Deputy Inspector Andrew Lombardo, noted for his role in a US military detainment camp during the infamous Abu Ghraib prison abuse scandal in Iraq, was leading the policing of the march, which was making its way through the South Bronx. Lombardo and the SRG tried to break up the march several times, as they have often tried doing, by threatening demonstrators with arrest if they crossed a street without the light. They arrested Flores, who has been copwatching for years, allegedly for jaywalking when he stopped at a pedestrian island, some posted videos show. He was released after being held at the 40th precinct for about an hour.
2016-03-17-1458219023-5360177-ScreenShot20160317at8.49.34AM.png(Credit: @AshAgony via Twitter)
The next night, cops from Manhattan's 18th precinct arrested Five Mualimm-ak and Jazz Hayden, who had both just left an event in midtown that was promoting a book that Five had helped put together. Five, co-founder of Incarated Nation, an organization that works to build alternatives to incarceration, is a well respected prison rights activist who spent years in New York prisons, five of them in the torture chamber known as solitary confinement. Jazz Hayden is a Harlem living legend and someone that I have an immense amount of respect for. He is former Attica prisoner who earned his master's degree (in prison) and went on to become the director of the Campaign to End the New Jim Crow, as well as launch a grassroots multi-media production company, Still Here Harlem, which often publishes videos of police misconduct online.
Five and Jazz were walking down the street with a group of friends when they encountered cops forcibly removing a homeless man from the street and into an ambulance. Jazz was filming the cops, as he does, when another squad car pulled up and police officers charged at him, knocking him to the ground. The police arrested both he and Five, who objected, for obstruction of government administration. When their friends showed up at the precinct to inquire about their status, five of them were arrested and eventually released. Jazz was hit with the more serious resisting arrest charges. As he fell, Jazz, who is in his 70's, tried holding on to the police officer's arms at which point the cop claimed Jazz assaulted him, he says. Both he and Five were transferred to central booking and held overnight. The Manhattan District Attorney's office tried to set bail at $1,500 but they were released of their own recognizance Wednesday evening to a crowd of supporters. They return to court next month.
2016-03-17-1458219137-7369745-ScreenShot20160317at8.35.48AM.png(Credit: Solitary Watch via Facebook)
Then, if that wasn't enough, last night at about 7 o'clock, cops again arrested Ramsey Orta, the young man who famously filmed the 2014 police chokehold killing of Eric Garner in Staten Island. The video went viral across the globe as it set off massive protests both in and outside the city. Orta has been repeatedly targeted, harassed and arrested by the NYPD ever since. Now working with WeCopwatch, a national cop watching collective, he was filming the arrest of a man who had been pulled over in his car by police near the Baruch Houses in the Lower East Side of Manhattan. Orta says he was not obstructing but was arrested by cops from the 7th precinct anyway.
Orta says he was held at the 7th precinct until, to his surprise, an NYPD Captain showed up to arrange for him to receive a desk appearance ticket and be let go. He says he overheard police say that the mayor's office had pressed police officials at 1PP to come down to precinct and secure his release. In 2014 Mayor Bill de Blasio was criticized for similarly leaning on the police department to have one of his political friends, Bishop Orlando Findlayter from Brooklyn, released from custody after he'd been arrested on outstanding warrants following a car stop for not signaling while making a turn. Orta says the cops in the stationhouse were upset that the mayor's office had become involved.
But why would the mayor be concerned about Orta? De Blasio has essentially blessed the increased aggression of the NYPD towards activists and protesters. He's seemingly petrified of the police department, the police unions and the hysterical conservative drudgery that spews out of the New York Post. He is no friend of the police brutality movement. Helping out an activist who's been at the crosshairs of the police department wouldn't seem to make much sense.
One possibility is that the mayor's office recognized that the arrests of Jazz and Five, a member of an advisory board for the mayor, was already a brewing scandal as a feature story on NY1 last night. Video of the incident is said to be released sometime soon, possibly adding even more outrage to the story. Another arrest of Orta, himself a high profile figure, might be too much unwanted publicity for a mayor yearning to turn the page on media coverage of police misconduct. The Patrolmen's Benevolent Association, the city's largest police union, is also gearing up for a fight in 2017, hiring the same PR firm that represented the app company Uber, which kicked de Blasio's political ass last year.
Whatever City Hall's rationale might have been, cops are continuing to arrest people who film them despite instructions by NYPD higher-ups that it is perfectly legal for the public to film police interactions. And this is true if you're an 'activist' or if you're just an everyday person who can't easily garner legal resources or media attention. A memo reminding cops to not interfere with people who film them was sent out to every member of the department in August 2014, a month after Orta's video of the Garner incident was first publicized.
Read More
http://www.huffingtonpost.com/josmar-trujillo/a-week-of-crackdowns-on-a_b_9484768.html