The video above is from Jerry L Washington, a Houston and Baton Rouge, Louisiana native.
The Facebook Live video went viral after Washington asked, "Where are the Black Lives Matter and Black Panthers ?" Apparently they are no where to be found.
"I haven't seen not one Black Panther Boat, not one Black Lives Matter Boat," asked Washington.
Which begs the question — where is Black Lives Matter? Where are the Black Panthers at when black lives are truly in need of community assistance. All around the country, activists and organizers are mobilizing to lend a hand in what could has become the largest humanitarian disaster in the United States since Hurricane Sandy or Katrina.
At the time of publication, the video above has been seen 2.4 million times and over 62,307 shares. From my perspective it would appear that most people have interpreted Mr. Washington's comments as an attack on the Black Lives Matter movement, and it seems that anytime a black man shares a negative opinion of something a pro-black organization does, the right-wing media automatically uses it as a tool to validate their perspective while ignoring the real issues facing the African American community. I'm not going to do that, I can only commend Mr. Washington for his courage and humanity.
I can only attempt to bring awareness to the situation, offer some real grass-roots solutions, and expose #BlackLivesMatter leadership as the deceitful, George Soros-funded, neo-liberal globalist welfare proxy army that they are.
Making the most of the popularity of his video, Jerry wisely set up a GoFundMe campaign, which is currently trending on Facebook and other social networks. At the time of publication it had made over $3000.
It would appear (judging by the comments) that there is strong opposition to the Black Lives Matter movement not only from the traditional Republican base but also from within the progressive pro-black empowerment and enlightenment community, that i'm assuming can feel something is afoul within #BLM's all talk no substance rhetoric.
If black lives truly mattered to Black Lives Matter, wouldn't they be in Baton Rouge right now helping Flood victims.. ?
I mean its not like Deray Mckesson and the rest of the Black Lives Matter organization does not have plenty of money to assist those in need in Baton Rouge. According to the Washington Post, Black Lives Matter is increasingly awash in cash, raking in pledges of more than $100 million from liberal foundations like The Ford Foundation and Borealis Philanthropy, which recently announced the formation of the Black-Led Movement Fund [BLMF], a six-year pooled donor campaign aimed at raising $100 million for the movement. That funding comes in addition to more than $33 million in grants to the Black Lives Matter movement from top Democratic Party donor George Soros through his Open Society Foundations.
Last month the DC Leaks website posted hacked documents from George Soros's Open Society further confirming that the Society last year approved $650,000 to –
"invest in technical assistance and support for the groups at the core of the burgeoning #BlackLivesMatter movement." 
During the Ferguson riots a Soros-linked organization MORE (Missourians Organizing for Reform and Empowerment) and OBS (Organization for Black Struggle) even advertised for "PAID PROTESTERS" in Ferguson.
So.. whats the deal, what you're saying BLM is that hiring protesters, providing travel and lodging, and paying provocateurs to march around inciting violence with the explicit purpose of creating social instability,is worth more to the equality and the empowement of Black people then helping impoverished brothers and sisters when they are actually in need ? You Got To be F**king Kidding me ..
I hope this this little dumb diatribe of mine somehow finds it's way to the leadership of the Black Lives Matter organization,  I would like to personally and directly question the accountability and Modus Operandi of your so called Social justice activist group.
I am not speaking for anyone else in my organization, activist groups, or community when I say  that BLM is a Scam, a F***ing Joke, nothing put brown faced puppets for the Ashkenazi world order, and it's obvious they do not care one bit about black people – they only care about profiting from encouraging the divisive Neo-Liberal agenda that they are payed lavishly to promote. 
---
UPDATE:  Where are the Black Lives Matter activists and Black Panthers in Louisiana?

The OP says "I haven't seen not one Black Panther Boat, not one Black Lives Matter Boat,"
Subscriber Malik Khidr Maumau, sent in multiple pictures and videos showing that the National Black Panther Party was indeed on the ground helping with the relief efforts in Lousiana.
My Brother Antoine Afurakani said "You are being selective with your pictures. Here is a Black woman rescuing a white child." Just to clarify this is nothing against black people, that's a knee jerk reaction, this is about the Nonprofit Pro-Black  Tax Exempt corporation that is Black Lives Matter ®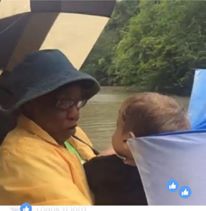 No word yet from anyone in the Black Lives Matter Movement.
---