This Simple "Litmus Test"
Predicts Your Future Wealth…
We're going to have some fun today.
In just a minute I'm going to share a simple 10 second test that will predict your future wealth.
Sound corny?
This isn't mentalism or phony crystal ball stuff.
This "test" been an extremely accurate gauge of future wealth for over 50 years, and was originally invented by Confucius over 2500 years ago!
The planet is cooling, despite what the Intergovernmental Panel on Climatic Change (IPCC) has claimed. Ice core samples continually exhibit and prove CO2 isn't the main driver of climate change.
Demonizing CO2 which is what plants need in order to survive?
We need plants with plentiful CO2 levels to grow our food, and studies have shown that biomass explodes with heightened CO2 levels. With all of this in mind, it is no surprise that the majority of scientists are skeptical of climate change. CO2 doesn't lead changes in temperature; temperature leads CO2 levels by at least 800 years of lag.
http://www.businessinsider.com/report-of-saudi-arabia-links-to-911-2013-12
Since terrorists attacked the United States on Sept. 11, 2001, victims' loved ones, injured survivors, and members of the media have all tried without much success to discover the true nature of the relationship between the 19 hijackers — 15 of them Saudi nationals — and the Saudi Arabian government.
Many news organizations reported that some of the terrorists were linked to the Saudi royals and that they even may have received financial support from them as well as from several mysterious, moneyed Saudi men living in San Diego.
Saudi Arabia has repeatedly denied any connection, and neither President George W. Bush nor President Obama has been forthcoming on this issue.
http://www.nature.com/news/simulations-back-up-theory-that-universe-is-a-hologram-1.14328
A team of physicists has provided some of the clearest evidence yet that our Universe could be just one big projection.In 1997, theoretical physicist Juan Maldacena proposed that an audacious model of the Universe in which gravity arises from infinitesimally thin, vibrating strings could be reinterpreted in terms of well-established physics.  The mathematically intricate world of strings, which exist in nine dimensions of space plus one of time, would be merely a hologram: the real action would play out in a simpler, flatter cosmos where there is no gravity.

Maldacena's idea thrilled physicists because it offered a way to put the popular but still unproven theory of strings on solid footing — and because it solved apparent inconsistencies between quantum physics and Einstein's theory of gravity.  It provided physicists with a mathematical Rosetta stone, a 'duality', that allowed them to translate back and forth between the two languages, and solve problems in one model that seemed intractable in the other and vice versa.  But although the validity of Maldacena's ideas has pretty much been taken for granted ever since, a rigorous proof has been elusive.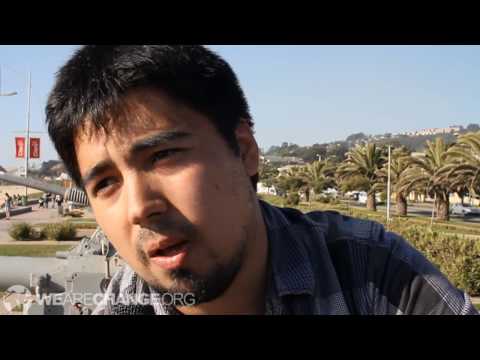 In this video Luke Rudkowski interviews independent journalist Matías Rojas who at the age of 17 confronted David Rockefeller. This video also contains never before exclusive photos of David Rockefeller with the ruling establishment of Chile.
to find out more about Matias check out http://verdadahora.cl/
Special thanks to
follow luke on https://twitter.com/Lukewearechange
https://facebook.com/LukeWeAreChange
http://instagram.com/lukewearechange
https://plus.google.com/102322459477834521524/posts
Support us by subscribing here http://bit.ly/P05Kqb
http;//www.facebook.com/wearechange.org
Check out our merchandise: http://wearechange.org/store/
Become a member of The Sponsor Lounge and get exclusive behind the scenes content while helping us grow! Join us today! http:///www.wearechange.org/donate
http://www.youtube.com/watch?v=FYVKQPYLi6k
While Americans worried about shopping on Black Friday, 200,000 or more Ukrainians invaded and occupied the central plaza in their national capital, Kiev. They stood in protest against their president's decision to discontinue the pursuit of associate status with the European Union (EU). Ukraine's name means "borderland," and the name fits today as the people struggle and clash over alliances with Russia on their east, and the nations of Europe, mainly to their west.
Russia is not simply a geographic neighbor. Many Ukrainians, especially in the east, speak Russian in preference to the nation's own language, Ukrainian. They identify as Russians, not Ukrainians, and are happy to stay allied with Russia for trade and cultural exchanges. In Ukraine's west, nationalistic sentiment is strong, and organized neo-Nazis can be found, who apparently would side with Hitler over Stalin were a rematch of World War Two to be played.
http://www.naturalnews.com/043177_food_banks_gardening_fresh_produce.html#
(NaturalNews) Food banks or food pantries are non-profit charitable organizations that find ways to collect, store and distribute free food to the truly needy.
Most who help out are volunteers, and their funding depends largely on the government, non-government foundation grants, businesses and individual donations. Matching grant funds to individual donations are common.
The first food bank in the world was St. Mary's Food Bank Alliance in Arizona, founded by retired business man John van Hengal in 1967 and still strong today. While volunteering at St. Vincent's soup kitchen, John met a woman who came often and told him that she depended on the soup kitchen and supermarket dumpsters to survive.