After a nationwide grassroots campaign led by Campaign for Liberty, the U.S. House of Representatives passed H.R. 24, 'Audit the Fed,' by a vote of 333-92 today. This marks the second time the U.S. House has passed 'Audit the Fed' as a standalone bill, after H.R. 459, introduced by Congressman Ron Paul, passed the House in 2012.
Mario Draghi says the European Central Bank isn't through with its efforts to stimulate Europe's economy and fight off the threat of deflation. That message—that more is to come on top of the extensive measures announced today—is what seems to have impressed financial markets. Following today's press conference by ECB President Draghi, European stocks extended their gains, reaching a six-year high, and bond prices in Spain and Italy surged, lowering those nations' borrowing costs.
THOUSANDS of customers of Danske Bank are set to be denied access to their money after the bank said it was closing their current accounts from today.
The bank has confirmed that 15,000 current accounts are to be "terminated" and the majority of customers who hold these accounts have yet to shut them down and switch to a new one.

In former times, the rise in the gold price was held down by central banks selling gold or leasing gold to bullion dealers who sold the gold. The supply added in this way to the market absorbed some of the demand, thus holding down the rise in the gold price.
As the supply of physical gold on hand diminished, increasingly recourse was taken to selling gold short in the paper futures market. We illustrated a recent episode in our article. Below we illustrate the uncovered short-selling that took the gold price down today (January 30, 2014).
Luke Rudkowski, Mark Dice & Adam Kokesh team up to take on the most insidious mafia organization in DC, The Federal Reserve. Watch what happens when Luke, Mark & Adam begin innocently filming the outside of The Federal Reserve building on Constitution Ave.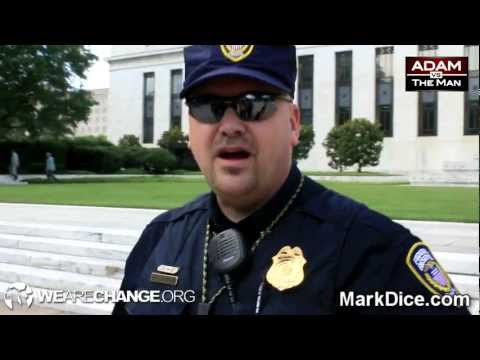 Follow Luke @ twitter.com/lukewearechange
Follow Mark @ twitter.com/markdice
Follow Adam @ twitter.com/adamkokesh
Below are some screen captures and pictures from our visit.
Federal Reserve Police put on a show for us with killer babes and bomb sniffing dogs.
Great shot of The Federal Reserve Security Supervisor accusing Mark of "bumping" into him.
Mark trying to schedule a tour of The Federal Reserve.
Liberty Lovers United!
In case you missed it, later in the day Mark and I visited the Senate building and confronted Senator Boxer from California. It was a productive day to say the least.