While Jamie Dimon and Warren Buffett express doubts about bitcoin, executives running the financial industry's back offices are looking at mimicking the virtual currency's methods of moving money quickly and cheaply.
A financial institution you can run? Better than that, a financial institution you and your neighbors can own and manage in your neighborhood? Credit unions are exactly that and they're getting a fresh look since the so-called Great Recession, which they weathered a whole lot better than many private banks. What's a credit union? How is it different from a private bank and what laws hold credit unions back? To talk about that and more we're happy to welcome Linda Levy, CEO of the Lower East Side People's Federal Credit Union. It has been serving people and businesses on the Lower East Side and Central Harlem in New York since 1986.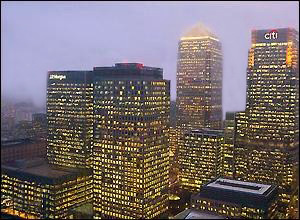 It doesn't get any more Orwellian than this: Wall Street mega banks crash the U.S. financial system in 2008. Hundreds of thousands of financial industry workers lose their jobs. Then, beginning late last year, a rash of suspicious deaths start to occur among current and former bank employees.  Next we learn that four of the Wall Street mega banks likely hold over $680 billion face amount of life insurance on their workers, payable to the banks, not the families. We ask their Federal regulator for the details of this life insurance under a Freedom of Information Act request and we're told the information constitutes "trade secrets."
They call him the Robin Hood of the banks, a man who took out dozens of loans worth almost half a million euros with no intention of ever paying them back. Instead, Enric Duran farmed the money out to projects that created and promoted alternatives to capitalism.
After 14 months in hiding, Duran is unapologetic even though his activities could land him in jail. "I'm proud of this action," he said in an interview by Skype from an undisclosed location. The money, he said, had created opportunities. "It generated a movement that allowed us to push forward with the construction of alternatives. And it allowed us to build a powerful network that groups together these initiatives."
Stunning Hypocrisy
The big banks have laundered hundreds of billions of dollars for drug cartels. See this, this, this, this, this and this (indeed, drug dealers kept the banking system afloat during the depths of the 2008 financial crisis).  
The HSBC employee who blew the whistle on the banks' money laundering for terrorists and drug cartels says said: "America is losing the drug war because our banks are [still] financing the cartels", and "Banks financing drug cartels … affects every single American".