Luke Rudkowski, Mark Dice & Adam Kokesh team up to take on the most insidious mafia organization in DC, The Federal Reserve. Watch what happens when Luke, Mark & Adam begin innocently filming the outside of The Federal Reserve building on Constitution Ave.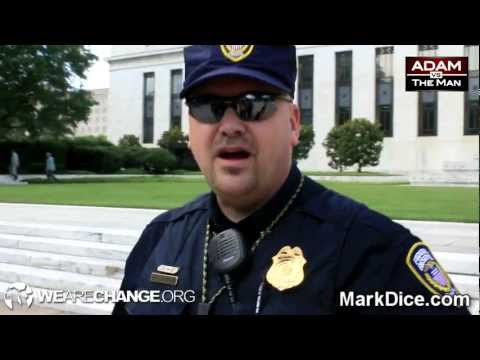 Follow Luke @ twitter.com/lukewearechange
Follow Mark @ twitter.com/markdice
Follow Adam @ twitter.com/adamkokesh
Below are some screen captures and pictures from our visit.
Federal Reserve Police put on a show for us with killer babes and bomb sniffing dogs.
Great shot of The Federal Reserve Security Supervisor accusing Mark of "bumping" into him.
Mark trying to schedule a tour of The Federal Reserve.
Liberty Lovers United!
In case you missed it, later in the day Mark and I visited the Senate building and confronted Senator Boxer from California. It was a productive day to say the least.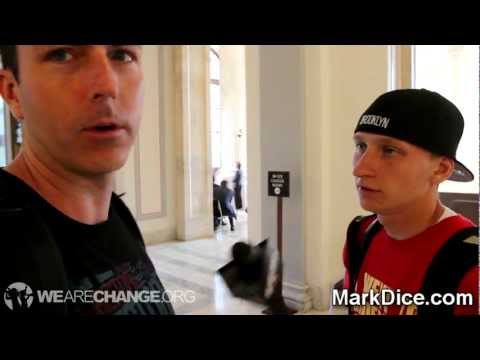 The Anti Nwo Chilean Resistance uses all it's creativity to inform the public about the banking system, false-flag terror and much more, during the two-day strike of CUT (Central Unitaria de Trabajadores) to push for economic reforms against multinational corporations and in support of a new Constitution.
TOTAL EMERGENCY, TOTAL TRANSFORMATION: extermination through food, water, and air
By Kid Akimbo, WeAreChange brooklyn, new york
"i had the right to remain silent, but i didn't have the ability." — Ron White
let me tell you a little bit of my story.
i came to new york city to pursue my dreams. fame, glamour, lights, glory. and with my MTV and VH1 debuts earlier this month, and my television broadcast premiere last week, you might think that that's exactly what i've been focused on. the reality, though, is quite different.
i'm happy for the success and continue to push my work out into the world, but since arriving in april my world has shifted inexorably by the truth i've discovered through untold hours of internet research and reading. i spoke about some of the subjects of my research in the interdependence imperative but as my awareness has grown on these issues of dire concern, it has become more and more definitive that all the sick madness of the world is simply the symptom of a plan so sinister that most people will laugh when i say what it is: that we are being exterminated.
my apologies to the light of heart. my apologies to those for whom this presentation is too blunt and jarring; i wish for the skillful means to be able to relay the dangers which ensnare us and the imperative to act swiftly and with conviction to all. but i have always lacked the ability to dumb down the truth. for those of you who are listening, please hear me and make no mistake: the time to act is now, at this moment, in every aspect and sphere of your life. you must take action, you must protect yourself and those you love, and you must do your best to keep the dignity and brightness of your human spirit above the waves of precipitous darkness.
but what am i talking about?
one need look no further than the elite's policies vis-a-vis the basic elements of life to confirm the conspiracy i had mentioned. there is perhaps no clearer evidence of the plot to destroy human life than the fluoridation of water and the fact that nazi germany put this into practice in the concentration camps of world war II.
besides being labeled a toxic waste by the FDA, there are numerous studies which confirm fluoride's link to cancer, brittle bone disease, brain damage, and immune deficiency. but what is most interesting about fluoride's effect on human physiology –and what must have been the most enticing to the champions of the Third Reich– is that it clouds mental ability, lowers i.q., and weakens mental resolve. it makes people lazy. it makes them dispassionate. it makes them unable to muster their strength for action.
does it make more sense now, when you hear the plight of the world and perhaps shrug your shoulders and wish you would do something, but come up with nothing? might you read these words and go back to life-as-usual?
i'm sorry to say, but very soon there won't be any life-as-usual. besides our water, the government has been spraying carcinogens and virulent bacteria en masse into the atmosphere. clearly distinguishable from from regular aviation contrails, these operations are known popularly as chemtrails. this is quite simply biological warfare being practiced on the american people and abroad.
our food systems have been hijacked by giant agribusiness monsters. genetically modified organisms (gmos) are now in 70% of our food products. the effect of this altered dna is never tested on human beings. (see here for studies on butterflies by hungarian scientists).
our food is becoming ever-increasingly low in nutrition. products such as high fructose corn syrup and aspartame, a known neuro-toxin, are everywhere in foods. these toxins, along with gmos, are introduced to the food supply through the revolving-door dynamic of the fda and other food regulatory bodies within government and the ceos of big agri and big pharma corporations. (see food, inc; the future of food; and the world according to monsanto for more.)
the mother of all food genocide schemes is called codex alimentarius– a world trade organization-backed global food control system. codex will do such things as make vitamins, minerals, and herbs illegal; reintroduce 7 of the 11 most deadly persistent organic pesticides (like ddt) back into the food supply; eliminate food labeling, thereby killing organics; and by the wto's own projections, codex will result in the deaths of 2 billion people by the vitamin and mineral guidelinealone, 3 billion including the preventable diseases from malnourishment which will result from this guideline.
do you understand what's happening? this is genocide. this is apocalyptic.
don't take my word for it, do your own research. but certainly do something. the times where you can roll over and wish you could or would do something about it are soon over. the problems are going to start coming to you now.
i'm not telling you this to be scared. i'm telling you this because if you're anything like i was, or i think most educated people are, you are aware but you're not activated. we need to turn-on and resist this flow. we need to support the direction of The Venus Project along with The Zeitgeist Movement and other models for social redesign and social change. in the transition phase we can support groups like We Are Change and infowars.com which propagate the truth. and all the while we can cultivate our compassion and awareness through groups like Shambhala, a branch of buddhism which encourages self-awareness and warriorship through non-denominational mindfulness practices such as meditation.
i chose to focus on food, water, and air today as they are the most basic life supports, but unfortunately there is a harrowing litany of threats in the economic, environmental, political, social, military, medical, and media spheres to uncover.
for the foreseeable future, i will use this blog as a sounding board for disseminating the independent media source material which has brought me thus far. i'll present the main issues along with various sources which back up the claims or legitimize the problem. for those of you curious to dive in, my playlists page on youtube is now exclusively dedicated to this cause, as well as my favorites page, where there are clips which are generally less comprehensive, though more compact and powerful.
i love you, and please know that we will survive this. the more people that awaken and begin to work against it right now, the less the damage will be done.
we will rebuild this earth and it will be great.
yours in the fight,
KID AKIMBO
The world's most powerful people have come together to meet and discuss world affairs in secret yet again, this time in Sitges, Spain.
The Bilderberg Group is an unofficial conference of around 150 invitation-only guests who are insiders in politics, banking, business, the military and the media. The group's meetings are held in secret and are closed to the public; the group supposedly meets to strategize global politics and economics for the coming year. The current conference is being held at a luxury hotel in Sitges, Spain under heavy security.
Many are still unaware of the group's existence, but those who are aware are more concerned about the organizations secrecy than their mere existence.
"All the bad things are always done in darkness,"said Luke Rudkowski of We Are Change.
Rudkowski argues that the group meets and plans out the coming year's worth of global economic and political events. Using the examples of the rise in oil prices in the past to the downfall of the US economy, Rudkowski said these were procedural steps in the process to meet their end game, which is a single world economic and governance system controlled by the world bank and IMF, eventually leading to a one world currency implemented by the G8 and G20.
"They want to destroy the American dollar in order to have a one world government currency," said Rudkowski.
The current meeting is an effort to strategize a recovery for the Euro to ensure its success as a currency to weaken the dollar and push the US into a regional block known as the North American Union.
"You could say the American economy is doing fine right now, let's see what is going to happen within the years because we gave $24 trillion according to Bloomberg news to the wall street banksters. Timothy Geithner was in charge of that, he goes to these meetings as well," said Rudkowski.
According to Rudkowski, the individuals behind the Bilderberg Group want to "destroy American sovereignty and freedom" to further their goal of a global consolidation of power.
"We cannot allow these psychotic elites to rule our lives and we have to stand up for what's really right and expose them for what they are," said Rudkowski.
Rudkowski argues that the Greek debt crisis occurred because of faulty loans by Goldman Sachs that were essentially the efforts of the Bilderberg Group to rush their plans to consolidate power and integration in Europe.
In the United States, Rudkowski argues that Americans are breaking the law by attending these secret meetings, specifically citing the Logan Act. The Logan Act is a US law that prohibits private citizens from negotiating with foreign governments.
"Do you feel comfortable with your decisions of our life being made by undemocratic illegal plutocratic psychotic elites?" asked Rudkowski.
http://www.youtube.com/watch?v=z4UJRF0YM_M
Charges of fraud brought against banking titan Goldman Sachs by the Securities and Exchange Commission rocked financial markets Friday, but experts say the allegations are merely the first of many to come, Reuters reported.
After the SEC went public with the allegations, the Dow Jones dropped 125 points and Goldman Sachs stocks dropped 13 percent — the largest one-day drop in company history.
"This is just the tip of the iceberg," said James Hackney, a professor at Northeastern University School of Law. "There are a lot of folks out there in different deals who played similar roles, and once it starts building steam, plaintiffs' lawyers will figure out this is where the money is and there should be a lot of action."
Reuters Global editor at large Chrystia Freeland said the significance of the charges is "huge."
Goldman Sachs' members like to think of themselves as "the smartest, the richest," but Freeland said they also like to think of themselves as the "most virtuous."
"Someone once said, 'I don't want to be just another rich guy in New York,'" she recalled. "They want o be part of civil service, part of government, doing good, giving back."
The charges against Goldman relate to a complex investment tied to the performance of pools of risky mortgages. In a complaint filed Friday, the Securities and Exchange Commission alleged that Goldman marketed the package to investors without disclosing a major conflict of interest: The pools were picked by another client, a prominent hedge fund that was betting the housing bubble would burst.
Goldman said the charges are "unfounded in law and fact," the Associated Press reported. In a written response to the charges, the bank said it had provided "extensive disclosure" to investors and that the largest investor had selected the portfolio – not the hedge fund client. Goldman said it lost $90 million on the deal, but the fact that Goldman lost money has no impact on the fraud charges.
Goldman Sachs was not the only bank to pursue the practices that brought on the SEC charges. It wasn't uncommon in 2006 and 2007. At the tail end of the real estate bubble, smart investors searched for bigger and better ways to profit from the approaching disaster of using derivatives.
The SEC's charges against Goldman Sachs are already stirring up investors who lost big, according to plaintiffs lawyer Jake Zamansky.
"I've been contacted by Goldman customers to bring lawsuits to recover their losses," Zamansky said.
For President Obama's push to reform Wall Street financial practices, the allegations couldn't have come at a better time. As the Los Angeles Times put it:
The accusations against the iconic Wall Street institution offer a chance to revitalize a simple political narrative that he has all but lost in recent months: that he and his party are protecting ordinary Americans victimized by the economic meltdown.
All 41 Senate Republicans declared their unanimous opposition to financial reform in a Friday letter to Majority Leader Harry Reid.
But Reuters editor Freeland said Republicans are going to have a much tougher time convincing Americans that immediate financial reform isn't necessary after the SEC's charges.
"I think now that there has been a lot of momentum behind the financial reform bill, and I think that that momentum is only going to increase," Freeland said. "The charges on Friday will give the Democrats who wanted a tougher bill a lot more energy."
The Associated Press contributed to this report.