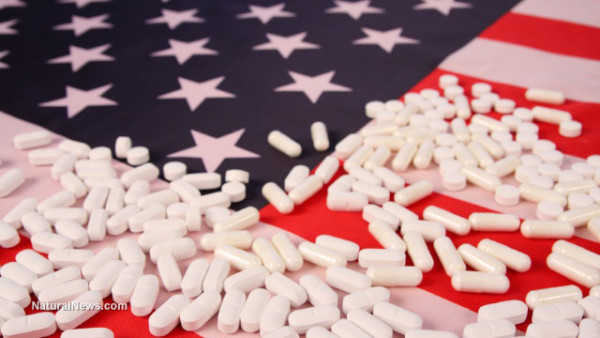 The results of the annual Gallup-Healthways Well-Being Index are in, and the methods by which many Americans now cope with their daily lives in this brave new world are sobering. Roughly one in five individuals living in the U.S., based on a random survey of people living in all 50 states and the District of Columbia, now take some type of mood-altering drug or medication daily just to make it through their miserable lives.
After conducting interviews with at least 450 residents of each U.S. state between January and December 2014, researchers found that about 20% of folks, on average, use pharmaceutical pills or other substances on a day-to-day basis to feel happy and stable. Each individual was asked, open-ended, whether or not he or she uses drugs that "affect your mood or help you relax," and about one in five answered yes.
The types of drugs people use to this end were not specified, and may include both "legal" medications like pharma pills, alcohol and nicotine, as well as various "illegal" substances. The worst state with the most drug use was West Virginia at 28.1%, followed closely behind by Rhode Island at 25.9%, Kentucky at 24.5% and Alabama at 24.2%.
Meanwhile, the states with the lowest rates of daily mood-altering drug use were found to be Alaska at 13.5%, Wyoming at 15.5% and California at 15.8%. Most of the states with the lowest rates of drug use are located in the western U.S., in fact, while the states with the highest rates of drug use are in the southern U.S.
"Nationally, 18.9% of Americans report using a mood-altering substance nearly every day, while the majority, 62.2% say they never use such drugs," reports Gallup. "About two in 10 Americans report using drugs or medication rarely or sometimes."
Southern states that oppose natural cannabis openly embrace synthetic painkiller pharmaceuticals
Interestingly, states where naturally mood-stabilizing and painkilling cannabis is legal either recreationally or medically, or both, have some of the lowest rates of daily drug use, according to the survey. These include California, where medical cannabis has been legal since 1996; Alaska, where recreational cannabis was recently legalized alongside medical cannabis; and Colorado, where both recreational and medical cannabis are now legal.
Meanwhile, conservative "Bible Belt" states in the Deep South, where cannabis is still almost uniformly prohibited, have some of the highest rates of drug use, both legal and illegal. These include West Virginia, Kentucky, Alabama, Louisiana, South Carolina and Mississippi, all of which still treat liberty as it pertains to cannabis use and cultivation with ironic disdain.
"Southern states make up six of the top 10 highest drug use states, while Alaskans, Wyomingites and Californians are least likely to say they use such drugs almost every day," reports Gallup. "More than one in five residents of Kentucky, Alabama, Louisiana, South Carolina, Mississippi and Missouri [headquarters of Monsanto] report using a drug or medicated substance to alter their mood or relax on a near-daily basis."
The evident hypocrisy of the control-obsessed South in prohibiting natural cannabis while embracing synthetic painkillers and psychotropic pharmaceuticals is astounding. But it just goes to show how urgently prohibition needs to be abolished for the betterment of society, as states that are further along in ending the failed "War on Drugs" clearly have lower rates of drug use almost across the board, while those that still believe they're doing "God's work" by criminalizing a plant have some of the highest rates of drug use in the country.
Sources:
http://www.zerohedge.com
http://www.gallup.com
http://www.theweedblog.com
Learn more: http://www.naturalnews.com/049556_psychotropic_drugs_opioid_painkillers_marijuana_prohibition.html#ixzz3yenoxlE0