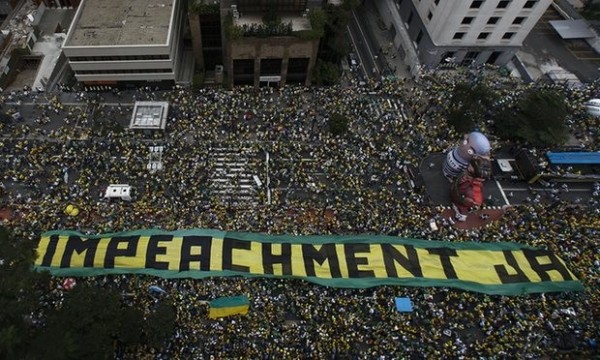 Nearly 3 million protestors have taken to the streets in cities across Brazil, calling for the impeachment of the country's president, Dilma Rousseff.
Roughly 1.4 million people demonstrated in Sao Paulo, and another million in Rio de Janeiro, according to Globo media outlet, citing the event's organizers and the country's security forces.
The protesters are blaming Rousseff for Brazil's economic collapse over the past few years and claim her involvement in corruption.
"The country is at a standstill and we are fighting to keep our company afloat. We have reached rock bottom," 49-year-old protester Monica Giana Micheletti told Reuters at the Sao Paulo demonstration.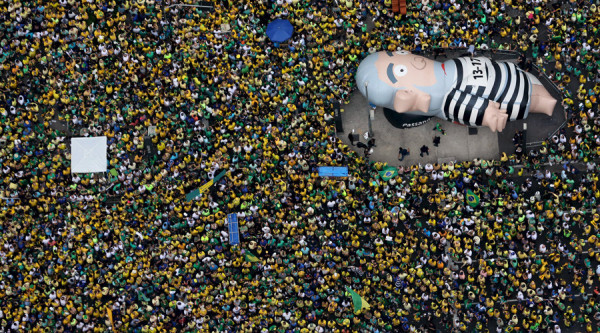 They have called for an investigation into Rousseff's conduct, accusing her of tax violations and allegedly misusing state funds to finance her re-election last year. Though Rousseff has yet to be implicated, several of her close aides are either in prison or under investigation. The protestors suspect she is guilty by association.
Dilma Rousseff
"At the very least, she is guilty of incompetence and arrogance," read one placard. "Dilma: Institutionalising Corruption 2010-2016" said another. Many others called for her to be impeached.
Some protestors say they had voted for the Workers Party, which obtained power in 2002. Rousseff and the party had promised to eradicate corruption in Brazillian politics, but the economic downturn and scandals have since turned away many supporters.
"I voted for Lula, but now I think he is a thief," said systems analyst Barbara Santos, referring to an ongoing investigation into claims that the former president received illicit benefits from construction companies.
"People are angry. We've had it up to here. Dilma needs to fall so we can have a new government. Right now all we have is drift. It's hopeless."
Read more
https://www.minds.com/blog/view/556152863869378560