Brock Turner and Cory Batey Meme ignites debate about race and the United States Judicial System. 
A Facebook meme comparing Stanford swimmer Brock Turner to Vanderbilt football player Cory Batey — both convicted for sexual assault — has ignited passionate debate over how black and white people are treated by the courts.
Social activist Misee Harris posted the meme to her Facebook page on Monday.
"Justice in America," wrote Harris, known for her campaign three years ago to become ABC's first black "Bachelorette."
"Brock Turner, a former Stanford University swimmer (White), got six months behind bars last week for raping an intoxicated, unconscious woman behind a dumpster.
"Meanwhile Cory Batey, a former Vanderbilt University football player (Black), is expecting sentencing for taking part in the rape of an intoxicated woman. He faces between 15 and 25 years in prison.
"Thoughts?"
Thousands of people — nearly 20,000 comments have been left as of Thursday — have thoughts.
Turner, who faced a maximum 14 years in prison, was sentenced to six months in jail last week, a punishment that has been roundly criticized as too lenient.
A recall campaign against Judge Aaron Persky launched on Change.org gathered nearly 900,000 signatures as of Thursday.
In April a Nashville jury found Batey guilty of aggravated rape in the assault of an unconscious woman in a Vanderbilt dorm room on June 23, 2013.
He and three other former Vanderbilt football players were charged. One of them, Brandon Vandenburg, is in court this week for jury selection in his retrial, according to The Tennessean in Nashville. Vandenburg was initially found guilty in January 2015, but a judge later declared a mistrial.
Batey apologized to his victim in court; Turner reportedly has not.
"Cory Batey has at least acknowledged his wrong doing and has publicly apologized to his victim," wrote one commenter on Harris' Facebook page.
"Brock Turner only admits his guilt in underage college campus drinking and has never once even attempted to at the very least acknowledge his victim. Both very sad situations, however, both deserve to face the ultimate punishment for their actions."
Harris wanted people to understand that she believes both men deserve punishment.
"Let me be clear: rape is rape," Harris wrote. "Both of these men made horrible choices … the facts are out there and I have studied both cases. While I realize the differences in state jurisdiction and some details, the parallels are obvious. So is the discrepancy of the two verdicts.
"No matter how much anyone tries to twist the facts, the truth remains: America's justice system in 2016 still prefers white males over any other group in society. That includes Black men as much as it does women of any color.?"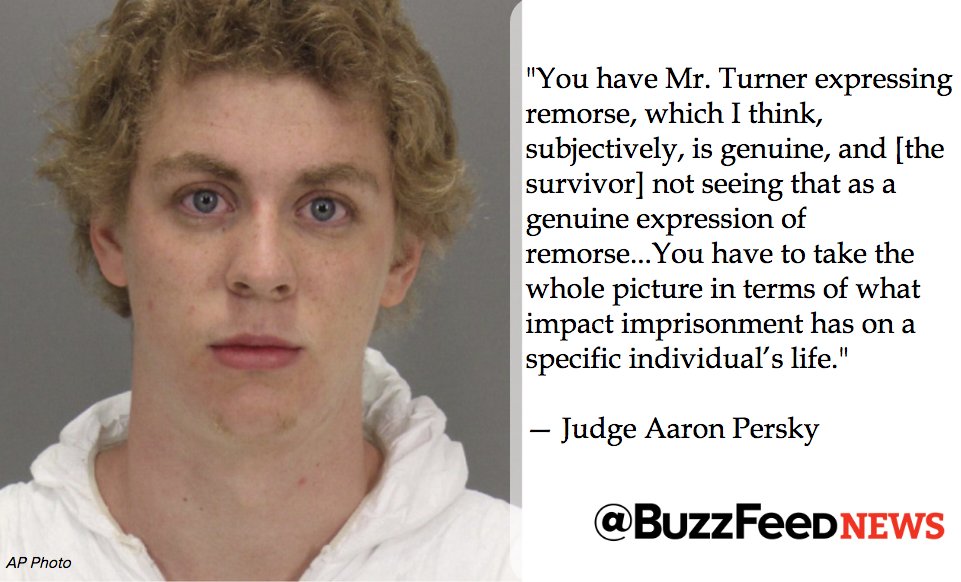 People who have left comments on her Facebook page passionately agree and disagree with her observation.
"America's justice system is racist and rotten to the core."

"I think this is a horrible comparison!! Both acts were incredibly disgusting does it suck that the guy only got months yes but I'm not saddened that Batey could get 15-25."
"Their crime is not the point. The sentence that the white guy was handed is a disgrace. It's absolutely white, rich, privileged bull**** and I usually feel like that card is overplayed. Not in this case. People should absolutely be outraged."
"How does it not matter? It's two completely different systems making decisions. I'm saying you can't blame the entire system because different courts made different decisions on similar cases."
"Wait and see what Brandon Vandenberg … who is white, gets as punishment at his trial from the same court system before this is labeled racism please …"
And the Debate continues… 

---
---
Sign up become a patron and Show your support for alternative news
for Just 1$

a month you can help Grow We are change

We use Bitcoin Too !  
12HdLgeeuA87t2JU8m4tbRo247Yj5u2TVP
©WEareCHANGE.org (2016)