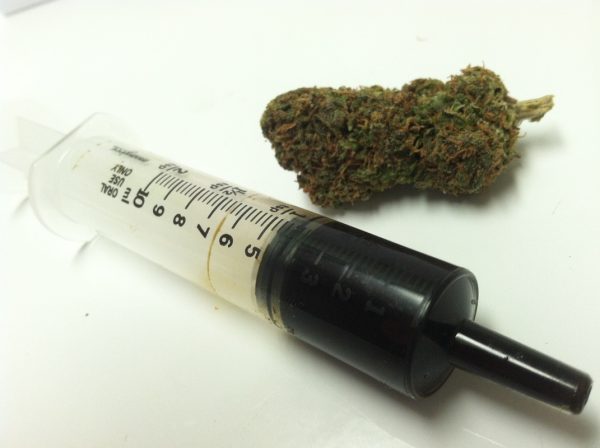 By Duke London
Marijuana.com
An abandoned correctional facility in the city of Coalinga, CA is on the verge of undergoing quite the role reversal. The City Council voted 4-1 in favor of leasing the vacant Claremont Custody Center to a privately held company, who would subsequently transform the prison into a large-scale commercial manufacturing plant for marijuana extraction. Coalinga held a public workshop Wednesday evening to vote on the Claremont re-purposing as well as two other related issues. They again voted 4-1, this time in favor of introducing a ballot measure to citizens regarding the opening of medical marijuana dispensaries in the city, and on the third and final issue, voted unanimously to tax these businesses in the event they do become legal.
The move could potentially be a financial windfall for the city as they'd theoretically be collecting revenue on the property as well as a tax on the product. David McPherson of HdL, a company that provides financial advice and auditing services to over 160 California cities, counts Coalinga as a client and attended the workshop to discuss how similar ventures affected the balance sheets of other cities. A pioneer in the field, McPherson was the first city administrator in the country to regulate and tax the sale of medical marijuana when he implemented the system in Oakland. On Wednesday night, he offered solutions to maximize the possible revenue for Coalinga, including taxing cultivation operations, like the proposed plan at Claremont, by square footage and dispensaries by their gross income.
Councilman Ron Lander, the only member to oppose the Claremont deal, pressed McPherson for financial details in regards to other cities' adoption of these types of practices. While McPherson was reluctant to provide concrete numbers, he hinted at the potential cash cow this could represent for Coalinga based on the results in Adelanto, CA.
"I read in the Orange County Register that they (Adelanto) currently have six cultivations moving forward," Lander stated. "Twenty-six," McPherson quickly corrected, as he and HdL also represent Adelanto. "I've heard the revenue would be more than their general fund," Councilman Nathan Vosburg said. "That's about right," McPherson said, which resulted in an audible gasp from citizens and the Council alike.
For reference, Adelanto's most recent available budget data shows their general fund stands at roughly $10.6 million, whereas Coalinga's 2015-16 budget shows gross revenue of $7.1 million.
McPherson also touched on the hot-button issue of cash, a necessary evil in the industry with federally insured banks usually shying away from marijuana-related companies regardless of the business' legal standing locally. "This is the question I've been asked about most in the last six years," McPherson admitted. "Cash is a problem – I've known that ever since a cultivator gave me a million dollars in a backpack once."
Ocean Grown Extracts, the company attempting to lease the prison, had their President Casey Dalton-Schutt in attendance to placate any fear about her business being a shady operation. "We won't be showing up with backpacks full of cash," she joked. "We write checks." She attempted to lift some of the stigma attached to grow operations by assuring attendees that Ocean Grown's process is meticulous, tracking each and every last seed by bar code from the beginning of the plant's life until the final product is delivered to its destination.
Dalton-Schutt explained that while there is some inherent risk of police interference, she sees it as highly unlikely to affect the Claremont site. She reassured the Council by stating Ocean Grown would assume full liability for any raids, meaning the City of Coalinga wouldn't be on the hook financially for any losses or damages. As far as Ocean Grown's reasoning for wanting to take over a former prison, it has a lot to do with security and location, location, location. Besides being located smack dab in the middle of San Francisco and Los Angeles, the former Claremont Custody Center has the protective features a large scale operation like Ocean Grown's would covet. While things like security checkpoints, razor wire barriers, and heightened surveillance are great for keeping people in a facility like this, they're also quite effective at keeping unwanted guests out. This kind of security is highly coveted by cultivators and dispensaries alike due to a high risk of robberies and raids among marijuana businesses. If Coalinga and Ocean Grown can reach a lease agreement, Dalton-Schutt said they could be up and running in as little as nine months.
This workshop was actually the second attempt the City had made in its efforts to bring in medical marijuana revenue. Back in January City Council voted, unanimously no less, to legalize cultivation, the opening of dispensaries, and even deliveries. Shortly thereafter, public backlash from citizens and City officials alike caused the Council to take a step back and reassess the situation. Wednesday's workshop was designed to revisit the debate while providing an informative environment for Coalinga residents to learn and raise any concerns.
Read more http://www.marijuana.com/blog/news/2016/03/california-city-votes-in-favor-of-converting-former-prison-into-marijuana-oil-factory/