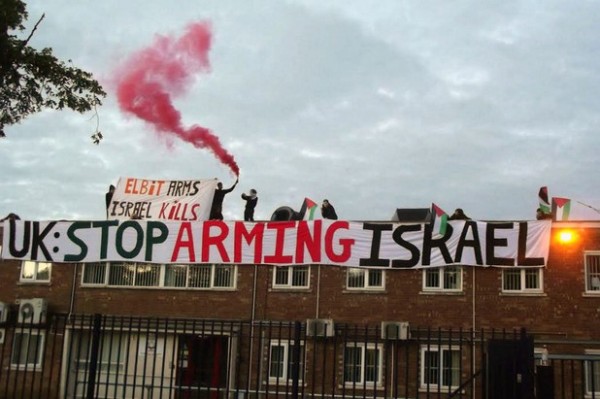 SOURCE: Electronic Intifada
Criminal charges against against nine Palestine solidarity activists who shut down a UK drone engines factory for two days last summer were dropped at the end of January.
The case had been due to go to trial next week. But the Crown Prosecution Service (CPS) pulled out at the last minute after company managers mysteriously decided to go back on previous commitments to testify against the nine.
One of the protesters, Adie Mormech, told The Electronic Intifada today that this was a "green light for further action" by activists against the factory.
Ewa Jasiewicz, another of the nine, said that UAV Engines Limited was now a "prime target" for nonviolent action to shut the factory down. UAV Engines is owned by Israeli arms firm Elbit Systems.
Jasiewicz said the group accused the factory of making engines for drones used in Israeli attacks against Palestinians. Everything the factory says should be treated with skepticism, she said: "The most decisive evidence, we feel, is that they dropped the charges." In other words, they let the activists get away with it rather then let the truth come out in court.
The nine published an opinion piece at Mondoweiss today calling for more direct action and are part of London Palestine Action.
Disclosures avoided
Scaling the roof of the factory on 5 August last year, the nine protesters locked the front gate of the factory, locked themselves down to the roof, unfurled a banner and bunked down for the night, saying they had enough supplies to last them a week.
At the height of Israel's killings of civilians in the Gaza Strip that summer, the protesters were drawing attention to the UK's arms trade with Israel, and called for a comprehensive two-way arms ban. Their banner read "UK: Stop Arming Israel."
Lawyers for the defendants say the case collapsed after either Elbit or the UK government decided they did not want to disclose details about licenses for arms exports to Israel.
The activists had pleaded not guilty to charges of "preventing lawful activity" on the basis that the Staffordshire factory was aiding and abetting war crimes and that its regular business was therefore illegal.
The group argued in pre-trial hearings and statements that they acted "to prevent the inevitable death, injury and suffering of Palestinian civilians in Gaza."