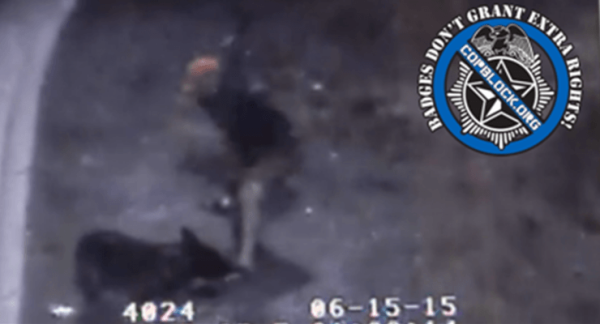 (Copblock)In surveillance footage released this week, a Ramsey County, Minnesota Sheriffs Deputy and K-9 handler can be seen beating and abusing a dog.
Deputy Brett Berry, 48, was in Carlton with other K-9 handlers earlier this month to receive training and certification during K9 trials.
On June 15, Carlton County Sheriffs Deputies responded to Black Bear Casino to investigate reports of animal cruelty by security staff.
Security workers claimed they had asked Berry to leave the casino before observing him returning back to his room to collect his things with his K-9 partner.
The surveillance footage shows an obviously upset Berry pick the animal up by its collar, throw it on the ground, and repeatedly punch it in the face.
The docile canine can been seen trotting beside its handler, waging its tail, as it endures abuse that would make any pet owner cringe.
After the attack escalates, the dog is able to escape, and runs back to the casino. The footage shows Berry run after the animal before striking it multiple times outside a vestibule, police say.
Berry was initially asked to leave the premises, for making "some unwanted advances" and "appeared to be under the influence" of alcohol, security staff said, adding that he "repeatedly made obscene gestures towards personnel" after he was first confronted and told to leave.
Ramsey County officials say he was sent home from the trials, and put on administrative leave. He was charged with assaulting a public safety dog and animal cruelty.
"We hold our staff to the highest standards, and the Ramsey County Sheriff's Office is troubled by these allegations," Sgt. John Eastham said.
Police say the K-9 suffered no serious injuries and is now under the care of a different officer.
Drunk Minnesota Deputy Filmed Beating K-9, Charged with Animal Cruelty