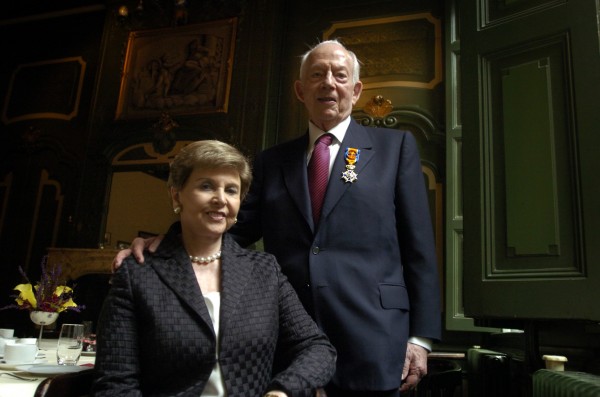 (Forbes)The richest newcomer to Forbes 2015 list of America's Richest Families comes it at a stunning $14 billion. The Sackler family, which owns Stamford, Conn.-based Purdue Pharma, flew under the radar when Forbes launched its initial list of wealthiest families in July 2014, but this year they crack the top-20, edging out storied families like the Busches, Mellons and Rockefellers.
How did the Sacklers build the 16th-largest fortune in the country? The short answer: making the most popular and controversial opioid of the 21st century — OxyContin.
Purdue, 100% owned by the Sacklers, has generated estimated sales of more than $35 billion since releasing its time-released, supposedly addiction-proof version of the painkiller oxycodone back in 1995. Its annual revenues are about $3 billion, still mostly from OxyContin. The Sacklers also own separate drug companies that sell to Asia, Latin America, Canada and Europe, together generating similar total sales as Purdue's operation in the United States.
Forbes estimates that the combined value of the drug operations, as well as accumulated dividends over the years, puts the Sackler family's net worth at a conservative $14 billion. The family also has an extensive philanthropic legacy, highlighted by large gifts to museums (including the Metropolitan Museum of Art , the Guggenheim, the Smithsonian, the Tate Gallery and the Louvre) and numerous universities, including Harvard, Oxford, Columbia,Tufts, NYU and the University of Edinburgh.
The Sacklers' OxyContin score came long after the family initially got into the pharmaceutical business. Brothers Arthur, Mortimer and Raymond Sackler — each practicing psychiatrists — bought a small, struggling drug manufacturer in New York City in 1952, which would eventually become Purdue Pharma. The brothers initially sold small-time products like laxative and earwax remover.
Arthur, simultaneously, was a standout in the field of medical advertising. He helped Pfizer PFE -0.95% establish itself in the prescription drug arena, and he is credited with writing scientific papers that contributed to Valium becoming the first $100 million drug, according to his listing in the Medical Advertising Hall of Fame.
By the time Arthur died in 1987 at age 73, brothers Mortimer and Raymond had Purdue Pharma dabbling in pain medications. They eventually took generic painkiller oxycodone — invented in World War I-era Germany — and installed a timed-release mechanism, which promised to stymie abuse by spreading the drug's effects over half-day period. This enabled them to market it beyond the traditional target audience for powerful opioids — cancer patients — and not long after OxyContin's launch in 1995, primary-care doctors were prescribing it for an array of painful symptoms. Sales hit $1.5 billion by 2002.
(AP Photo/Toby Talbot)
But the drug wasn't as abuse-resistant as it claimed. Someone looking for a fix could just crush the pills to break the time-release mechanism, then snort the powder for a heroin-like high. Addiction, overdoses and accidental deaths followed, and Purdue Pharma found itself facing charges that it had misbranded OxyContin as far less risky than it was. In 2007, Purdue paid $635 million in fines after pleading guilty to false marketing charges by the Department of Justice. (Sackler family members were never charged.)
The company reformulated OxyContin in recent years, making it far more difficult to abuse, but it is still reckoning with lawsuits stemming from its earlier, oft-abused iteration. A case brought by the State of Kentucky also alleging false marketing has been winding its way through the courts since 2007, and damages could exceed $1 billion.
Company spokesman Raul Damas says Purdue Pharma denies wrongdoing in this case, noting that courts in Kentucky and across the United States have dismissed similar cases against Purdue because the evidence did not establish that the company's marketing caused the harm alleged.
Raymond Sackler, 94, is the only remaining living Purdue Pharma cofounder, though neither he nor his family are actively involved in day-to-day management of their drug companies anymore. He declined a request for interview.
http://www.forbes.com/sites/alexmorrell/2015/07/01/the-oxycontin-clan-the-14-billion-newcomer-to-forbes-2015-list-of-richest-u-s-families/?utm_campaign=Forbes&utm_source=FBPAGE&utm_medium=social&utm_channel=Lists&linkId=15261425