UPDATE: 2 p.m. eastern, Feb, 9: WikiLeaks is now claiming that the same Ecuadorian presidential candidate who threatened to terminate Julian Assange's asylum and called for his arrest, is also implicated in WikiLeaks cables as a US informant.
Ecuadorian presidential candidate calling for Assange arrest is implicated in WikiLeaks cables as US informanthttps://t.co/we1o0H0x5t

— WikiLeaks (@wikileaks) February 9, 2017
Ecuadorian presidential candidate, Patricio Zuquilanda, has said that he will expel Julian Assange from the Ecuadorian embassy if he wins the Feb. 19 election, according to EL TELÉGRAFO.
Ecuadorian Presidential candidate's first act after Feb 19: terminate Assange asylum https://t.co/we1o0H0x5t

More: https://t.co/Mb6gXlz7QS

— WikiLeaks (@wikileaks) February 6, 2017
Zuquilanda has said that if he wins he will give Assange to Sweden, EL Universo reported.
"Mr. Assange learns at twelve o'clock that Patriotic Society and Patricio Zuquilanda won the Presidency, he must take his chécheres and immediately leave, because at six o'clock that individual will be placed under the orders of the Swedish Police" Zuquilanda Said.
He added that he will initiate a trial to the exchancer Ricardo Patiño for "violating the international statute that guarantees that only for political crimes can be given asylum, not for common crimes."
Julian Assange has been living in the Ecuadorian embassy since August 2012 when he was given Asylum.
He sought refuge in Ecuador's embassy in London in June 2012, fleeing allegations of rape and sexual assault in Sweden dating back to 2010. Assange has strongly denied the charges, even releasing a transcript recently.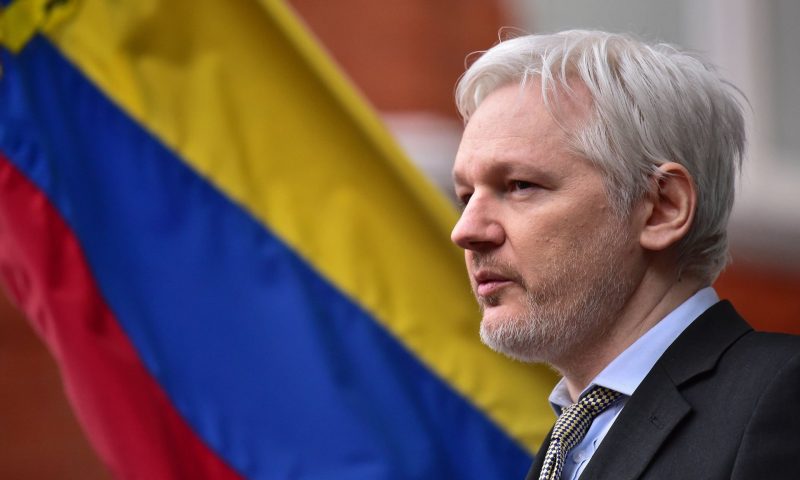 [FRAMED BY POLICE: Assange Releases Exonerating Text Messages]
The Wikileaks website Justice for Assange indicates that Assange has been in the embassy for 2,253 days under illegal house arrest.
In February of last year, a UN panel found that Assange was being arbitrarily detained by the UK government who has threatened his arrest if he leaves the embassy and has routinely had a high police presence around the surrounding area wasting tax payers' money.
[Julian Assange: Internet Restored at Ecuadorian Embassy]
Assange has now issued a call to Sweden and the UK to "do the right thing and restore my liberty."
"I call on U.K. and Sweden to do the right thing and restore my liberty. These two states signed treaties to recognize the U.N. and its human rights mechanisms," Assange said in a press release. "Their governments accepted the jurisdiction of the UNWGAD in my case — the world's peak legal body for cases of arbitrary detention. At no time in the 16 month process did they withdraw. They lost, appealed and lost again."
Assange further argued that his case, ignored by the UN ruling, is one that will set the precedent for whether other countries justify human rights abuse.
"Already their breach has been used to justify human rights abuses from Sri Lanka to the UAE," he argued. "This refusal to respect the umpire's decision comes at a terrible cost: other states can now illegally detain Swedish and U.K. citizens with effective impunity and the U.N human rights system more broadly is imperiled."