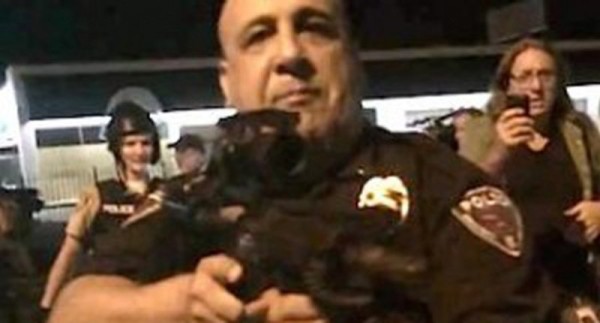 petulant public servant is now playing the role of 'victim' after he pointed his AR-15 at Free Thought Project live streamer, Rebel Z, aka John Zeigler.
The entire incident was caught on film, showing St. Ann police officer, Ray Albers with his gun raised pointing it directly at Zeigler, who was live streaming at the time.
"Oh my God, gun raised, gun raised," stated Zeigler.
"My hands are up bro, my hands are up," he says before Albers responds, "I'm going to f***ing kill you, get back, get back!"
"You're going to kill him?" asks another individual before Zeigler asks, "did he just threaten to kill me?"
When Albers is asked for his name he responds, "go f*ck yourself."
A week after he was caught on video committing assault with a deadly weapon, Albers resigned, but has avoided any form of discipline – until now.
While it's unclear as to whether or not Albers will actually be found guilty of anything, the Missouri Department of Public Safety is attempting to hold this privileged member of society accountable for his actions. Had Albers been a mere commoner, he would most certainly already be in jail.
The state of Missouri says Albers acted "without legal justification" when he pointed his assault rifle at a crowd of people, and that his "threat to commit a felony" — specifically, murder — violated Missouri law.
Albers' attorney, Brandi Barth had the audacity to claim that her client "showed great restraint" when he took to assaulting multiple innocent individuals with a deadly weapon.
"There's selective enforcement against Mr. Albers, in a situation where we have now seen at least a dozen officers in the selected photos having their rifles raised," Barth said. "This situation of 30 seconds in a 20-year career has literally ruined his life."
By Barth's logic, because multiple other cops all committed assault with a deadly weapon, Albers should be free to go.
This man pointed a loaded AR-15 at the heads of multiple innocent people. He then threatened to "f**king kill" them, and now he's trying to claim that he is somehow the victim.
It seems that the thin blue line is not only code for a privileged and skewed form of 'justice,' but it can now be considered a euphemism for insanity.
Ferguson cop says life is 'ruined' after pointing AR-15 at journalists and saying, 'I'm going to f*cking kill you!'