Source: Counter Current News
If you are like thousands of others, you have no doubt seen an iconic photo of Baltimore burning. The image began circulating throughout social media after a local Fox affiliate in Memphis, Tennessee apparently first ran it. Some other mainstream media outlets even shared the image, using it with headlines that said "Baltimore is Burning" and referenced a "purge".
The only problem is it wasn't from Baltimore.
That's right, the image was taken from Venezuela, not Baltimore. But for those who accepted Fox's rendition of the story uncritically, the image became burned into their minds as being a scene of devastation in Baltimore.
On April 27th, local FOX13 claimed the photo of the fires burning everything except the golden arches at McDonalds was "Baltimore In Flames."
Reverb Nation notes that one viewer noticed the image and placed it right away. They thought the image looked familiar, and pointed out that the story on the CVS burning was not Baltimore at all.
The Imgur user said: "Now I understand why people mock Fox news so much…"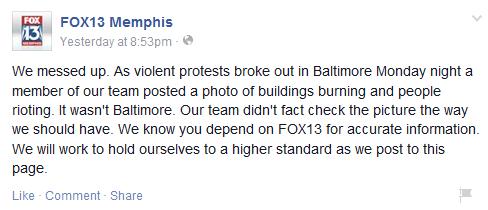 After racking up tens of thousands of views, Fox acknowledged the "error," saying: "Our team didn't fact check the picture the way we should have."Just imagine if Fox hadn't been called out on this? How many more stations would continue to run it as an actual image of Baltimore in flames? Just imagine how much else they are lying to us about!