DEMOCRATS PLANNED EMERGENCY MEETING TO CONSIDER HILLARY REPLACEMENT
Alright.Well I understand these claims may seem ridiculous at first but please bear with me. Yesterday, the day after the 15th anniversary of 9/11, while I was consolidating all of the material that I had gained while visiting Ground Zero, the internet was abuzz with rumors that potential POTUS and Democratic party nominee Hillary Clinton had died in a NYC hospital after apparently collapsing on the scene and after being well…carried and shoved into a waiting Secret Service van, then carted off into oblivion.
The rumor first erupted after
A video clip of WABC-TV Channel 7 "Eyewitness News" in New York City opened last night with Anchorman Joe Torre saying "more on Hillary Clinton's Death."   The opening line, however, seems edited-OUT of the video archive!

Did Hillary die after leaving the 9-11 Ceremony in New York . . .  and the information is being concealed?  A whole slew of irregularities have cropped-up indicating that may actually be the case!

Here is the video segment  from the 11:00 PM "Eyewitness News" broadcast of September 11, 2016 in which Anchorman Joe Torre seems to say Hillary Clinton is DEAD:
In this video, InfoWars reporter Owen Shroyer, contacted the ABC newsroom and confirmed that the sentence "And we begin with the breaking news of Hillary Clinton's death," was actually read on-air,  according to the ABC representative, directly off the Teleprompter.
This all occurred after Hillary Clinton attended the September 11 Memorial Ceremony at Ground Zero at the World Trade Center in Manhattan on Sunday morning.  Despite a heatwave which had BROKEN overnight, allowing temperatures in Manhattan to fall into the comfortable mid 70's, Clinton was forced to depart the ceremony early due to a "medical episode."   The video below shows Hillary leaning up against a security barrier waiting for her motorcade to pull up.
As it arrives, Hillary had to be helped to move toward the vehicle, and her movements were stiff and unsteady.  As her security detail grabs her under both arms to assist, Hillary collapses forward and is literally dragged into the motorcade; so abruptly, she even lost one of her shoes!   Watch the quick video below:
https://youtu.be/7DLY-10oumo
For ninety minutes after this took place, the media was forced to cease all recordings at the 9/11 ceremony and were also prevented from leaving to follow the Clinton motorcade — both very unusual developments. Later, the Clinton campaign said that Hillary was "overheated" but had been taken to her daughter's home on East 26th Street where she was "doing fine."  Shortly after that, the campaign released a statement from Hillary's Doctor saying she had been "diagnosed with Pneumonia on Friday, was given antibiotics and told to rest."  Strange how the story changed.
BODY DOUBLE?
A short time later, a person ALLEGED to be Hillary, is seen leaving the East 26th Street home of Chelsea Clinton,  but there are problems with this person.
First, the person who was allegedly Hillary Clinton, looked about thirty pounds lighter in body weight than the Hillary who was at the 9-11 ceremony!   Here's the video of "Hillary" leaving Chelsea Clinton's home on East 26th Street:
Notice the body weight?  Clearly, this person is significantly thinner than Hillary appeared just two hours earlier at the 9-11 memorial ceremony.  Moreover, the gait of this person is dramatically different than the gait of Hillary Clinton seen just two hours earlier.  It's almost as though this "Hillary" is ten years younger, with a strong, assured stride, versus the slower, meandering walk usually displayed by the real Hillary.
Oh, and did you see her embrace the small child on the street?  How nice . . . . wait . . . . she has Pneumonia and she's embracing a kid?  Way to spread the Pneumonia germs! ! !
Next, this person is carrying her handbag over her RIGHT shoulder, whereas Hillary typically carried her handbag over her LEFT shoulder, and did so at the 9/11 Ceremony.  Why would a woman who typically carries her handbag over her left shoulder, suddenly be seen carrying it on her right?
Still-photos of the "Hillary" seen leaving Chelsea Clinton's home provide even more questions.
The "Hillary" who left Chelsea Clinton's home has different length fingers than the actual Hillary Clinton!   Here are photos of the person alleged to be Hillary, leaving Chelsea Clinton's home.  Note the length of the index finger versus the ring finger.  On this person, those two fingers are identical in length!
The photo of the person leaving Chelsea Clinton's home not only dramatically shows the change in finger length, the face of this person is clearly NOT the real Hillary!  See for yourself: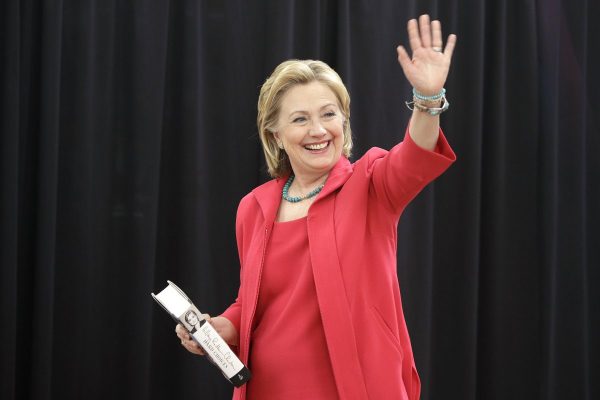 A bit of Journalistic investigating turned up an interesting fact about Chelsea Clinton's "home" on East 26th St:
It used to be a . . . New York State HOSPITAL!
Here's a link to the old web page for the old hospital at that exact same address:  https://profiles.health.ny.gov/home_health/view/18676
Apparently, Hillary has her own private Hospice, paid for by the Clinton Foundation no doubt, that the "deplorables" are not allowed into.  And it is conveniently located in the building where her daughter Chelsea lives. Hmmmm.
It Gets Even Stranger!
A few months ago, the London Daily Mail Newspaper did a story about a woman who earns $10,000 a month as a Hillary Clinton Impersonator.  The woman's name is Teresa Barnswell.  Here's a photo of Ms. Barnswell:
The London Daily Mail, one of the oldest, largest and most well-respected newspapers in London, England, called her "greatest Hillary look~a~like in the world" and you can still read their full story  HERE
Teresa Barnswell has her own Twitter feed, and guess what she Tweeted late Sunday afternoon?  Get a load of this:
Yes, she's hinting that she's in New York City . . . and what is the building in the background?  Chelsea Clinton's Home on East 26th St!
Lest anyone accuse us of being "Conspiracy Theorists" it should be noted that late Sunday, the Clinton Campaign announced Hillary was cancelling campaign activities for the next two days — to get rest.  Shortly after that announcement, MSNBC Reporter David Shuster tweeted that the Democratic National Committee was "expected to meet in Emergency Meeting to "consider" replacing Hillary as a candidate for President."  Here is Shuster's Tweet and below it, a link to OUR earlier story on this stunning announcement:
You don't replace a candidate for President who is merely sick.  But you sure have to do something if that candidate is DEAD.  And last night, on WABC-TV, Channel 7, Eyewitness News in New York City, Anchorman Joe Torre seemed to say "more on Hillary Clinton's DEATH."
Is Hillary dead? Did the Clinton Campaign use a Body Double to make it APPEAR that Hillary is still OK? Did the Body Double screw-up by carrying her handbag on the right instead of the left shoulder? What about the differing finger lengths?  What about the different Wedding Rings?   And how about that Tweet from the Hillary Impersonator showing she's in NYC, in front of Chelsea's House???
Is the country being kept in the dark that Hillary is actually DEAD, until the powers-that-be can figure out what to do?  If this all is true and Hillary Clinton did die in New York City, and we are being feed a web of lies, lets be honest no one would be surprised.
Stay tuned.
It's important to note that we can no longer trust our own eyes.
Comment bellow we want to know what you think about this.
LIKE, COMMENT, SHARE,  TOGETHER WE ARE CHANGE 
Update: Possible counter propaganda from the mainstream media.
Follow WE ARE CHANGE on SOCIAL MEDIA
---
Sign up become a patron and Show your support for alternative news

We use Bitcoin Too !  
12HdLgeeuA87t2JU8m4tbRo247Yj5u2TVP