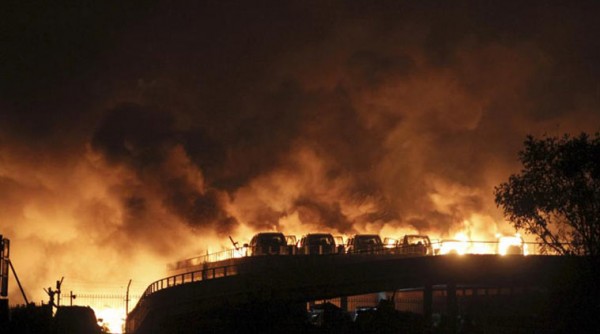 BY RASH (mindsetsathreat)· AUGUST 27, 2015
China's stock market has been crashing dramatically in the past few months. The mainstream media has been parroting the same narrative consistently. That being that China's stock market is crashing because of a scare in the markets. While this is certainly part of the equation it leaves out some crucial information that is vital to understanding the situation in China.
To put it bluntly, stock markets are rigged. This should not come as a shock to people. In May, some of the worlds largest banks pleaded guilty to price and interest rate manipulation. Bloomberg stated;
Citicorp, JPMorgan Chase & Co., Barclays Plc and Royal Bank of Scotland Plc agreed to plead guilty to felony charges of conspiring to manipulate the price of U.S. dollars and euros, according to settlements announced by the Justice Department in Washington Wednesday"
The mega-banks were caught manipulating the market, the so called 'justice' system fined them 5.8 billion. Sounds like a lot? For these banks, a slap on the wrist would be too harsh. Try a tickle.
This is just one example of many.Banks have proven to be untouchable since the 2008 housing bubble crash.
The question here is whether the Chinese stock market crash was due to something similar. Something more sinister than a 'scare in the markets'?
The Chinese government seems to share my suspicions. According to the BBC;
China's securities regulator will investigate suspected manipulation of the stock market, state news agency Xinhua reports.
The regulator said late on Thursday that it would be looking into whether parties were mis-selling financial products.
Some reports have accused overseas investors of driving prices down by short-selling stocks on Chinese bourses, meaning they were betting on stocks falling."
So what has this all got to do with the Tinjian blasts that killed over 120 people, you may be wondering. If China was financially screwed by overseas investors as the Chinese government suspects than the timing of the blast worked out very well for some.
Economist Prof. Michael Chossudovsky outlines the timing of the explosion China's market crash in an article on Globalresearch.ca;
The Shanghai SSE Composite Index progressed over the last year from approximately 2209 on August 27, 2014 to more than 5166 on June 21st, 2015 (circa 140% increase); then from July 21st it collapsed by more than 30 percent in a matter of two weeks to 3507 (July 8).
A further collapse occurred starting on August 19, in the week immediately following the Tianjin explosions (August 12, 2015) culminating on Black Monday August 24th (with a dramatic 7.63 percent decline in one day).
Did the Tianjin Explosion contribute to exacerbating "uncertainty" with regard to the Chinese equity market?"
china stick
It is very likely. According to Reuters;
Shipping freight rates for transporting containers from ports in Asia to Northern Europe fell by 26.7 percent to $469 per 20-foot container (TEU) in the week ended on Friday, one source with access to data from the Shanghai Containerized Freight Index told Reuters.
It was the third consecutive week of falling freight rates on the world's busiest route and rates are now nearly 60 percent lower than three weeks ago."
Is it possible that there's more to the story that we are not being told? Chinese authorities have remained extremely secretive about the explosions and have warned against conspiracy theories that have surely being circulating the web since the attack with many pointing out the shutting down of a Chinese supercomputer as a result of the explosion. The super computer which is recognized as the fastest computing system in the world in 2010 is located in close proximity to the explosion area.
Despite warning against conspiracy theories, China's official investigation into the explosion has taken a slightly more conspiratorial turn. According to the BBC;
China has accused 11 government and port officials of negligence over the massive explosions that killed 139 people in Tianjin earlier this month.
It remains unclear whether they have been taken into custody.
However 12 company executives have now been formally detained, mostly from Ruihai International Logistics, which owned the warehouse that blew up.
The 11 officials include the head of Tianjin's transportation commission Wu Dai, and Zheng Qingyue.
Prosecutors said the government officials were variously suspected of approving Ruihai's bid to build a hazardous chemical warehouse in the port despite knowing the location broke safety regulations, and of helping the company to pass safety checks even though it did not meet the required standards.
Port officials were also negligent in their supervision of Ruihai's operations, failing to detect "illegal activity" and safety issues around its handling of hazardous materials.
One might be extremely curious to what Chinese authorities have in mind when they refer to "illegal activity".
This may all be circumstantial but in the current geo-political climate it is certainly justifiable to be skeptical of mainstream narratives given the building tension in regards to the U.S and China over the China south sea debacle and opposing political alliances in regards to Syria. Not to mention China's role in BRICS(Brazil, Russia, India, China and South Africa) which was created to oppose western economic hegemony through institutions like the IMF and World bank.
If you found this content interesting be sure to like us on our facebook page and follow us on twitter
read more:
http://mindsetsathreat.com/2015/08/27/is-there-a-connection-between-the-china-stock-crash-and-tianjin-blasts/