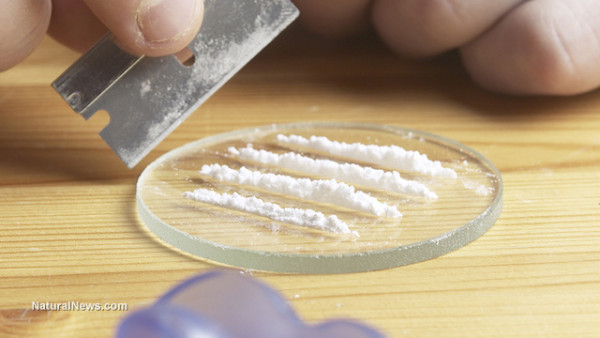 A study conducted by Dr. Nicole Avena of the Icahn School of Medicine at Mount Sinai, has found that sugar consumption and addictive behaviors are closely linked. Just how bad could a sugar addiction be, you ask? Sadly, the study suggests that it's eight times more addictive than cocaine.
If that doesn't make you want to skip that cola purchase, I don't know what will.
Couple these findings with the fact that most Americans ingest approximately 22 teaspoons of sugar daily, and it's clear that the findings are indeed highly disturbing. Even worse is the consumption by teenagers; it's estimated that this age group consumes about 34 teaspoons of it every day. Soda has been eyed as the most common culprit behind so much sugar ingestion, with other junk food choices like cookies not far behind. Unquestionably, people are flocking to sugar like it's going out of style, and now we know why – it's an addiction.
Highly-processed foods alter brain, activating areas linked to addictions
Dr. Avena's article on the topic was published in the journal PLOS ONE, which states the following:
… addictive substances are altered to increase the rate at which the addictive agent is absorbed into the bloodstream. For example, when a coca leaf is chewed, it is considered to have little addictive potential. However, once it is processed into a concentrated dose with rapid delivery into the system, it becomes cocaine, which is highly addictive. Similarly, highly processed foods, compared to naturally occurring foods, are more likely to induce a blood sugar spike. This is important, because there is a known link between glucose levels and activation of areas of the brain that are involved with addiction.
The published study, entitled, Which Foods May Be Addictive? The Roles of Processing, Fat Content, and Glycemic Load, elaborates as follows:
… the addictive potential of a food is likely to increase if the food is highly processed to increase the amount, or dose, of fat and/or refined carbohydrates and if the refined carbohydrates are absorbed into the bloodstream quickly (high GL). An essential next step in the consideration of "food addiction" is to determine which foods or food attributes pose the greatest risk in the development of addictive-like eating behaviors in humans.
Avoid pizza and these other foods, which are said to be the most addictive
According to Dr. Avena, pizza is the most addictive food. Just one slice contains more sugar than a few Oreo cookies, thanks to the hidden sugar in the tomato sauce. Now, we all know that most people don't just stop at a mere slice. In fact, we've all probably seen folks devour an entire pizza on their own, which is likely akin to polishing off an entire box (or more) of Oreo's … not good.
Furthermore, what do most people enjoy drinking with their pizza? You guessed it – soda! As mentioned earlier, people are downing such liquid sugar more today than ever before, demonstrating our collective dependency on the unhealthy substance.
After pizza, Dr. Avena explains that cookies, ice cream and chips also rank high among the most addictive foods. They too, have a sugar content that impacts the brain in a way that mimics drug and alcohol addiction.
The least addictive foods, according to the study? Eat more cucumbers, carrots and beans; they're the least addictive, and therefore, are healthy choices to include in your diet.
These findings reinforce the importance of avoiding a junk food diet, and instead, enjoying one that consists of fresh, organic options. Fruits and vegetables, along with a variety of nuts, seeds and superfoods, are the best choices to keep your health on track and even reverse certain ailments.
Why feed your body a substance that's eight times as addictive as cocaine, when you can take the better path and live the healthier, longer life you deserve?
Learn more: http://www.naturalnews.com/053294_sugar_cocaine_addiction.html#ixzz43Tw2coAv