Thousands of people, including US veterans, are beginning to arrive at the Sacred Stone camp in Standing Rock, North Dakota, to defend the Dakota Access Pipeline protesters.
Last week on Nov. 25, it was reported that the Army Corps of Engineers planned on "closing the portion of the Corps-managed federal property north of the Cannonball River to all public use and access effective December 5, 2016,"  saying that "This decision is necessary to protect the general public from the violent confrontation between protesters and law enforcement officials that have occurred in this area, and to prevent death, illness, or serious injury to inhabitants of encampments due to the harsh North Dakota winter conditions."
Shortly after it was also reported by several sources that the local Ace Hardware store was refusing to sell propane tanks and other supplies to DAPL protesters.
Ace Hardware has apparently backed out on its decision not to sell propane and incendiaries to the protesters. The company released a statement that said, "Ace Hardware can now confirm that there is no ban on the sale of products at our locally-owned Ace stores; customers should feel free to check with their local store for inventory availability."
 In the video above, journalist and activist Derrick Broze meets with environmentalist Rob Greenfield for the first time at the Sacred Stone camp to discuss the Dakota Access Pipeline. The also talk about where the protests are currently and what may happen in the next few days.
As veterans and allies continue to show up to the Oceti Sakowin and Sacred Stone camps, the authorities had no choice but to back off of their previous declaration to arrest everyone who refuses to vacate the camp by Monday, Dec. 5.
The US Army Corps said yesterday that it has no plans to forcibly remove any of the water protectors camped on Treaty land at the Oceti Sakowin Camp on the banks of the Cannon Ball River. The Army Corps said that instead it will issue citations.
On Saturday, law enforcement officers held a press conference to address concerns of a potential clash with protesters on Monday, the day the army corps of engineers had set to close the camp. In a press conference, Morton county Sheriff Paul Laney said, "there will be no confrontation with Protesters on Monday December 5th." "That's never been our intent, never will be our intent nor is that going to happen. A whole lot of people are coming here expecting to see some kind of a confrontation December 5th and they're going to be pretty bored, 'cause it's not happening" he continued. 
According to the local Fox news KFYRtv, law enforcement has a tentative agreement to pull back from the backwater bridge putting distance between law enforcement and protesters. The agreement is based on the condition that protesters do not move north of the bridge or remove any barricades. If those conditions are met, police will pull back by 4 p.m. Sunday.
There is still a chance of violence or commotion—police say they have credible intelligence that some demonstrators will try and trigger the effects of PTSD in some of the veterans who have joined the camp.
Sheriff Laney said:
"To try and do that to somebody who's already suffered enough serving this country, who's served this country honorably and now come back and has the effects of war or the horrors of war and having a PTSD effect on them and you're going to try and trigger that for an activist reason? I think you can see in my reaction how that makes me feel."
Morton County Sheriff Kyle Kirchmeier reiterated his pleas for the federal government to step in and resolve the conflict by making a decision on the pipeline easement to cross Lake Oahe.
If the Morton County Sheriffs Office and the Army Corps of Engineers enter the Oceti Sakowin camp to issue trespassing and other citations—after they formally announced that they would not shut down the camps on Dec. 5th—and try to use force to intimidate the water protectors, there is still a chance that things could escalate and turn into a violent confrontation. This could be reminiscent of the Occupation of Wounded Knee in 1973 where approximately 200 Oglala Lakota and allies of the American Indian Movement occupied the historic town of Wounded Knee, the location of the famous wounded knee massacre. They held it for more than two months, culminating in a joint FBI, National Guard, and US Marshall Service all out raid, where a federal agent was paralyzed, two Native American activists lost their lives, and Ray Robinson, a black civil rights journalist and activist completely disappeared.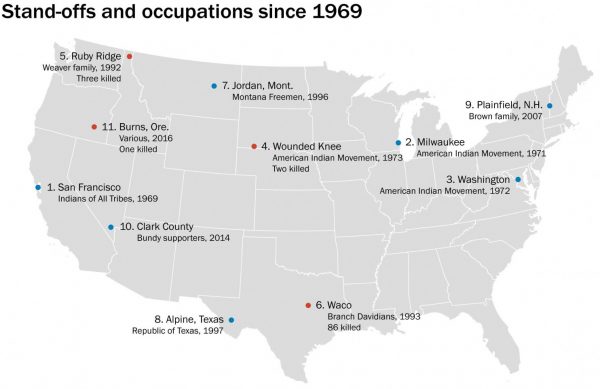 Unfortunately, these disputes between Native Americans and the Federal government are not new to the history of this country. What is new this time is the internet. Our ability to collectively be there on the ground in Standing Rock even when we are not.
Just over a decade ago the ability of a citizen journalist to capture and broadcast live breaking news was an unrealistic ambition, almost science fiction, but now it is our reality. The power of our social networks cannot be denied. We now have a voice louder than ever before. When we want to say something we can can say it, and be heard.
Now we have the technology to not only capture the moment, but the ability to broadcast that moment instantly for others to watch and share. Unlike the Native Americans versus the U.S. corporate empire battles of before, this time the establishment authorities cannot simply commit human rights violations with impunity.
This time we have the power to stand up for the Sioux and the Sacred Stone Water protectors. We have an amazing network of journalists and activists working together to raise awareness about the Dakota Access Pipeline. While there is no way to be sure if our efforts will be successful, there is no denying that the power of the alternative media and the entire #NoDapl movement has turned this protest into one of the strongest and most influential acts of civil disobedience in the 21st century.
Thanks again to everyone on the front lines and all over world who are fighting for our environment and for the future of this planet. If you enjoyed this article please share and help get the word out, we are here, we will not be silent, our voices will be heard, and don't forget together We Are Change
This article (Thousands of People Show Up at Standing Rock to Defend Water Protectors) is free and open source. You have permission to republish this article under a Creative Commons license with attribution to DannyQuest and WeAreChange.org.  If you find any grammatical mistakes or factual errors in this article please email  Danny@wearechange.org
This work is licensed under a Creative Commons Attribution-Share Alike 3.0 License
---
Sign up become a patron and Show your support for alternative news

We use Bitcoin Too !  
12HdLgeeuA87t2JU8m4tbRo247Yj5u2TVP