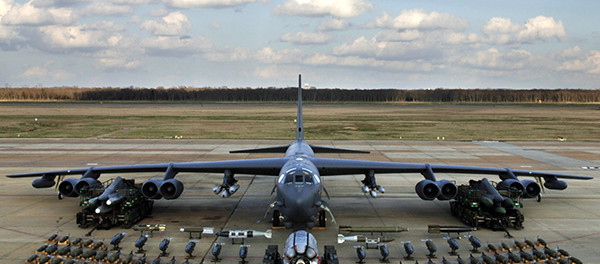 (Your News Wire) The United States has landed nuclear-capable B-52 and B-2 bombers at RAF Fairford in preparation for NATO military exercises in June.
Despite warnings from British Foreign Secretary Phillip Hammond that the West should not "make unnecessary provocations" against Russia the US deployed the nuclear-capable bombers to the British airbase earlier in the month ahead of the BALTOPS and Sabre Strike operations.
Cnduk.org reports:
Despite concerns expressed by the UK's Foreign Secretary that Russia has a 'sense of being surrounded and under attack,' this is only the second time in recent years that B-52s have been involved in such exercises, reflecting an escalation in US-led NATO operations.
The recent suggestion from the Pentagon that the US could deploy cruise missiles in the UK has been met with outrage by anti-nuclear campaigners, with CND General Secretary Kate Hudson warning of the 'terrifying' consequences of a 're-run of the Cold War'.
In the 1980s, plans to site US cruise missiles at Greenham Common sparked demonstrations attended by hundreds of thousands and saw the establishment of a peace camp which became an iconic symbol of opposition to nuclear weapons in the UK.
Did you know?
In a bleak twist of history, the US Air Force's fleet of nuclear-capable stealth bombers has recently come under the command of the grandson of the pilot who dropped the world's first nuclear bomb. Paul Tibbets IV has stated that his grandfather, Paul Tibbets Jnr, 'never lost one minute of sleep' over the deaths of 140,000 people as a result of the bombing of Hiroshima.