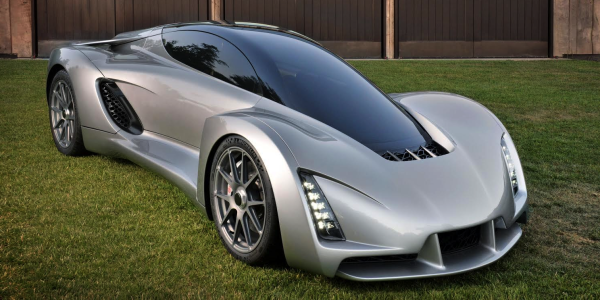 Source: 3D Print
[Click here to read an original WRC article about the application 3D Printing technology has to offer, and how President Obama would like to influence that]
The automobile industry has been relatively stagnant for the past several decades. While new car designs are released annually, and computer technology has advanced by leaps and bounds, the manufacturing processes and the effects that these processes have on our environment have remain relatively unchanged. Over the past decade or so, 3D printing has shown some promise in the manufacturing of automobiles, yet it has not quite lived up to its potential, at least according to Kevin Czinger, founder and CEO of a company called Divergent Microfactories (DM).
Today, at the O'Reilly Solid Conference in San Francisco, Kevin Czinger is about to shock the world with a keynote presentation he will give titled, "Dematerializing Auto Manufacturing."
"Divergent Microfactories is going to unveil a supercar that is built based on 3D printed parts," Manny Vara of LMG PR tells 3DPrint.com. "It is very light and super fast — can you say faster acceleration than a McLaren P1, and 2x the power-to-weight ratio of a Bugatti Veyron? But the car itself is only part of the story. The company is actually trying to completely change how cars are made in order to hugely reduce the amount of materials, power, pollution and cost associated with making traditional cars."
The vehicle, called the Blade, has 1/3 the emissions of an electric car and 1/50 the factory capital costs of other manufactured cars.  Unlike previous 3D printed vehicles that we have seen, such as Local Motors' car that they have printed several times, DM's manufacturing process differs quite a bit. Instead of 3D printing an entire vehicle, they 3D print aluminum 'nodes' which act in a similar fashion to Lego blocks. 3D printing allows DM to create elaborate and complex shaped nodes which are then joined together by off-the-shelf carbon fiber tubing. Once the nodes are printed, the chassis of a car can be completely assembled in a matter of minutes by semiskilled workers. The process of constructing the chassis is one which requires much less capital and other resources, and doesn't require the extremely skilled and trained workers that other car manufacturing techniques rely on. The important goal that DM is striving for, and it appears they have accomplished, is the reduction of pollution and environmental impact.
Today, Czinger and the rest of the team at Divergent Microfactories will be unveiling their first prototype car, the Blade.
"Society has made great strides in its awareness and adoption of cleaner and greener cars," explains CEO Kevin Czinger. "The problem is that while these cars do now exist, the actual manufacturing of them is anything but environmentally friendly. At Divergent Microfactories, we've found a way to make automobiles that holds the promise of radically reducing the resource use and pollution generated by manufacturing. It also holds the promise of making large-scale car manufacturing affordable for small teams of innovators. And as Blade proves, we've done it without sacrificing style or substance. We've developed a sustainable path forward for the car industry that we believe will result in a renaissance in car manufacturing, with innovative, eco-friendly cars like Blade being designed and built in microfactories around the world."
The Blade is one heck of a supercar, capable of going from 0-60 MPH in a mere 2.2 seconds. It weighs just 1,400 pounds, and is powered by a 4-cylinder 700-horsepower bi-fuel internal combustion engine that is capable of using either gasoline or compressed natural gas as fuel. The car chassis is made up of approximately 70 3D printed aluminum nodes, and it took only 30 minutes to build the chassis by hand. The chassis itself weighs just 61 pounds.
"The body of the car is composite," Vara tells us. "One cool thing is that the body itself is not structural, so you could build it out of just about any material, even something like spandex. The important piece, structurally, is the chassis."
The initial plan is for DM to scale up to an annual production of 10,000 of these limited supercars, making them available to potential customers. This isn't all though, as DM doesn't merely plan on just being satisfied by manufacturing cars via this method. They plan on making the technology available to others as well. On top of selling these supercars, they will also sell the tools and technologies so that small teams of innovators and entrepreneurs can open microfactories and build their own cars, based on their own unique designs. Whether it is a sedan, pickup truck or another type of supercar, it is all possible with this proprietary 3D printed node technology.
The node-enabled chassis of cars built using this unique 3D printing method, are up to 90% lighter, much stronger, and more durable than cars built with more traditional techniques. Could we be looking at a great ideology change within the automobile manufacturing industry? Lighter, stronger, more durable, more affordable, environmentally satisfying vehicles are definitely something that just about anyone should consider a step in the right direction.
3D printing has been touted as a technology of the future, for the future, enabling individual customization of many products. Now, the ability for entrepreneurs to enter an industry previously overrun by huge corporations could mean a future with individualized, custom vehicles which perform and appear just the way we want them. If Divergent Microfactories has a say, this will be our future, and that future isn't too far off.
What do you think about this 3D printed supercar? Do you like the idea of entrepreneurs having an opportunity to fabricate their own line of vehicles? Is DM onto something with this unique method of automobile manufacturing? Discuss in the Divergent Microfactories 3D Printed Supercar Forum thread on 3DPB.com.  Check out the video below.
https://youtu.be/SU7LhQsLthA