http://www.allgov.com/
Federal law enforcement has increasingly used a key provision of thePatriot Act (pdf) to pry into people's lives without having to tell them. This practice has been justified under the guise of counterterrorism, but government statistics show that less than 1% of all "sneak and peek" actions involve suspected terrorists.
Under section 213 of the Patriot Act, law enforcement agencies can carry out sneak-and-peek warrants, which allow agents to "secretly enter, either physically or virtually; conduct a search, observe, take measurements, conduct examinations, smell, take pictures, copy documents, download or transmit computer files, and the like; and depart without taking any tangible evidence or leaving notice of their presence." Suspects can be informed of the search later.
CONOR FRIEDERSDORF / http://www.theatlantic.com/
Local authorities are investigating a highway-patrol scandal, but their perverse incentives mean federal authorities need to step in.
The story the court documents tell is alarming.
After an automobile crash, a young woman suspected of drunk driving was getting checked out for injuries. A California Highway Patrol officer, five-year veteran Sean Harrington, had her cell phone. He found a photo of her in a bikini. So he allegedly sent the image to his own phone, and then, though already guilty of criminal conduct, he forwarded the image to another California Highway Patrol officer. "Taken from the phone of my 10-15x while she's in X-rays," he texted. "Enjoy buddy!!!"
The colleague upbraided him for violating a citizen's privacy, contacted a commanding officer, and arranged for Harrington's arrest on felony charges. I kid, of course. The colleague actually complained that the photo wasn't more explicit.
In this video Luke Rudkowski interviews journalist and film maker Tyrone D Murphy in London England about the infamous Groucho Club.

Jeremy Seifert – Director of GMO OMG and DIVE! – joins We Are Change Colorado to discuss the GMO labeling fights in CO & OR. Find GMO OMG on Netflix or buy it here: http://www.gmofilm.com/ http://www.divethefilm.com/ http://wearechangecolorado.org/ #YESON105 #YESON92
Written by: Tiobe / http://anonhq.com
A Gulfstream II jet, aircraft # N987SA, allegedly used to transport Central Intelligence Agency (CIA) rendition prisoners from Europe and America to Guantanamo Bay, Cuba crash-landed Sept. 24, 2007 in Mexico carrying a cargo of over four tons of cocaine. It is suspected the Gulfstream jet ran out of fuel as it traveled from Colombia to the United States.
Federal Aviation Association records list the plane in question as belonging to Atef Hanna of Tarpon Springs Florida, but at the time of the incident, it was registered to Donna Blue Aircraft, Inc.
By Erik Wemple / http://www.washingtonpost.com/
At some point, a compendium of condemnations against the Obama administration's record of media transparency (actually, opacity) must be assembled. Notable quotations in this vein come from former New York Times executive editor Jill Abramson, who said, "It is the most secretive White House that I have ever been involved in covering"; New York Times reporter James Risen, who said, "I think Obama hates the press"; and CBS News's Bob Schieffer, who said, "This administration exercises more control than George W. Bush's did, and his before that."
USA Today Washington Bureau Chief Susan Page has added a sharper edge to this set of knives. Speaking Saturday at a White House Correspondents' Association (WHCA) seminar, Page called the current White House not only "more restrictive" but also "more dangerous" to the press than any other in history, a clear reference to the Obama administration's leak investigations and its naming of Fox News's James Rosen as a possible "co-conspirator" in a violation of the Espionage Act.
ALEX CLARK-YOUNGBLOOD / http://panampost.com/
Alaska, Oregon, DC, and Florida Demonstrate Diverse Approach to Ending Prohibition
November's midterm elections represent the next phase of marijuana legislation reform in the United States. Marijuana reform efforts will be put to a vote in Alaska, Oregon, Washington, DC, and Florida.
This year's ballot measures come on the heels of 2012's initial wave of legalization in Colorado and Washington, but a close look reveals significant differences between each of them.
Alaska
The details of Ballot Measure 2 in Alaska are similar to those within standing Colorado law. Alaska residents over the age of 21 would be allowed to possess up to an ounce of marijuana, while cultivating a maximum of six plants in their home.
By: Barry Donegan / http://benswann.com
In child support cases, courts sometimes force people to pay back the government's welfare contributions to a child, even in scenarios when the person being ordered to pay support is not actually the child's parent. According to WXYZ-TV ABC 7 Detroit, Detroit man Carnell Alexander is facing that exact situation after an ex-girlfriend of his listed him as the father of her child on an application for welfare benefits. Despite the facts that a DNA test proved that he is not the father and his ex-girlfriend agrees that he should not have to pay support, the State of Michigan is ordering him to either pay back the nearly $30,000 worth of welfare contributions it paid to the child's mother or go to jail.
By Kyle Smith and Bruce Golding / http://nypost.com/
A former CBS News reporter who quit the network over claims it kills stories that put President Obama in a bad light says she was spied on by a "government-related entity" that planted classified documents on her computer.
In her new memoir, Sharyl Attkisson says a source who arranged to have her laptop checked for spyware in 2013 was "shocked" and "flabbergasted" at what the analysis revealed.
"This is outrageous. Worse than anything Nixon ever did. I wouldn't have believed something like this could happen in the United States of America," Attkisson quotes the source saying.
She speculates that the motive was to lay the groundwork for possible charges against her or her sources.
By Ashley Killough, CNN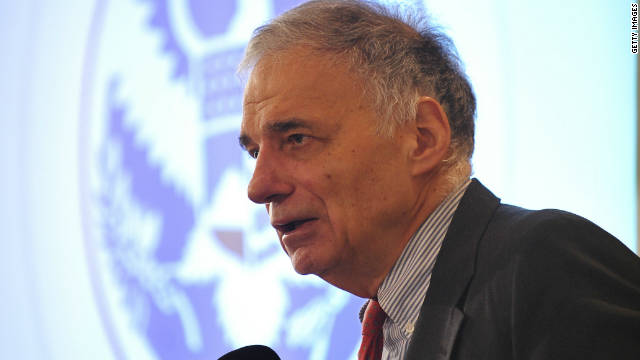 Ralph Nader: Rand Paul needs to 'become more like Ron Paul'
(CNN) — Former presidential candidate Ralph Nader had some biting words about Rand Paul, saying the self-described "libertarian-ish" lawmaker is retreating from his roots as he broadens his appeal for a potential presidential bid.
"What he ought to do is go back to his father, sit on his knee and become more like Ron Paul," Nader said in a new video published Monday.
Nader, a liberal consumer advocate who espouses left-libertarian views, ran for president as the Green Party nominee in 2000 and as an independent candidate in 2004 and 2008 and as a write-in candidate in 1992 and 1996.

In this video Luke Rudkowski confronts former U.N General Secretary Kofi Annan when he was delivering a speech in NYC about creating a New World Order. Sign up on our email list here http://eepurl.com/5_UHn
Special thanks to https://www.youtube.com/channel/UCdjDNuYRzt7HOD1ZR7WihAA for filming this with us. Please subscribe to her channel for other coverage in NYC
This is a speech that Kofi Annan gave in NYC at Baruch college that was titled "New World Disorder." We couldn't believe it ourselves so we wanted to post the full video of the former general secretary of the U.N talking openly about the plan for a New World Order.
Special thanks to https://www.youtube.com/channel/UCdjD… for filming this with us. Please subscribe to her channel for other coverage in NYC
Federal authorities in the United States have reportedly set their sights on a government contractor suspected of being the source responsible for leaking documents in the aftermath of the unauthorized disclosures attributed to Edward Snowden.
Investigators recently raided the home of the individual, according to a report published on Monday this week by journalist Michael Isikoff, in accordance with a search warrant filed by federal authorities in the midst of an effort to identify the source of classified documents recently published by The Intercept — the online publication founded by Glenn Greenwald, the lawyer-turned-columnist who has worked for the last year-and-a-half on a trove of documents pilfered from the National Security Agency by Snowden, a former contractor for the American spy agency.
While Snowden, 31, identified himself as the source of the NSA leaks in June 2013 before federal prosecutors could out him, two reports published in recent months by The Intercept concerning the US government's use of "no-fly" watchlists suggested that a second, publicly unknown source within the intelligence community has colluded with Greenwald and company.
POSTED BY REFORM CALIFORNIA / http://www.reformca.com/
You can't make this up:
San Diego's Narcotics Task Force conducted a marijuana raid in Imperial Beach on Wednesday, and during the operation, a 10News photojournalist spotted an agent wearing a T-shirt with the following writing on the back: "Marijuana Eradication San Diego, CA." Those words were followed by "F*** the growers…Marijuana is still illegal."
Actually, it's not illegal in this case. The grower who was the subject of this raid claims his business is legal under California's voter approved medical marijuana program.
But this raid isn't just a reminder of California's ongoing prohibition against cannabis — it's a glimpse into the mentality that keeps it going. What law enforcement is saying in actions, and now words, is 'F*** the growers,' 'F*** the patients' and 'F*** the voters.'